Victoria Beckham eats THIS fruit three to four times a day for glowing skin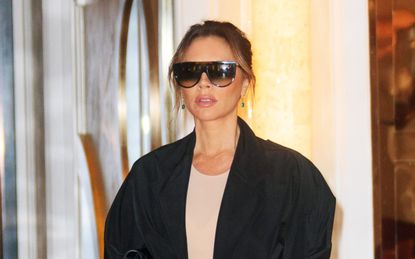 Victoria Beckham has recently launched her own cosmetics company, and has since revealed her key to glowing skin.
Surprisingly, Victoria's skincare secret has nothing to do with cosmetics, instead it's about the food she chooses to eat.
Speaking to The Telegraph, the 45-year-old entrepreneur revealed she eats three to four avocados a day because she "read that the key to glowing skin is consuming the right amount of fats".
We're all aware of the health benefits in avocados, such as them being rich in fibre and loaded with powerful antioxidants. They're easy to incorporate into your diet too, with many enjoying them on toast, in salads, and even using them to create well-known dip guacamole.
MORE: How what you eat can keep your vagina healthy, according to a pelvic floor expert (opens in new tab)
But they also contain mono unsaturated fat and Vitamin E, which is why Victoria Beckham has chosen to incorporate the fruit into her diet. Getting enough healthy fats can keep skin moisturised and resilient.
In addition to this, Vitamin E acts as an antioxidant, which helps to protect cells from oxidative stress. This is especially useful, as this type of stress is associated with ageing.
However, whilst good for you, nutritional therapist Jackie Lynch has warned against consuming too much. She told Mail Online: "I'm always wary of anything that smacks of obsessive eating – and having four avocados a day is a bit obsessive. Variety is very important in diet.
"If you're having that amount of avocado, what are you missing out on? Because my sense is that if she's eating four avocados a day, she probably isn't eating much else."
Another problem is that you could end up consuming too many calories, as one medium avocado contains at least 200 calories. Jackie added: "Inevitably, people could end up eating too much if they have that many avocados daily."
Victoria also told The Telegraph that this decision is "not about wanting to look younger", and she just wants to look as good as possible. In fact, a big part of her new beauty line is the notion of "not perfect" and "clean beauty".
MORE:Could a high fibre diet be the secret to a healthier gut, more energy and better health all round? (opens in new tab)
During the launch of Victoria Beckham Beauty, she emphasised the "not perfect" message by saying "I'm not going to be coming out with products saying they're going to get rid of wrinkles".
So if you're looking for naturally glowing skin, perhaps avocados could be the answer to your problem. Will you be adding more of the fruit into your diet?
Lucy Buglass is a Digital Writer specialising in TV, film and lifestyle content and has written for What's On TV, GoodtoKnow and Whattowatch.com. She's passionate about entertainment and spends most of her free time watching Netflix series, BBC dramas, or going to the cinema to catch the latest film releases. In her spare time, she writes film and television reviews for JumpCut Online and her own blog, Lucy Goes To Hollywood.