Gwyneth Paltrow reveals she's doing THIS at a slower pace to boost her wellbeing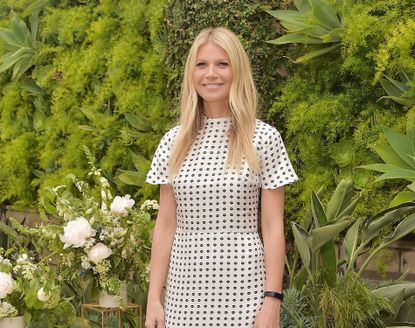 She's the award-winning actress who has made a name for herself in the world of wellbeing with her eponymous lifestyle website Goop, so it's small wonder that whatever the mum-of-two does the world is watching, invariably with notebook in hand.
There's no denying that the Hollywood starlet is looking fabulous in her forties and her supple skin and seemingly boundless energy has previously been attributed her to everything from her vegan (opens in new tab) diet to her purported love of 'vampire facials'.
Now the star of hit movies including The Avengers: End Game and Shakespeare in Love has revealed that she has recently tweaked her elements of her daily life to in an effort to take her inner zen-like aura to new heights.
But this time it involves taking things slower when it comes to her exercise regime, rather than ramping up her routine. Speaking at the launch of her new Goop pop-up at Harvey Nichols, she told Harpers Bazaar, "I realised that I process emotion and frustration through moving my body.
"So I've just started to walk more - just getting outside and walking every day."
Gwyneth has famously been a long-time fan of the gruelling Tracy Anderson method, working with the fitness guru since 2006, reportedly keen to shift the remaining baby weight following the birth of her second child, Moses. The Tracy Anderson method focuses on working small muscle groups through repetitive high-rep movements, often with amazing results.
Speaking about Gywneth's amazing transformation in a past interview, Tracy said, "Years ago when Gwyneth Paltrow first started with me she lost 11 inches in her body after the first 10 sessions. She did it 10 days in a row and that was the result of it. You can actually see significant difference in how your body looks and feels after a full 10 days."
MORE:The best meditation and mindfulness apps to help you reach your zen in 2019
But always one to have her finger firmly on the fitness and wellness pulse, entrepreneur Gwen will no doubt have skimmed over research which extolled the health benefits of walking for just a few minutes every day.
A survey from Public Health England (PHE) last year revealed that while many people walk for 10 minutes a day, only half do so briskly for that amount of time. The Active 10 app — which measures walking time, intensity as well step count — was born as a result.
Commenting at the time, Professor Muir Gray, a doctor who worked on the development of the Active 10 app, explained, "The additional health benefits that can be achieved by walking at a brisk pace for periods of 10 minutes or more — as opposed to totting up a certain number of steps throughout the day — are undeniable."
Gwyneth also revealed that she also has a 'less is more' motto when it comes to her daily dose of meditation and conscious breathing. She added,"So I try to meditate every day, even if it's only for two minutes, or even if it's just awareness of breath for a few minutes in my office. I can't say enough about how much conscious breathing has changed my life."
Who's ready to follow suit?
Miriam worked for woman&home for over five years and previously worked on the women's lifestyle magazines Woman and Woman's Own.