Christie Brinkley's Hollywood Body Secrets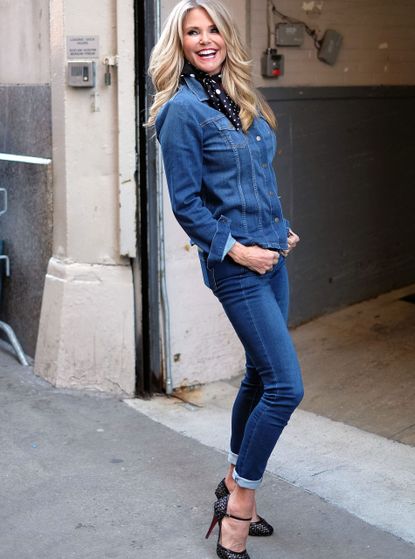 With her flat tummy, toned arms and slim legs, Christie Brinkley looks like she's been frozen in time since her 80s heyday. But the supermodel, who was famously married to Billy Joel and who has three children, is in fact 62 and looking unbelievable. Here's how you can follow suit and keep looking fabulous no matter what decade...
Diet Christie is a vegan and has been vegetarian since she was 12. Her diet consists of berries, chia seeds, raw oatmeal and nuts, salads, fresh juice, brown rice, lentils and sweet potato. Her top tip is to eat an apple a day, 20 minutes before a meal, because it will leave you feeling satiated sooner and less likely to reach for calorific puddings. She also makes healthy snack swaps, ditching ice cream for vitamin-packed blended frozen blueberries, and she loves raw chocolate. But while she's ultra healthy Christie doesn't deny herself a glass of red wine after dinner, thank goodness!
Exercise Christie does 100 press-ups a day, but broken up into smaller and more managemable sets. She grabs her yoga mat and does 30 before she gets in the shower, 20 before she dries her hair and the rest after. Christie also likes to makes the most out of mundane routines and fits in a few squats or glute lifts when she's preparing vegetables for dinner, for example, or brushing her teeth. Christie says she gets bored with the same old routine so likes to mix it up and alternate between yoga, gentle jogging and power walking. Sounds good to us!
Skincare Sun worshippers, take heed. Sunscreen is Christie's number one item. The supermodel wears Neutrogens Wet Skin broad spectrum lotion and doesn't go into the sun without a hat. For her daily routine Christie also uses the skin quenching Recapture 360 Day Cream +IRDefense from her own beauty range, underneath Smashbox Camera Ready Broad spectrum SPF 35 and Hourglass Radiant Bronze Light to finish. Christie also regularly treats herself to deep-tissue massages and epsom salt baths to relax and she exfoliates religiously from top to bottom.
Sleep Christie is careful to get enough beauty sleep every night so her body can restore, relax and renew. She also sleeps on a satin pillow to reduce frizziness in her hair.
Detox Instead of any punishing detoxes, Christie keeps it simple and drinks lots of water to keep herself hydrated and every morning cleanses her system by drinking hot water with lemon. This gives her a vitamin C boost, aids digestion and flushes toxins out of her body. She sometimes likes to line the rim with honey and cayenne pepper for an extra kick.