12 Fridge Staples That Will Keep You Slim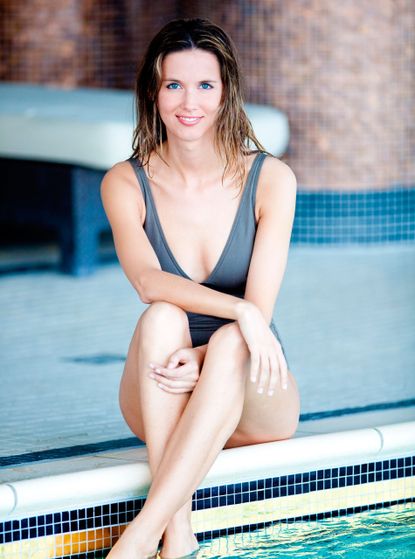 Fill up your fridge with these healthy ingredients and stay svelte!
Looking for an easy and hassle-free way to stay in shape? All you need to do is fill your fridge with foods that help you lose weight, or help to keep you slim.
Most slim women keep the same foods in their fridges - from the delicious dip that isn't as naughty as you might think, to the diet-friendly cheese that's good for you, or the fruits that will actually stop you feeling hungry.
Think the secret to staying slim is all about boring, bland foods? Think again. The foods that help you lose weight are the ones that will satisfy your taste buds, without hurting your waistline. Because more often than not, if you don't like the taste of what you're eating then you'll stop eating it. In other words, forcing yourself to eat typical diet foods that are tasteless and low in nutrition is usually the first step to diet failure.
Besides, we think that just because you're watching your weight, doesn't mean that you shouldn't enjoy your food!
These healthy fridge staples aren't just delicious, but they're also proven to keep you fuller for longer, plus fill your body up with vital nutrients and vitamins.
You can use these guilt-free foods in a number of ways, from a breakfast that will set you up for the rest of the day, to healthy snacks to beat the afternoon slump. We've even got an alternative to your morning cup of tea or coffee, that will boost your immune system and stop you feeling hungry. Eating to lose weight doesn't have to be a struggle, and with these yummy foods you can enjoy your meals and stay trim, too.
So, how does your fridge measure up? Click through our top ten foods that help you lose weight - or stay in shape - to find out now...
Cheese
Is this the best diet news ever? Scientists now believe that cheese could actually help us shift those extra pounds. Danish researchers have discovered a gut response that they're calling 'cheese metabolism'. They asked groups of men to eat either butter, cheese or milk - and no other dairy - for two weeks and found that those who ate cheese or milk had anti-inflammatory bacteria, butyrate, in their gut. This bacteria has been found to increase energy production and burn fat. They warn that raiding the cheese board and all it has to offer in its entirety isn't such a good idea though! Instead, nibbling on the odd bit of brie, cheddar or blue cheese, rather than gorging on a whole block, is best.
Probiotic Yogurt
Eating probiotic yogurt everyday could lessen your chance of putting on weight. As-well as helping your body to absorb more nutrients, 'friendly bacteria' can reduce inflammation in the gut, which all too often contributes to weight gain and water retention. Beat sweet cravings by sprinkling yours with berries or a little honey after lunch.
Almonds
Not only are almonds packed full of skin-boosting vitamin E and protein, but their high fibre content stops you feeling hungry. Keep a small stash close by to beat the 4pm slump.
Chillis
We all know chilli packs a punch, but did you know it can speed up your metabolism and leave you with healthier skin, hair and nails? A single chilli pepper contains twice your recommend daily allowance of vitamin C and a full days supply of beta carotene (a popular beauty ingredient which speeds up cell renewal). We know what we'll be having for our tea tonight.
Lemon
Swap your morning tea or coffee for hot water with lemon to kickstart your day. Lemons are not only high in immune-boosting vitamin C, but also contain pectin fibre which stops you feeling hungry.
Houmous
It might have a bit of a reputation as a more fatty side dish, but houmous isn't as bad as you might think. Most shop bought half-fat versions contain very few nasty additives so they're a much better option than other so-called 'healthy' foods. Keep a tub in your fridge and dip in some carrots or cucumber for a truly healthy snack.
Eggs
Protein keeps you feeling full for longer so you're less likely to snack. GIven this fact, eggs really are a no brainer. Try two boiled eggs for breakfast, scrambled egg on rye bread for lunch or serving up an omelette for dinner. You'll really notice the difference.
Carrots
Cut fresh carrot in to crudites and store in an airtight container for an instant, healthy snack when you can't wait until dinner. Pair these with the houmous we talked about earlier!
Spinach
Fibre and iron-filled foods help stave off that mid-afternoon slump, so add some spinach to your lunch plate or homemade soup.
Oily fish
Mackerel or salmon not only makes for a tasty, satisfying, low-calorie salad option but there's evidence that they can keep you slim too, thanks to the omega fats. Aim for two portions a week.
Grapefruit
Another citrus fruit that has added benefits! Lots of celebrities swear by the grapefruit diet to stay slim, but simply breakfasting on half a grapefruit a couple of times a week can do wonders for your waistline. Scientists think they also help to keep your blood sugar steady, which can only be a bonus.
Minced Turkey Or Lean Beef
So versatile, tasty and satisfying, it's no wonder that most slim women keep lean minced meat in their fridges. There's science behind it too. Lean protein can aid weight loss, building muscle rather than fat.
Sign up to our free daily email for the latest royal and entertainment news, interesting opinion, expert advice on styling and beauty trends, and no-nonsense guides to the health and wellness questions you want answered.