23 beauty brands doing brilliant things during the Coronavirus pandemic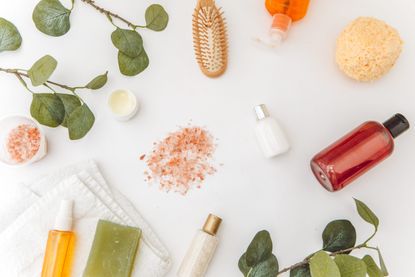 This story is part of ourGood Newsseries – bringing you positive headlines every day to spread positivity during difficult times.
In these tricky times, hearing about beauty brands doing their best to give back is the pick-me-up we all need.
While all but essential shops have closed their doors for now, most brands are still open online, giving you the chance to make a difference with the purchases you make.
And some brands on the market have been making charitable moves in order to make the lives of those struggling across the country amid the coronavirus outbreak just a little bit easier.
23 charitable beauty brands doing brilliant things amid the COVID-19 outbreak
SheaMoisture
SheaMoisture is known for their hydrating hair products aimed at frizzy, dry, damaged or curly tresses, and now they're lending a helping hand to salon owners losing out during the pandemic.
The brand has recently announced that they will be donating £40,000 at helping female salon owners who are from minority backgrounds.
The funds will be donated to help salon owners support their staff and elevate their businesses during the coronavirus outbreak.
Shop SheaMoisture at Look Fantastic
Birchbox
Beauty subscription service Birchbox have been showing their support for front-line workers, creating a bespoke packages just for NHS staff. Including lip balms, hydrating sheet masks and hand creams, all products have been chosen to help them enjoy some well-deserved TLC.
This Works
Best known for their calming products, This Works have been busy spreading a little cheer by donating products to a wide range of causes.
So far they have provided 500 shower gels to Hackney food banks, more than 3000 products to Beauty Banks and more than 1000 hand sanitisers to organisations supporting the homeless and vulnerable.
They've even extended their customer service line to those who are feeling lonely and just want to chat.
Beauty Bay
Supporting the frontline through beauty, Beauty Bay have launched an edit of sixteen essential products, from tampons to hand cream with all profits going to the NHS Charities Together Covid-19 Urgent Appeal.
The range also features a new hand sanitiser, available to buy for just £3.50. Beauty Bay have also delivered a big 'thank you' to the NHS by delivering 43,000 self-care products to staff in the Greater Manchester area.
Biossance
Doing their bit, Biossance donated 100% of all sales made on 16th April to Direct Relief, an international organisation working to equip doctors and nurses with lifesaving equipment.
Since then, they've been giving customers shopping on their website the option to round-up their purchases with a donation.
Biossance's parent company, Amyris, is also helping in the development of a potential COVID-19 vaccine.
Beauty Blender
Not just helping us apply our make-up smoothly, Beauty Blender have donated more than 2000 of their Liquid Blendercleansers to frontline healthcare workers. They're supporting American charity Frontline Responders Fund too, encouraging their communities to make small donationg to help them reach their goal of $10 million.
Shop Beauty Blender at Cult Beauty
Goop
Darren Gerrish/WireImage
To help with all the uncertainty at the moment, Gwyneth Paltrow's beauty brand Goop are posting one-hour health sessions on their YouTube channel.
Hosted by Elise Loehnen (who you might recognise from Goop's Netflix series) the weekly videos are free to watch, with the team encouraging viewers to make a charitable donation to Doctors Without Borders to support the COVID-19 relief efforts.
Diptyque
If you're thinking of treating yourself to something special to cheer up your evenings spent at home, make it a Diptyque candle.
During the month of April, the brand will be donating 20% of all candle sales to NHS Charities Together, supporting staff and volunteers caring for Covid-19 patients.
L'Oréal
Working hard to keep our essential workers safe, L'Oréal are donating products to a wide range of front line services.
In partnership with Kind Direct and Blue Light Card, they're providing 400,000 body washes, hand creams, conditioners, shampoo and skincare to hospital workers in the UK and Ireland.
They are also donating 100,000 La Roche-Posay manufactured hand sanitisers to the NHS and HSE, as well as 10,000 examination gloves to the London Ambulance Service.
Ren
During the current crisis, REN Clean Skincare have provided over 3000 products to both the Beauty Banks Helping Hand Appeal as well as directly to the NHS.
Focusing on items which will best benefit front line workers, these include their Atlantic Kelp and Magesium Hand Lotion and Evercalm Daily Moisturiser to combat both excessive hand washing and sores left by protective face masks.
Beauty Kitchen
Best known for their commitment to eco-friendly beauty, Beauty Kitchen are supplying 50,000 units of hand sanitiser to the Scottish government to help aid the NHS.
In response to estimates that the UK will use over 1 billion plastic hand sanitiser bottles this year alone, all sanitiser will be distributed in a refillable, reusable bottles.
Shop Beauty Kitchen at Feel Unique
Garnier
Halting production of their best-selling micellar water, Garnier have freed up space to create a brand new hand gel.
300,000 bottles of their Pure Active Hand Sanitiser Gel will be donated to essential retail staff working on the front line, with four million units available to buy in stores.
Garnier are also contributing one million euros to the International Federation of the Red Cross and Red Crescent Societies to support their vital work.
111Skin
Doing their bit, 111Skin have switched some of their usual product production to create a hand cream especially for NHS workers.
They're also sending frontline staff tubs of their Y Theorem Day Cream to help soothe irritation caused by wearing protective face masks.
Tan-Luxe
Halting production of their range of fake tans, Tan-Luxe have created an anti-bacterial hand cleanser in just two weeks.
The first batch is made up of an impressive 10,000 units, which will be donated to NHS workers, care homes, supermarket staff and other frontline services over the coming weeks.
Nursem
Hand cream brand Nursem have been working hard to give back to the NHS long before Coronavirus was a part of our daily vocabulary.
For every product sold, they donate an entire month's worth of hand cream to a nurse or midwife.
Formulated to combat the drying effects of repetitive handwashing (nurses wash their hands an average 55 times a day), it's non-greasy, super-hydrating and only needs to be applied a couple of times a day to transform sore hands.
Now, going one step further, they've pledged to donate an extra 10,000 hand cream products to the NHS frontline.
To nominate a nurse to recieve the product, tag your NHS hero in a picture of you with your hands up on Instagram or Twitter, use #HandsUpForNurses and tag @nursemskincare.
Shop Nursem hand cream at Boots
L'Occitane
Having made the difficult decision to temporarily close all of their stores on Saturday 21st March, L'Occitane announced they will continue to pay all their retail associates salaries in full.
Even better, they've donated 10,000 hand creams directly to NHS and HSE hospitals across the UK and Ireland.
Shop L'Occitane hand cream at L'Occitane
Oskia
Swapping lab production In their factory in Monmouth Wales from skincare to hand sanitiser, Oskia are doing their bit.
To start off, they're only distributing the newly-made sanitiser to local care homes, before making it available to shop on their website, as well asdonating hand creams to NHS hospitals.
And if that wasn't enough, they've launched a Self Care Instagram Series to help those isolating take care of their mental health.
The stories will be uploaded everyday at 8pm and will cover everything from relaxing massage techniques to nutritional recipes. See you there!
Shop Oskia hand cream at Space NK
Pai
In response to the global shortage of much-needed hand, London-based skincare brand Pai have rallied together to create their very own in just two short weeks.
For context, it normally takes the brand around 18 months to produce a product from start to finish.
The initial batch was donated to local schools, nurseries and charities before it went on sale to the public.
Avon
To help combat the rising demand for hygiene products, Avon have started manufacturing a new moisturising hand gel.
The plan is to create 600,000 units, with a proportion given to NHS staff and domestic abuse charities before making them available to the general public.
From sales of the hand gel, Avon will also be donating £150k to nationwide domestic abuse charity Refuge. This is part of a $1 million commitment to domestic abuse charities and services worldwide, helping them to keep their front line services open during these unprecedented times.
So…?
Credit: So...?
With the nation's poorest and most vulnerable communities struggling to get hold of basic essentials, charities like The Hygiene Bank are more important than ever.
Delivering hygiene and personal care products to those that need them the most.
Fragrance brand So…? are lending a helping hand, donating thousands of their So…? Pure & Clean Body Mist's to the charity.
MONAT
In an effort to show their support to the NHS, vegan beauty brand MONAT have continued to give back through their Gratitude program where they have donated thousands of their beauty products to new initiative We C U 20.
"These workers are not going home and seeing their family, they are only grabbing a few hours of sleep here and there and they do not have time to order or claim their free products," said brand founder Lauren Ezekiel.
"That is the reality! I don't know about you, but I'm struggling to sleep at night thinking that these incredible people are not only saving lives, they are risking theirs.
"MONAT has been very generous in their donation to help our NHS workers gain the essentials they're finding hard to get either through lack of time to shop for these items.
"It's great to see the beauty industry pulling together and sharing their products – the MONAT Gratitude Programme is such a great idea and it's wonderful to have their support".
Elizabeth Arden
High-end beauty brand Elizabeth Arden have launched an initiative to support the NHS during these tumultuous times.
To support medical workers, the brand has sent products directly to staff who are performing on the frontline.
'The NHS staff are suffering for us all at this time and skincare is essential to help with over washed, raw hands and painful faces from protective headwear,' said the brand.
'As a direct response and in coordination with the NHS, Revlon, through its brand Elizabeth Arden, has donated 4000 Eight Hour Cream® products to help intensively hydrate and heal sore, dry skin.
'We are extremely grateful to the NHS and key workers helping to support our Nation and will continue to look for ways in which we can help with the ongoing crisis'.
Shop Elizabeth Arden hand cream at John Lewis
Boots
High-street cosmetics giant Boots has partnered up with charitable organisations The Hygiene Bank and FareShare to donate hundreds of thousands of toiletries to NHS workers, vulnerable people, schools and food banks.
The store has is donating over 200,000 toiletries including, shower gel, toothpaste, shampoo, conditioner as well as hand and body lotions from popular brands like No7 and Soap & Glory, to help frontline medical workers have access to hygiene essentials between busy shifts.
"Boots has always been a critical partner to the NHS and on behalf of our amazing teams also giving their all right across the country, we wanted to show our appreciation for the world-class care the men and women on the frontline of the NHS provides every single day," said Seb James, Managing Director of Boots UK.
"Our partnerships with the Hygiene Bank and FareShare enables us to get thousands of essentials out to those who need them most, both in the NHS and the most vulnerable people in the community."
Extra words by Aleesha Badkar
Jess Beech is an experienced fashion and beauty editor, with more than eight years experience in the publishing industry. She has written for woman&home, GoodtoKnow, Now, Woman, Woman's Weekly, Woman's Own and Chat, and is a former Deputy Fashion & Beauty Editor at Future PLC. A beauty obsessive, Jess has tried everything from cryotherapy to chemical peels (minus the Samantha in Sex and The City-worthy redness) and interviewed experts including Jo Malone and Trinny Woodall.