Pick up a bottle of Malfy sicilian pink grapefruit gin for just £21.99 - for a limited time only!
It would be rude not to...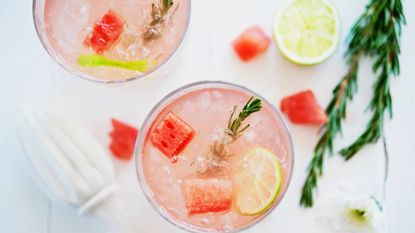 If you're a gin lover then look no further than this deal for Sicilian pink grapefruit gin. With refreshing notes of citrusy lemons, juniper and rhubarb we recommend pairing itwith Mediterranean tonic and a slice of pink grapefruit and of course, on ice. Whether it's a treat for yourself or a present for a loved one this gin also has a beautiful bottle (like this? Well you'll love our round up of gin advent calendars...)
DEAL IN FULL: Malfy Gin Rosa Pink Grapefruit Italian Gin, 70 cl, was £28, now £21.99
Saving £6.o1 - which may not seem like a lot, but for alcohol, it is - this Italian gin will take you straight to the warm shores of the European country. While holidays are off the cards, who says you can't imagine instead? Distilled by the Vergnano family, a sip of malfy gin captures the ideal gin moment of sitting on a sunny terrace, enjoying the view with no cares in the world.
Distilled and bottled in Moncalieri, south of downtown Turin, in Piedmont, Italy, this potent 41% gin with sun-ripened Sicilian pink grapefruit grown on the Meditteranean coast is beautiful with a light tonic.
Others think so too!
One customer said, "I'm a citrus lover and I've tried gins, all of which are good but this is the best by far. The bottle is quite chunky and heavy which suggests a treat is in store and it is. It's a smooth flavour, and sweet, but not excessively so and not at all overpowering. It works well with a range of tonics from Schweppes to Fever-Tree. If you close your eyes, you might just imagine yourself in the Italian sunshine instead of a dreary British Autumn day. Even non-gin fans would love this as it doesn't taste very gin-like. The only possible negative (depending on your point of view) is that it's extremely hard to share. The last thing you want is friends or family to visit and find they ALL love it! Buy it, hide it and enjoy it."
Another said, "It is crisp and fruity and makes you feel like you are in a bar in Sorrento looking out to Capri even on the murkiest and dirtiest of winter days. It has the taste of sunshine and you do not need a fancy tonic, it is that good."
We'll drink anything to feel like we are Sorrento...its a win-win all round!
Rachel is a freelance contributor to woman&home, covering news as well as books, lifestyle and travel. Her byline has also appeared in The Independent, The Financial Times, ELLE Magazine, VICE, Glamour Magazine and others. She loves nothing more than talking with people to share their stories. When she is not writing you will definitely find her nose in a book or magazine, or perhaps training for the next half marathon, practicing yoga or eating in London's best restaurants.