10 of the best dark chocolate Easter eggs for 2022
Bitter, intense and completely addictive, we've rounded up the very best dark chocolate Easter eggs in the shops this year (including some surprising supermarket specials).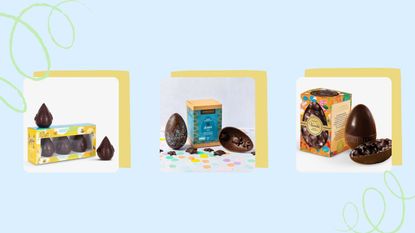 (Image credit: Future)
There's something wonderfully rich about the best dark chocolate Easter eggs that we can't help but harbour a soft spot for.
While it's not a flavour that appeals to all palates, we've found those who like dark chocolate really, really like it (and those who don't prove a minimal threat to stock levels, which is ideal we think we can all agree). With this in mind we knew we couldn't offer up any old seasonal treats in our taste test this year: these had to be worthy of aficionados.
We've gone to great lengths to narrow things down from hundreds of possible entries to just the very best Easter eggs worth your money this year. The results are a stellar line-up of dark chocolate treats that we hope you'll enjoy just as much as we do.
There are a couple of luxurious options that are perfect if you're looking for decadent seasonal treats as Easter gifts for adults - think hand finished detailing, gold leaf and impressive shapes. Elsewhere we've found affordable yet top-quality options that hold their own against their more expensive counterparts to impress both on price and performance. With a couple from two of the big supermarkets these are within easy reach and can be popped in your shop next time you do an online order. Our advice? Stock up before they sell out. That's one less thing on your to-do list come the big weekend.
How did we test the best dark chocolate Easter eggs?
Rose Fooks - our Deputy Food Editor - and Jessica Ransom - our Senior Food Writer - were tasked with putting a whole raft of dark chocolate Easter eggs through their paces (cue gags about having a tough gig) to come up with a shortlist for our guide. While it might seem like a fun day at the office, the undertaking isn't approached lightly. Firstly, all eggs are tasted on a blind basis. This means each egg is weighed up without any existing brand bias, ensuring the results are fully reflective of the flavour and quality of the chocolate, whatever the price point. Rose and Jessica made notes on how each egg melted in the mouth, the unique flavour profiles of certain creations and how bitter the various offerings were.
Once the marks were attributed for taste, the look and packaging were taken into consideration. Despite this not playing a part in the initial sorting, we think it's important to consider the aesthetics of each Easter egg given that they're so often purchased as a gift. You'll find the full notes for each egg below, with the individual descriptions highlighting special features and stand out points.
Best dark chocolate Easter eggs to buy in 2022
Betty's Vegan Venezuelan Dark Chocolate Egg
Best overall dark chocolate Easter egg
Specifications
Weight: 210g
Stockist: Betty's
Price: £23
Price per hundred grams: £10.90/100g
What's included?: One dark chocolate geometric Easter egg
Reasons to buy
+
Interesting design
+
Family-run business
+
Vegan
Betty's might be iconic for their cream teas, Easter cake ideas and fluffy Yorkshire pikelets, but they also make a mean Easter Egg. This beautiful design is hand gilded in the Harrogate bakery for an extra special touch and you can really see the difference in the detail from this family-run business.
The geometric design is striking and sculptural, making this a piece that's perfect for gifting while the duck egg blue box finishes everything off elegantly. The rich Swiss chocolate has a nice bite to it and stand-out berry flavours that stop the 65% mix becoming overpowering.
At 16cm this is a fairly medium sized egg and at £23 is certainly at the more expensive end of things. However, for the quality of the chocolate and carefully considered design we think this represents good value for money - it was our favourite among the shortlist.
Cox & Co Bee pollen and honey 61% dark chocolate Easter egg
The best refined sugar-free dark chocolate Easter egg
Specifications
Weight: 170g
Stockist: Selfridges
Price: £9.99
Price per hundred grams: £5.87/100g
What's included?: One dark chocolate Easter egg
Reasons to buy
+
Refined sugar free
+
Slave-free production
+
Well balanced sweetness
As far as dark chocolate goes this isn't the most intense percentage you can find, but the quality of the chocolate is so good that there's a really rich strength to the flavour profile. Refined sugar is swapped for dehydrated sugar cane juice, bee pollen and natural honey flavouring which each bring their own unique notes.
The overall impression is that there's a lovely background sweetness, without any unpleasant sugariness but there are also hints of mellow caramel. Despite this being one of the best dark chocolate Easter eggs we tried during our testing, one of its stand-out points isn't to do with flavour at all.
Cox & Co are on a mission to change the landscape of chocolate making and go to every effort to ensure their product is as ethical and eco friendly as possible. That means a child- and slave-free production line as well as plastic free packaging.
Melt London Wild Chocolate Easter Egg
Best luxury dark chocolate Easter egg
Specifications
Weight: 420g
Stockist: Melt London
Price: £49.99
Price per hundred grams: £11.90/100g
What's included?: One dark chocolate Easter eggs and a pot of dark chocolate sea salt discs
Reasons to buy
+
Complex flavour profile
+
Delicious additional truffles
+
Smooth dark chocolate
There's no doubt that the chocolate is the star of the show in this vegan Easter egg. There's a complex and interesting flavour profile that develops on the palate throughout eating. Things start fruity but finish on a very subtle smokey note. There's intense bitterness and bright acidity too - as you might expect from a company like Melt London who take their chocolatier duties very seriously.
In fact, the company sources their beans from rare and hard-to-find wild cocoa trees in the Amazon which are hand-picked by Chimane Indians no less. While this would of course be well received by any old dark chocolate lover, we think this is one to reserve for someone in your life who takes their treats very seriously.
The gorgeous gold leaf detailing on the shiny, well-tempered shell makes this look luxurious (which at nearly £50 you'd want it to) and the additional sea salt chocolate discs make a nice extra touch and would fill out an adult's Easter basket nicely.
ASDA Extra Special Dark Chocolate Mint Egg
Best budget dark chocolate Easter egg
Specifications
Weight: 400g
Stockist: ASDA
Price: £4
Price per hundred grams: £2.22/100g
What's included?: One 400g mint flavoured dark chocolate Easter egg
Reasons to buy
+
Mint flavour
+
Tastes "special"
+
Good price point
Not one for purists but perfect for the more adventurous, the spike of mint flavouring throughout this egg reminded us of an After Eight making it ideal for a post-dinner treat. While the mint might not be appealing to strict dark chocolate fanatics, we liked that the bitterness of chocolate was cut through with such a refreshing flavour - the contrast was well balanced and intense without becoming overpowering.
Further bonus points were dished up for the little crispy mint pieces that were peppered throughout the shell to give it a textural twist. Deputy Food Editor Rose Fooks said: "I enjoyed the intense peppermint flavour, it would be the perfect sweet nibble to enjoy at the end of your Easter spread". While appearances are of course subjective, we felt like the bright green decoration actually cheapened the overall impression.
However, as every treat fiend will know, it's definitely what's on the inside that counts and if you can look past that this is a relative bargain. Our tasters commended that this egg was excellent value at under £5.
Sainsbury's Belgian Dark Chocolate Orange Egg
Best supermarket dark chocolate Easter egg
Specifications
Weight: 260g
Stockist: Sainsbury's
Price: £8
Price per hundred grams: £3.08/100g
What's included?: One dark chocolate Easter eggs with candied orange pieces and orange flavoured sugar pieces
Reasons to buy
+
Belgian chocolate
+
Pretty design
+
No plastic packaging
At 56%, this egg is less intense than some of the others in this guide, and as such makes a good entry level treat to those trying to wean themselves into the world of dark chocolate. Similarly, the notes in this are mellow and smokey which would be preferred by those who enjoy a slightly sweeter finish.
Hidden within the shell you'll find sharp candied orange pieces which bring a zesty freshness and a pleasant chew. The egg itself has a slightly dappled finish to it which isn't unlike the texture of a real egg, and we liked the funky orange zig zag across the front for a bold bit of colour which makes this stand out in a sea of brown.
This year Sainsbury's own Easter eggs are packaged in plastic-free wrapping which we think is important to highlight at a moment in the calendar which can feel wasteful in some senses. The attractive cardboard box also ensures this is easy to give and gift without any need for additional wrapping.
Doisy & Dam Good Eggs
Best dark chocolate Easter egg for kids
Specifications
Weight: 75g
Stockist: Doisy & Dam
Price: £2.75 per bag or £15 for seven
Price per hundred grams: £3.60/100g
What's included?: Multiple mini eggs per packet
Reasons to buy
+
Fun for kids
+
Pretty colours
+
Crisp sugar shells
Reasons to avoid
-
Not a full 'classic' Easter egg
What's better than a dark chocolate Easter egg? Multiple dark chocolate Easter eggs of course. These sweet treats from Doisy & Dam are ideal if you're planning on setting up an Easter egg hunt this year or just like to tuck into lots of little treats over the course of the Easter weekend rather than indulging in one large egg (although no judgement here if you're looking to do both).
The bright, fun colours mean these are just as suitable as Easter eggs for kids to pop into their personalized Easter baskets as they are for adults and we loved that the crisp sugar shells yielded with a satisfying crunch for full-force nostalgia.
These contain no palm oil and the cocoa has been ethically sourced - ideal if you're a conscious consumer. We loved that the coating gave a sweet contrast to the bitter chocolate inside but would have liked a few more in the pack if we were being picky.
Chococo Dark Chocolate Ocean Studded Egg
Best ethically-minded dark chocolate Easter egg
Specifications
Weight: 175g
Stockist: Chococo
Price: £13
Price per hundred grams: £7.42/100g
What's included?: One dark chocolate Easter egg plus dark chocolate turtles and starfish shapes
Reasons to buy
+
Extra thick chocolate
+
Playful design
+
High quality dark chocolate
This egg is made of really indulgent 72% Ecuador origin chocolate. On the outside is an expressive glittering sea-inspired decoration. And on the inside, *Spoiler alert* this egg is filled with an underwater surprise. Crack it open and there are chocolate turtles and starfish on the inside.
This is a genuine 'good egg' as for each egg sold Chococo is giving 5% of profits - which equates to 65p per egg - to the Ocean Giants Programme, a marine conservation charity based in Dorset, dedicated to protecting the world's oceans and marine life. And in-keeping with the sea positive theme, the packaging that this stunning egg comes in is all 100% plastic-free and recyclable.
Venchi Dark chocolate and hazelnut egg
Best flavoured dark chocolate Easter egg
Specifications
Weight: 70g
Stockist: Selfridges
Price: £12.99
Price per hundred grams: £18.50/100g
What's included?: One dark chocolate and hazelnut Easter egg
Reasons to buy
+
Packed full of nuts
+
Nice sweet and salty balance
+
Thick dark chocolate
Reasons to avoid
-
Not suitable for some allergy sufferers
With over 140 years of history, Italian chocolatiers Venchi know a thing or two about creating a cracking Easter egg. This dinky 70g design is a great mid-sized Easter egg for hunts or gifting and comes with a point of difference: its hazelnut crunch. These aren't just any old nuts either, rather they're Piedmont hazelnuts which are highly prized for their unique intensity (something which often sees them labelled as the best hazelnuts in the world, don't you know).
We loved that the smooth shell concealed the surprise within and that the nuts helped to create a thick, satisfying bite that went far beyond your average eggs in terms of satisfaction. The chocolate here is 60% which we think strikes the perfect balance between being pleasantly sweet while retaining a deep bitterness that leaves a wonderful lingering taste long after the chocolate has melted on your tongue.
Hotel Chocolat Hard Boiled Ginger Egg
The best dark chocolate ginger Easter egg
Specifications
Weight: 220g
Stockist: Hotel Chocolat
Price: £15
Price per hundred grams: £6.80/100g
What's included?: One dark chocolate and ginger Easter egg
Reasons to buy
+
Rich ginger chocolate
+
Extra thick
+
Good, dark flavour
Reasons to avoid
-
Spicy notes might not suit everyone
Hotel Chocolate, home to the most exciting Easter hamper ideas every year, is also the purveyor of fantastic Easter eggs year in, year out. Their dark chocolate offerings this year are no different.
The shiny orange box and funky shaped geometric egg make this the classy adult option and an ideal pre-packed delight for gifting. The aroma of ginger hits you as you open the box giving you a little insight into that's to come.
The shell was hard to break - just how we like it - giving it a thick tick from. The dark chocolate itself has a punchy earthy ginger flavour with a subtle spicy zing that lingers on the palate. This - we thought - was gorgeous savoured with a cup of java. Call us big fans.
Montezuma's Three Chicklateers dark chocolate chicks
Best organic dark chocolate Easter egg
Specifications
Weight: 225g
Stockist: Selfridges
Price: £9.99
Price per hundred grams: £4.44/100g
What's included?: One dark chocolate and ginger Easter egg
Reasons to buy
+
Playful design
+
High quality chocolate
If you regularly buy organic produce and ingredients, why should Easter be any different? These sweet chickens from Montezuma's are entirely organic and also vegan to boot.
The shell of each chick is fairly thick, needing a good bit of pressure to break it into pieces (or you could go straight in and bite straight into them!). The chocolate itself has an intense, hardy flavour mellowed out by just the right amount of sweetness.
Completely delicious with a fun design, these would make a great gift for little ones with a dairy intolerance or adults with a perpetual sense of youthfulness. For edible Easter decoration ideas, pop one on each person's plate with their place name to add a tasty element to your Easter table decor.
Rosie Conroy is a food and drinks journalist with over a decade of experience working for big-name titles in both print and online. Formerly the Digital Food Editor of woman&home, Rosie went on to head up the team at SquareMeal, reviewing the best London restaurants and hunting out emerging culinary trends. With previous experience in food styling and recipe development, Rosie knows what to look for in a good piece of kitchenware and has extensive experience testing consumer goods—from kitchen electricalz and cooking accouterments through to new foodie treats.
With contributions from