How The Catherine Effect Is Boosting The British Fashion Industry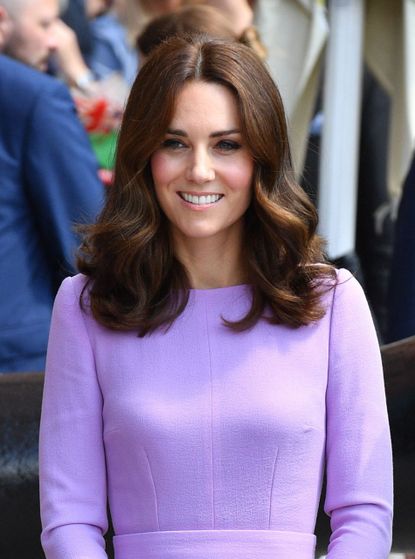 (Image credit: Rex Features (Shutterstock))
It is no secret the Duchess of Cambridge has the nation captivated by her smile and picture perfect marriage to Prince William.But despite joining the Royal Family, Catherine continues to wear brands that you can pick up on the high street. From her favourite Superga white trainers to the Zara dress she wore for Pippa Middleton's wedding, anything the Duchess wears soon rockets in popularity.
Most recently,Debenhams' Studio by Preen launched a lookalike dress of the red Preen gown worn by Kate in Canada last year. Everyone was raving about how beautiful the Duchess looked and it quickly sold out.
Despite being re-stocked, the designer gown sold out for good in April. Preen have now released a new range of more affordable dresses and gowns, Preen Studio, in similar styles.The£69 Studio by Preen dresswill undoubtedly get a huge following of eager buyers who still want to replicate the Duchess's look.
Back in 2012 it was estimated that the Duchess of Cambridge boosts the British economy by £1 billion a year because people rush out to get copycat looks. We can image that this figure has only risen alongside the Duchess's continued popularity.
Us Brits just love the idea of using the same beauty products as Catherine or wearing the same or similar outfits. A bottle of Triology's Rosehip Oil, which is used by the Duchess, sells every 20 seconds and the Duke and Duchess were attributed to the trend for ditching diamonds in engagement rings, in favour of sapphires and rubies.
Of course not all of the Duchess's outfits are budget-friendly, but high street stores have quickly cottoned on to our Catherine-obsession. And we have a whole gallery dedicated to helping you steal the Duchess of Cambridge's style.
But while the 'Catherine Effect' has had an overwhelmingly positive effect on high street sales and has raised the profile of emerging designers, some struggled to cope with the surge in popularity.Daniella Helayel, the lead designer behind Issa, told theDaily Mailback in January that the Duchess wearing that royal blue dress to announce her engagement to Prince William marked the beginning of the end for her brand.
In 2015 Issa closed down, five years after Kate wore the dazzling blue dress. Helayel said: "Issa was a niche brand. We had a loyal following, but in 2008 and 2009 we were in serious financial trouble. When Kate wore that dress everything changed."
She added: "I had a great business, which I'd built up on my own over a decade. To watch it evaporate was heartbreaking. I took two years out and didn't design a thing. It was too painful."
But it's not all bad news for Issa. It was recently announced that it was re-launching with an exclusive collection for House Of Fraser collection.
The department store collection is much more affordable and certain pieces make a nod to the Duchess. You can pick up a dress very similar to that original emerald blue one forunder £100 (opens in new tab)!
Will our obsession with everything Kate ever end?
Jessica is a Senior Food Writer at Future and is an enthusiastic, self-taught cook who adores eating out and sharing great food and drink with friends and family. She has completed the Level 1 Associate course at the Academy of Cheese and is continually building on her knowledge of beers, wines and spirits. Jessica writes food and drink related news stories and features, curates product pages, tests and reviews equipment and also develops recipes which she styles on food shoots.