The affordable trainer brand loved by both Catherine and Diana launches royal wedding inspired shoe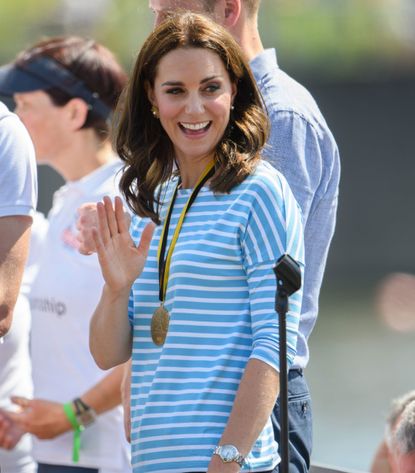 We know how much the Duchess of Cambridge loves her signature white trainers. She's donned her Superga 2750 Cotu Classics for more outings, royal tours and photoshoots than we can count.
The simple, wearable trainers are sold for just £50 and go with just about anything. In fact, Catherine has worn them on a variety of occassions, including her 2017 visit to the London Marathon. She even wore them for a recent photoshoot with men's magazine GQ.
They're also her go-to for when her royal wardrobe requires a more casual look - for example, if she's attending a sporting event.
But did you know that it was her late mother-in-law who first championed the very same trainers, more than two decades ago? Princess Diana was photographed in a pair of navy Superga 2750 Cotu Classics on a Red Cross mission to Angola in January 1997.
Diana donned her favourite trainers to make a statement to the press, teaming them with a matching Armani blazer and casual blue jeans, for the ultimate smart/casual look.
And wile they're popular with the royals, Superga's signature pumps have also become a firm fixture in the footwear arsenals of almost every style-savvy model and actress you could name, and for good reason.
They're a timeless wardrobe staple, and would work just as well with a simple top and jeans combo as they would with a pretty, retro summer dress.
And now, Catherine's favourite shoe has recieved a sparkling update ahead of Meghan and Harry's royal wedding - in the form of Swarovski crystals.
With the addition of the crystals, the shoes now exude both glamour and excitement - whilst also remaining comfortable and versatile. They're also rather more expensive than the classic shoe, at £175 - but are currently on offer, down from £350. So what better time to snap them up?
So could Meghan be receiving a pair of the Duchess' favourite shoes as a handy wedding gift? We certainly hope so!
Buy now from Superga (opens in new tab)
Alexa Chung's Superga collection...
ALEXACHUNG Satin blue, £75
These newly released trainers are as easy to wear as they are stylish. The satin finish ensures a luxurious addition to any outfit, and the sky-blue colour will go with almost anything in your wardrobe.
Buy now from Superga (opens in new tab)
2292 ALEXCHUNG Cotu, £72
A comfortable twist on Catherine's Superga choice, these backless trainers are so easy to pop on if you need to head out of the door quickly. While they're probably not advised for a spot of gardening, given the gleaming white colour, they'd be ideal for a Sunday afternoon walk - with no risk of rubbing ankles! They're also super on-trend - with these, you'll be looking like a royal in no time.
Buy now from Superga (opens in new tab)
Classic Superga styles
2750 Cotu Classic, £50
The Duchess' signature choice, these classic white pumps are the brand's most well-known shoe. Team with dark jeans for a look just like the royal.
Buy now from Superga (opens in new tab)
2750 Cotu Classic, £50
Despite the fact that Diana wore her trainers all the way back in the 90s, hers are still on sale at Superga! Dress them up, like the late Princess, or keep it casual as Catherine often does.
Buy now from Superga (opens in new tab)
And the popular shoes have just received a fashionable update - luckily, just in time for Summer!
Former model and fashion star Alexa Chung has collaborated with Superga for a second time, and designed some exciting variations on the classic Cotu trainer.
Wll you be buying any of Superga's range?