Why you shouldn't buy new faux fur coats this winter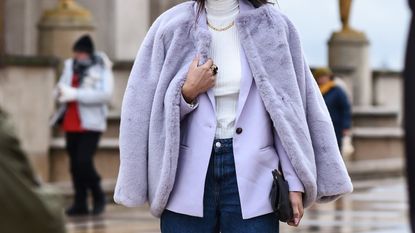 woman&home newsletter
Sign up to our free daily email for the latest royal and entertainment news, interesting opinion, expert advice on styling and beauty trends, and no-nonsense guides to the health and wellness questions you want answered.
Thank you for signing up to Woman & Home. You will receive a verification email shortly.
There was a problem. Please refresh the page and try again.
It may appear to be the more sustainable option but, as fashion writer Esther Newman explains, it's time to put buying new faux fur to rest, along with the real stuff.
We've come a long way from the anti-fur protests of the 90s. The days when advocates threw fake blood on fur wearers and supermodels posed nude for PETA's iconic "I'd rather go naked than wear fur" campaign feel like a lifetime ago. Rather, we've found ourselves firmly in the era of faux fur. But does this change make for more ethically-sound, sustainable coats?
Whether it's the fuzzy hood on this season's best winter coats or that fluffy ball keychain, chances are you have more of the fake stuff hidden in your home that you thought. In the past few years alone, major fashion houses such as Prada, Gucci, Burberry and Chanel, have turned their backs on real fur. Now, they boldly endorsing faux materials. A good example? Burberry's rainbow cape, which stole the show on the A/W '18 catwalks. Why, even Queen Elizabeth II has cut real fur from her wardrobe, making history as the first royal to do so. A small step for her wardrobe, but a big one for the anti-fur movement.
Why we should shop sustainable coats over faux fur this winter
As a lifelong vegetarian and flexi-vegan (emphasis on the 'flexi' in lockdown, when a big bowl of mac and cheese remains my biggest comfort and downfall), this should be a reason to celebrate. After all, as a fashion writer it makes me happy to see the industry make significant changes for good. Anything that prides animal welfare is a win. I, for one, am glad to see the fur industry topple.
The fashion industry's quick-footed change comes as no surprise. Once an often cheap looking material that felt itchy on the skin, faux fur has evolved into a luxe, highly imitable alternative to the real thing. Unfortunately, buying faux fur isn't as innocent as you may think, and comes with it's own complicated sustainability issues.
And this is why, armed with today's understanding of climate change and a shopping consciousness that prides quality over quantity, I've decided to cut new faux fur out of my wardrobe for good.
Yes, instead of spending big on yet another flashy, cropped faux-fur jacket that's so trendy it's out of style before the end of the season, I'm taking a sustainability stand and making a statement. It's better to invest in a quality, sustainable coats that you can pull out year after year. And that doesn't mean buying new; the best choice is to buy second-hand. The next best option is to make your purchase – of a coat made from a natural material such as wool, viscose or organic cotton – from a sustainable brand. And I'm about to tell you why.
A brief history of fur
Fur is believed to be one of the first materials used by humans for warmth and protection, with fur garments themselves predating history. Around the world and across different periods, societies have reserved fur for nobility, royalty or of the religious elite. In Ancient Egypt, only pharaohs and high priests were allowed to adorn themselves with leopard skins. And, in the Roman Empire, the emperor Honorius issued a decree in 397 AD that forbade his court to wear fur. A fashion statement, no, more likely a ploy to ensure its high trading value.
From the 1300s, when King Edward III was on the throne, until well into the 17th century, Sumptuary Laws policed the wearing of costly furs such as ermine, fox and weasel in England. That right was reserved only for the noble, landowning class. Much of our cultural understanding of fur stems from this history. It's an association that has only been strengthened over time, and perpetuated further by the socialites of the 1920s Jazz Era and the starlets of 1940s Hollywood.
This explains why even today, fur remains a symbol of wealth and privilege.
A brief history of faux fur
Sadly, the invention of early faux fur was not inspired by concern for animal welfare. Rather, as an alternative to real fur which was both expensive and in short supply. Much like the market for fake designer handbags today, faux fur offered lower class people the chance to imitate the upper echelons of society. Harper's Bazaar made one of the first mentions of fake fur in the media in the 1860s, in relation to saving money on small accessories and children's clothing.
Faux fur did not truly hit the wider market until 1929, with early imitations being made from grey or tan alpaca wool. Typically, early faux fur was poor quality and could not compete with the luxury of mink or beaver fur. But, thanks to advances in textile manufacturing, this started to change by the mid 1950s. The introduction of acrylic polymers provided the bulk needed to imitate real fur. They were also easier to colour than alpaca fibres.
Fur and animal rights
It was in the 1970s that fur became a target of animal rights activism. First marked by the international Endangered Species Act of 1973 and then by decades-long campaigning by organisations like PETA and British animal rights organisation Lynx. Together, they recast the public perception of real fur into a thing of shame and guilt, rather than luxurious pride. According to Julia Emberley, author of The Cultural Politics of Fur, the anti-fur sentiment drove sales of real fur down by 75% in the UK between 1985 and 1990.
Today, after a long battle between animal rights organisations and those within the industry who champion the real stuff, there is a distinct sea change within the industry. In 2017 Vogue Paris paid homage to faux fur and Gucci announced that it would be going fur free. The fashion house was later joined by Burberry and Chanel in 2018, and Prada in 2019.
Faux vs real fur: The ethics debate
The real-vs-fake debate has been a long and complicated one. To be clear, I am in no way endorsing the real fur industry. I believe it often slings mud at faux fur in hopes it wdistract from its own crimes. For example, at the start of the 2010s one study, which was commissioned by animal rights organisations, claimed that a fur coat is worse for the environment. This was swiftly followed by a competing study commissioned by the International Fur Trade Federation, claiming the opposite. So who's right?
In fact, both real and faux fur pose environmental concerns. Faux fur is primarily made from synthetic materials – such as nylon and polyester – which are not only made from fossil fuels, but also shed millions of microfibres every time they are washed. These plastic-based threads are so small (thinner than a human hair) that they can drain out of our washing machines and pass through wastewater treatment into our oceans. Bad news for our marine life. A 2016 study found that synthetic jackets (of all kinds, not just faux fur) released an average of 1,174 milligrams of microfibres every time they are washed. As it's a synthetic material, faux fur is also not biodegradable. This means purchasing new faux fur products contributes to our world's already staggering landfill issues. A scary thought.
On the other hand, while the fur industry likes to posit itself as the more sustainable coats choice (because fur is biodegradable), it is in fact a far crueler choice. Not only does the fur industry cause the suffering and deaths of millions of animals each year, fur farms – like other factory farms – are designed to maximise profits. This is to the detriment of the environment and animals' wellbeing, causing extraordinary land devastation, pollution and water contamination.
Faux or not? When real fur is mislabelled
Cases of real fur being mislabelled as faux are unfortunately on the rise. This is as technological advancements mean faux fur is now virtually indistinguishable from the real deal. Investigations made in 2017 by the Humane Society International (HSI) found that high street and online fashion outlets had been mislabelling garments as faux fur when tests revealed that they contained fox, mink and rabbit fur. Culprits include Missguided, Boohoo, House of Fraser and TK Maxx. Worried your faux fur might be too good to be true? If you're concerned, PETA has a whole blog post dedicated to telling the difference between real and faux fur.
How to shop for sustainable coats this winter
As much as you may love the look and feel of faux fur, the arguments against it do stack up. Luckily, one ethical way to shop sustainable coats in faux fur is to buy second-hand. Online resale retailers, such as Ebay and Depop are my first ports of call. If you are able to visit a brick-and-mortar charity shop though, you'll likely find coats at even cheaper prices. Digital resale culture has caused some sellers to inflate prices.
Alternatively, if you want to stay out of the fur/ faux industry entirely, you can shop for a quality sustainable coat made in a natural material. Look out for designs made from locally sourced organic wool or organic cotton. They make for some of the most genuinely warm winter coats too. Other natural materials that are sometimes used for outwear are hemp, bamboo and linen.
Some handy accreditations and certifications to look out for are:
Recycled polyester has also become a popular material choice. Try Patagonia (which also offers the Common Threads garment recycling scheme), VAUDE's eco collection, Fjällräven and Quechua.
5 sustainable coats brands we love
Not sure where to start your search for the perfect sustainable coat? I've rounded up my five favourite brands below. Each of these uses ethical and sustainable practices, sources its materials responsibly (think recycled down and fishing nets) and gives back to communities. Impressive, eh?
Patagonia Women's Down With It Jacket
A Fair Trade Certified™ garment. 100% recycled polyester shell covers, 100% recycled duck and goose down, reclaimed from other down products.
VIEW NOW: Patagonia Women's Down With It Jacket, £225, Patagonia
Boden Cartwright Coat
Boden have made a commitment to using responsibly sourced fabrics, as can be seen in this flattering wool-mix coat, which has a fully recycled polyester lining. The brand also tests the longevity of its garments, with hours of wearer trials and assessments, so each one of their coats can be a buy now, wear year-after-year purchase.
VIEW NOW: Boden Cartwright Coat, £190, Boden
ECOALF Down Jacket
If it's not using recycled materials such as plastic bottles, fishing nets, old tyres and repurposed wool and cotton, ECOALF produces clothes from organic cotton, Tencel, hemp and linen. This down jacket for example is made from 100% recycled polyester. An added bonus, ECOALF is a certified B Corp, meaning it is committed to workers' rights and protection.
VIEW NOW: ECOALF Down Jacket, £269, Yoox
Thought Marci Recycled Polyester Wrap Coat
UK-based brand Thought's commitments are to 'considered design, responsible sourcing, and fostering change'. This includes using only sustainably sourced or natural materials and slow shipping processes for the lowest carbon footprint possible. The Marci Wrap Coat is not only beautifully designed, but is made from a sustainable recycled wool blend and is fully lined with soft, organic cotton.
VIEW NOW: Thought Marci Recycled Polyester Wrap Coat, £189, Thought
Askov Finlatson Women's Winter Parka
American brand Askov Finlayson boasts the world's 'first climate positive parka' by offsetting 110% of the emissions used to manufacture its products and operate its business. It also makes all its garments ethically in Vietnam, using fully recycled materials (both outer shells and inner linings). The brand's One Winter Guarantee means that, if you don't love your new sustainable coat after your first winter wearing it, you can return it. No questions asked. After this, your coat has a limited lifetime warranty, as the brand believes that to be truly sustainable, its coats should last for many winters.
VIEW NOW: Askov Finlatson Women's Winter Parka, £380, Askov Finlatson
Will you be stocking up on more sustainable coats? Or re-thinking your fashion choices? Let us know.
Sign up to our free daily email for the latest royal and entertainment news, interesting opinion, expert advice on styling and beauty trends, and no-nonsense guides to the health and wellness questions you want answered.
Esther is a features and fashion writer and stylist, who is particularly focused on the intersection between fashion and social issues and feminism. Her work has been featured in woman&home, Refinery29, ELLE, Stylist, Dazed, Grazia, HelloGiggles, and HuffPost.
She also founded The Activist, a fashion, arts, and culture magazine, dedicated to celebrating young women and non-binary people in politics and protest.
When she's not writing and styling, Esther is an avid bookworm and usually devouring something from the latest Women's Prize longlist, getting crafty with embroidery art, or enjoying a jaunt around the Suffolk countryside.