What shops have reopened and what can you expect from your favourite stores including Marks & Spencer?
What will shopping in-store be like as restrictions are eased?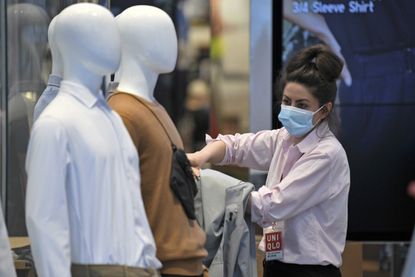 (Image credit: AFP via Getty Images)
Many non-essential shops have reopened today as lockdown eases - but which shops have reopened and can you expect?
In line with the latest published government guidelines, high street retailers, charity shops (opens in new tab) and department stores are allowed to open their doors again starting today (15th June). That is, provided they follow the COVID-19 secure guidelines set out by the government in May - so what can you expect from this new shopping experience?
Will toilets be open in shops?
While we're excited that many places are safely reopening, the lack of public toilets has been a real issue over the past few weeks for people who ventured out to parks for picnics (opens in new tab) or to simply enjoy the sunshine. Thankfully, many shops have confirmed that their toilets will indeed be open for customers, but will be managed by staff to control overcrowding. However, some shopping centres will keep their toilets closed, so best to check with the shops you're planning to visit.
Do we need to wear face masks in shops?
At the moment, it's not compulsory to wear face masks (opens in new tab) when visiting shops, but people have been advised to wear them in places where social distancing cannot be guaranteed. Face covering are only compulsory in public transport at the moment.
What shops have reopened and what will the experience be like?
Marks & Spencer
M&S have shared with us what will be on offer for all the family when it reopens and how they have adapted to suit families' needs. As well as products, the team have been thinking about services. Whilst the bra fitting service remains paused, M&S will be directing customers to its enhanced online tool. This simple to use guide has proved popular already, and visit to the page on M&S's website are already up nearly 500%.
Alison Grainger, Head of Clothing & Home Retail for Marks & Spencer says, "Our aim is to help our customers' shop clothing with confidence, with extensive measures in place to ensure social distancing. Where things are different we're making sure we can offer great service and digital solutions such as our online bra fit tool.
"We know that customers will be coming out on a mission: be that something for growing kids or new summer items for a family BBQ. We'll be making it easier for them to find what they need and we'll be making sure we have what they need in stock – from bringing in new summer products, to increasing our kidswear offer, to making sure we've got a great range of gifts for Father's Day."
Shop online at M&S (opens in new tab)
Kurt Geiger
Kurt Geiger has made the following adjustments and precautions for your post-lockdown shopping experience.
Stores will have a maximum COVID secure capacity, allowing one customer in per 15sqm of space, double the government guidelines. Allowing you to enjoy all your personal space.
Kurt Geiger will only be accepting card payments and strongly encourage contactless payment wherever possible.
Perspex screens have been installed at cash desks to allow transactions to take place safely.
Team members will wear protective gloves and face masks.
All customers will be asked to wear disposable pop-socks (or your own socks) when trying on footwear.
All shoes that have been tried on will go into quarantine for 24 hours before anybody else is able to try them on or purchase them.
Antibacterial hand gel will be compulsory for anyone trying on shoes or handling accessories and also for our team members prior to serving you.
All returns will be handled with disposable gloves and the stock will not be available for resale to other customers for at least 24 hours.
Kurt Geiger stores and their teams are ready for reopening on Monday 15th June in the below locations:
London (Covent Garden & St Christopher's Place)
Liverpool (Liverpool Church Street)
Cheshire (Cheshire Oaks Outlet)
Leeds (Victoria Leeds)
Manchester (Trafford Centre)
Birmingham (Birmingham NEC Outlet)
Gap
Gap are re-opening all of its UK stores in England on Monday 15th June. The brand will be offering fabulous discounts to welcome customers back into stores, with up to 60% off sale product with even better deals in-store. All full-priced items will also have 40% off with further special offers in-store. In preparation of re-opening, Gap have implemented detailed steps on social distancing when customers are in store, in accordance with the governmental guidelines.
Use this handy tool to locate your nearest Gap store. Gap Store Locator (opens in new tab)
Fenwick
Family owned department store Fenwick will be ready to open its doors again to customers from Monday 15th June. The 137-year old department store group, is renowned for its levels of customer service and its carefully curated selection of products. In order to prepare for re-opening to its customers, every store has undergone intensive cleaning, both front and back of house, with extensive social distancing measures implemented.
Fenwick has implemented the following measures to ensure re-opening is as safe as possible for all customers and colleagues, and to ensure social distancing measures are respected.
Customer hosts will be there to welcome customers at the entrance of every store and to assist throughout the store.
The number of people in the store at any time will be carefully managed.
Each door has been designated as either an entry or an exit and some doors will be closed completely.
Some toilets will be open in every store with hosts to help manage numbers.
A one-way system for each store has been planned which will be clearly marked out on the floor, but customers will be able to 'step off' the path to browse.
Lifts will be accessible only for customers in wheelchairs or those with mobility issues who have difficulty using escalators or for people with buggies or for a small number of people at a time providing they all come from the same household.
There will be no beauty treatments either in private treatment rooms or in booths on the shop floor available.
Fitting rooms will be closed and customers wishing to try on accessories such as hats or sunglasses should speak to a sales advisor for assistance.
In children's and toy departments there will not be any toys out on display to try or play with.
Cafes and restaurants will remain closed for the moment in line with government advice.
Hand sanitiser will be easily accessible to all throughout the store and located at every till point.
All sales advisors will be provided with clear visors and there will be clear screens in place to protect customers and colleagues.
The stores will be open from Monday 15th June and operating the following hours:
Bond Street: Mon to Sat 11am-6pm; closed Sunday
Bracknell: Mon to Sat 10am-6pm; Sunday 11am-5pm
Brent Cross: Mon to Sat 10am-6pm; Sunday 12-6pm
Canterbury: Mon to Sat 10am-5pm; 10.30am-4.30pm
Colchester: Mon to Sat 10am-5pm; Sunday 10.30am-4.30pm
Kingston: Mon to Sat 10am-6pm; Sunday 11am-5pm
Newcastle: Mon to Sat 10am-6pm; Sunday 11am -5pm
Tunbridge Wells: Mon to Sat 10am-5pm; 10.30am-4.30pm
York: Mon to Sat 9am-5pm; Sunday 11am-5pm
Dune London
All stores are planned to reopen from Monday 15th June.
What you can expect in-store at Dune London
Limiting the amount of people in-store at any one time.
You'll find floor markings both inside and outside to show you where to queue, enter and checkout.
Perspex protector screens will be at the tills to keep staff safe.
Hand sanitisers will be available to you in-store.
Masks will also be available to customers who wish to wear one.
Can you try on shoes at Dune?
Part of the Dune London experience is getting to try shoes on in-store. This will continue with introduced extra measures to keep you (and your feet) safe:
You will be encouraged to wear disposable pop socks when trying on footwear.
All shoes that have been tried on will be disinfected afterwards.
Seating areas will undergo regular cleaning and sanitation as part of our wider store cleaning schedules.
Any goods that are returned to stores will also be disinfected.
If you see something you'd like to try on, ask one of Dune London team to handle the product for you.
Shop online at Dune London (opens in new tab)
Beaverbrooks
Family-owned jeweller, Beaverbrooks has revealed comprehensive plans for reopening its stores safely, which include floor markings and physical boundaries to ensure safe social distancing for customers and colleagues. Daily temperature checks for team members, and hand sanitizer stations at the entrance and throughout the store which will be mandatory for shoppers to use before entering.
What will the jewellery shopping experience will look like?
Customers WILL be permitted to try on jewellery thanks to a rigorous hygiene process using a jewellery cleaning solution and regular stock rotation.
There will be a customer host to greet shoppers upon arrival and a designated team member to provide personal service and assistance during your visit.
Staff will not be required to wear face masks or PPE, but will have the option to do so if they choose.
Masks and gloves will also be available for customers should they choose to wear them
Individual appointments will be permitted for special purchases such as engagement rings, but will be limited to the beginning and end of the day.
Becky Joiner-O'Riordan is a Senior Fashion Stylist & Writer. With 10 years experience in the fashion industry, she currently works across woman&home, womanandhome.com, Woman, Woman's Own, Woman's Weekly, Chat, goodto.com, and has previously worked on Harper's Bazaar, Notion and Now Magazine.
After graduating from both the University of the Creative Arts and The Fashion Retail Academy with first-class honours she dipped her toes into the world of television styling working on This Old Thing, hosted by Dawn O'Porter and Channel 4's live tv show series Gok Live: Stripping for Summer.