Mint Velvet, our go to brand for relaxed glamour, launches ICONS collection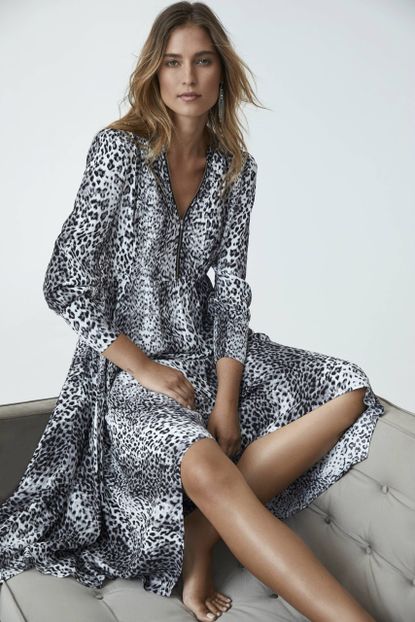 It's been ten years since Mint Velvet first landed on our high street.
Starting life at CEO and founder Liz Houghton's kitchen table over cups of fresh mint tea with her two friends, Mint Velvet has grown rapidly over the past decade. They now have over 47 UK boutiques, 86 concessions (they're consistently one of John Lewis & Partner's best-best selling brands), 40 international outlets and a thriving ecommerce site.
With a focus on being a lifestyle brand with more to offer than just beautiful clothing, 2017 saw the launch of their successful podcast, WEAREWOMEN (opens in new tab), and they have also partnered with some incredible charities as part of their MVGiving initiative over the years.
Their relaxed glamour ethos is at the heart of the brand, creating gorgeous and wearable pieces that are sure to be staples in your wardrobe for years to come. Bestsellers include classic black leggings - an off-duty essential (they've sold over 180,000 pairs since they started!) - to fashion-forward animal print blouses, which are a personal favourite of ours - they look so great with jeans!
Buy it here for £32 (opens in new tab)
And we can't not mention the super soft buttery leather jackets that Mint Velvet are known for. They've been with the brand since the beginning 10 years ago, which we think only proves their timelessness.
MORE:This Marks and Spencer dress will be the season's sell-out item, according to our fashion director
Perfect for dressed-down weekends or layering over pretty floral dresses the versatility of their classic biker jackets means you'll treasure it for years.
Buy it here for £279 (opens in new tab)
So what's next for the brand?
Look out for the ICONS collection, an ode to Mint Velvet through the decade, it launches next month in celebration of their 10th birthday.
MORE:H&M are selling a £25 dupe of one of Duchess of Sussex's iconic dresses
And just in time for party season too – you'll want to snap this sequin number up before it's gone, we predict a sell out!
Which is your favourite Mint Velvet piece?
Eloisa is a fashion stylist and deputy fashion editor working across eight Women's Lifestyle publications at Future, including womanandhome.com. Her previous styling projects include contributions to Condé Nast Brides, Now, Essentials, and online commercials for brands, including Strongbow and Nivea, organizing the logistics of both UK and international shoots.
While building up experience in the fashion industry, Eloisa assisted stylists and art directors on shoots for brands including Elle US, Harpers Bazaar, M&S, Miss Vogue Australia, Next, Samsung, and Vogue Australia, to name just a few.