Marks & Spencer's Seriously Stylish Take On The New Season Trends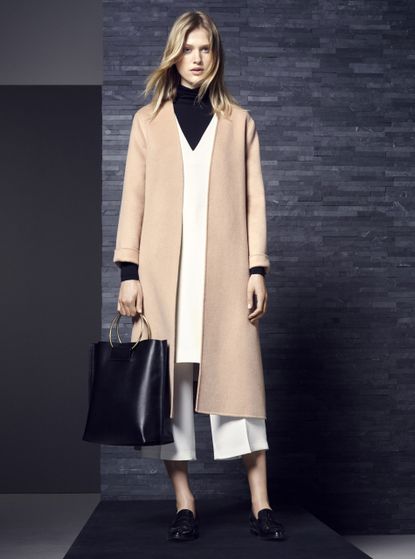 Be won over, whatever your age, by the new season collection from the high street store...
Has Marks and Spencer clothing struck high fashion gold with their latest autumn/winter collection?
Their new season collection is full of stand-out pieces for every occasion and, as always, champions contemporary designs whilst celebrating classic shapes and styles.
It might seem far away to us, but brands are already releasing previews of their autumn/winter collections, and this offering is bound to get you counting down the days until cooler weather means a new wardrobe. This year, Marks and Spencer clothing is all about stepping away from the typical chunky jumpers where possible, and instead embracing layering, textures and minimalism.
Look for key pieces, such as classic tailored coats with could-be-designer detailing and textures that can be worn layered up, and refined designs with a structured edge that will be the talking point of your look. Pair with stand-out accessories for an instant update.
Those who prefer a more relaxed style will want to snap up the loose-fit trousers and dresses from this collection. With an abundance of great tailoring and classic cuts, there's a distinct nod to the comfortably-structured trend that has been around for a while now - but certainly won't be going anywhere next season. Think spring/summer's style with a more grown-up edge.
For the perfect stylish workwear look, the stylish suits, trousers and skirts are ideal. Modern silhouettes paired with head-turning accessories and simple shoes for a stand-out look that is so easy to wear.
Whether you're looking ahead to plan for those few key pieces that will update your look for the new season or planning a whole new wardrobe update, Marks and Spencer clothing has got you covered. Click through to for your masterclass in new season dressing - minimal styling required - and show off your style credentials by knowing all of next season's key trends already...
The autumn/winterr 2016 collection has already begun to land in stores and online at marksandspencer.com (opens in new tab)...
Marks and Spencer autumn/winter 2016 collection
If you love being playful with prints, these monochrome trousers are just perfect. Pair with a longline tunic camisole for a sleek and sophisticated look. Autograph top, £35 Autograph trousers, £45
Marks and Spencer autumn/winter 2016 collection
Next season is all about layering. This pleated asymmetric skirt is set to be a huge hit, thanks to its versatile navy hue and flattering fit. Autograph top, £39.50 Autograph jumper, £22.50 Autograph skirt, £55 M&S Collection boots, £85 Autograph bag, £99
Marks and Spencer autumn/winter 2016 collection
Textures are back in a big way next season. Invest in leather and suede and pair with sleek, tailored separates. Autograph shirt, £69 Autograph trousers, £199 Shoes, £19.50
Marks and Spencer autumn/winter 2016 collection
Autumn/winter is all about the cropped, boxy jacket. Wear yours loose over a printed dress. Autograph jacket, £249 Autograph dress, £39.50
Marks and Spencer autumn/winter 2016 collection
A classic coat will see you through many seasons, and it's not too early to be thinking about which style to invest in. We love camel as a chic alternative to black. Autograph coat, £199 M&S Collection jumper, £27.50 Autograph shirt, £69 Per Una trousers, £49.50 Shoes, £49.50 Bag, £39.50
Marks and Spencer autumn/winter 2016 collection
Forget double denim - why not go all-out and try triple?! Choose jeans with an interesting hemline to be fashion forward next season. Autograph coat, £169 M&S Collection jacket, £35 Limited Edition blouse, £29.50 Limited Edition trousers, £35 M&S Collection shoes, £35
Marks and Spencer autumn/winter 2016 collection
The classic jumper dress is a favourite, and next season's favourite detailing is knots. Pair both with this sure-fire hit. Autograph dress, £49.50 M&S Collection shoes, £29.50 Necklace, £17.50
Marks and Spencer autumn/winter 2016 collection
Switch up that classic black suit and opt for a new hue this season. This white two-piece will never date. Autograph jacket, £79 M&S Collection top, £17.70 Autograph trousers, £45
Marks and Spencer autumn/winter 2016 collection
Cosy just got cool! We'll certainly be investing in this comfortable jumper/coat pairing. Limited Edition coat, £69 M&S Collection jumper, £125 Autograph trousers, £49.50 Shoes, £49.50 Autograph bag, £79
Marks and Spencer autumn/winter 2016 collection
The humble blouse is going nowhere next season, but it's all about layering under your favourite shift dresses for a new season twist. Limited Edition blouse, £29.50 Limited Edition dress, £49.50
Marks and Spencer autumn/winter 2016 collection
Layer away! M&S prove the power of a good midi skirt with their versatile version. Limited Edition jacket, £89 M&S Collection jumper, £35 M&S Collection skirt, £49.50 M&S Collection boots, £85
Marks and Spencer autumn/winter 2016 collection
We may have just discovered our neext-season boots! These suede ones are stylish and versatile - the ultimate investment piece. M&S Collection coat, £99 M&S Collection dress, £39.50 Autograph boots, £125 M&S Collection scarf, £39.50
Marks and Spencer autumn/winter 2016 collection
Don't forget the basics! A simple t-shirt can work wonders with some clever styling. This tailored skirt (opens in new tab) is available now, so you can be ahead of the trends months in advance. M&S Collection top, £17.50 M&S Collection skirt, £39.50 Autograph bag, £49.50
Marks and Spencer autumn/winter 2016 collection
A classic shearling biker jacket is a great investment piece for winter. You might not be thinking about wearing it now, but snap it up when it lands in stores and wear it for years to come. M&S Collection coat, £69 M&S Collection jacket, £65 Autograph top, £39.50
Marks and Spencer autumn/winter 2016 collection
If comfort is key next season, then we can't wait to be ahead of the fashion pack! Quilted coats and comfortable fabrics make for a wardrobe of styles we can see ourselves wearing. Limited Edition coat, £79 M&S Collection top, £29.50 M&S Collection jumper, £17.50 M&S Collection trousers, £35
Marks and Spencer autumn/winter 2016 collection
Ditch winter's usual low-key colours and opt for something bright to boost your mood instead. Blouses are still a hit next season, and this one is perfect for pairing with your exisitng wardrobe. Limited Edition jumper, £35 M&S Collection shirt, £25 Limited Edition skirt, £45 Bag, £35 Bracelet, £12.50
Marks and Spencer autumn/winter 2016 collection
Show as much skin as you can manage in winter with some cut-off trousers. Limited Edition top, £35 Limited Edition trousers, £35 Shoes, £49.50
Marks and Spencer autumn/winter 2016 collection
A grey waterfall jacket is versatile, and perfect for throwing on to perfect that 'ladiback' fashion look. M&S Collection coat, £79 M&S Collection top, £25 M&S Collection trousers, £35
Marks and Spencer autumn/winter 2016 collection
Embrace white throughout the winter months as a staple hue. This dress is the perfect year-round buy. M&S Collection dress, £49.50 Shoes, £19.50 Autograph bag, £49.50
Marks and Spencer autumn/winter 2016 collection
Structured shapes are still a style favourite. Keep it simple and wear this column dress with flats and a biker jacket. M&S Collection dress, £49.50 Shoes, £19.50
Marks and Spencer autumn/winter 2016 collection
Haven't invested in a leather skirt yet? Now might be the time! This purple style is just bold enough to help you stand out in and out of the office. M&S COLLECTION JUMPER £35 PER UNA SKIRT £55
Marks and Spencer autumn/winter 2016 collection
Choose one colour, and play with different shades - that's the clever way to style this season. M&S Collection jacket, £69 M&S Collection jumper, £35 M&S Collection skirt, £35 Autograph boots, £125 Brooch, £9.50
Marks and Spencer autumn/winter 2016 collection
Simple shapes will go far, as long as you opt for good, quality pieces. M&S Collection jumper, £35 M&S Collection jeans, £39.50
Marks and Spencer autumn/winter 2016 collection
The leopard-print coat makes a return every year, and 2016 will be no different. Style it simply with brogues and jeans. Per Una coat, £119 M&S Collection jumper, £17.50 M&S Collection jeans, £45 Shoes, £35 Earrings, £12.50
Marks and Spencer autumn/winter 2016 collection
Per Una coat, £149 M&S Collection dress, £49.50 Tights, £9.50 Shoes, £29.50 Necklace, £17.50 Bag, £79
Marks and Spencer autumn/winter 2016 collection
Per Una dress, £55 Autograph bag, £69 Ring set, £9.50
Marks and Spencer autumn/winter 2016 collection
Boho-style midi dresses are still a huge trend for winter, and M&S gets it right every time. Add faux fur and stand-out accessories. Per Una dress, £49.50 M&S Collection bag, £32.50 Earrings, £9.50
Marks and Spencer autumn/winter 2016 collection
Per Una jacket, £89 Limited Edition jumper, £29.50 Per Una skirt, £49.50 Socks, £6 M&S Collection shoes, £29.50 M&S bag, £35
Marks and Spencer autumn/winter 2016 collection
Per Una jumper, £45 Per Una skirt, £49.50 Earrings, £7.50 Bracelet, £12.50
Marks and Spencer autumn/winter 2016 collection
These wide-leg trousers are already coveted by fashion editors everywhere. In Per Una top, £55 Autograph, £49.50 Shoes, £29.50 Necklace, £15
Marks and Spencer autumn/winter 2016 collection
Per Una dress, £59 Earrings, £12.50