These 5 fashion brands are always supporting women - on International Women's Day and beyond
The inspirational female-founded fashion brands to shop on International Women's Day and beyond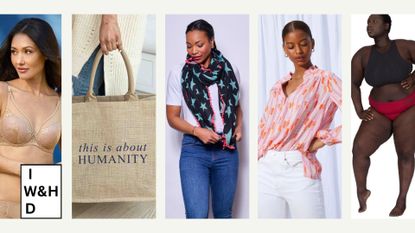 (Image credit: The Little Bra Company, The Little Market, Scamp & Dude, LemLem, Thinx)
International Women's Day is always marked in our calendar as an extra moment to champion women. A time when many brands make extra charitable donations or seize the opportunity to highlight female-founded or female-benefitting initiatives, we wanted to take a slightly different angle this season.
International Women's Day is a demarcated moment in the calendar to celebrate women. Whether its those you know and have direct involvement in, or those that you admire, IWD as it's commonly referred to is also a brilliant moment to support female business founders and recognize their achievements.
Many female-founded businesses also give back constantly to their own and wider communities all through the year, and it's these companies that we want to shout out on this important day of the year. So these are the business doing good, regardless of the calendar month and by supporting them, you're giving a helping hand to women all over the globe.
International Women's Day: 5 fashion brands who are always supporting women
From fashion to lingerie, these are the five female-founded fashion brands that help to build up others.
1. The Little Market
Not many chic fashion and homeware brands deliver a feel-good shopping factor in the way that The Little Market does. A nonprofit whose aim is to help create dignified, safe and secure income opportunities for economic self-sufficiency for women worldwide can only be commended.
Founded by Lauren Conrad and Hannah Skvarla, the whole mission of The Little Market is circled around one key element, 'every purchase makes a difference'. Having taken a trip together to Tanzania and Uganda back in 2012, the pair visited organizations working with artisans and entrepreneurs. Extremely talented women that lacked access to larger selling methods and ways of securing their economic futures, the duo joined forces, to create a retail platform that exclusively sells ethically produced items from social enterprises and artisan groups in underserved communities. This includes refugees, people with disabilities, young mothers, resettled individuals, people living in extreme poverty and survivors of sex trafficking. By supporting these organizations through The Little Market platform, those involved can produce and sell their wares, receive living wages and have safe and fair jobs. In addition to this, the organizations will help with counseling, healthcare programs, business training and literacy classes, re-building lives, one purchase at a time.
With a wide range of beautiful artisan products that are ideal for gifts or self-gifting, The Little Market's well-curated range covers homeware and accessories, including candles, tote bags, serveware, linens and organizational items, for a home set up you can be proud of. Because making your world look beautiful through The Little Market will help to build the future for other women too.
(opens in new tab)
The Little Market Raffia Tote
RRP: $118 (international shipping available) | Handmade in Madagascar, as we head back into the summer season, the best tote bags are a must for the months ahead. Raffia designs remain one of the key handbag trends 2023, so you can look good and help give back in one go.
(opens in new tab)
The Little Market Slogan Tote
RRP: $26 (international shipping available) | If you want to really wear your heart on your sleeve, or in this case your thoughts over your shoulder, this printed tote is handmade in Bangladesh. Available with either white or navy writing, it is ideal for everyday use, or for supermarket shopping.
(opens in new tab)
The Little Market Beaded Bracelet
RRP: $22 (international shipping available) | Crafted in Cambodia, this bracelet is made from ethically sourced glass and 24k gold-finished beads. The production of these bracelets offer women in Cambodia employment, skills and education and you a gorgeous gift or self-gift.
2. Scamp & Dude
Scamp & Dude was founded by Jo Tutchener-Sharp in 2016 following life-saving brain surgery. Facing a lengthy stay in hospital, away from her children, Jo originally set out to create a children's wear brand that would help little ones feel more secure when going through such a turbulent time, tapping into their internal superpowers to help calm any separation anxiety. And while the brand has pivoted somewhat, becoming a feel-good fashion brand, bursting with easy, wearable pieces and dopamine-dressing-inducing color, the desire to do good and impact those going through cancer and trauma in as positive a way as possible remains central to the brand.
The original Superhero Sleep Buddy - a cuddly toy that has space for a picture of a loved one is still on sale today and for every one sold, another is donated to a child who has lost a parent or is seriously ill. Expanding beyond teddies to Super Scarves, where for every scarf sold, another is donated to a woman with cancer or a mother of a child with cancer. Reminding those who may feel utterly alone, that there is someone who cares.
With over 5000 Superhero Sleep Buddies, 10,000+ Super Scarves, and more than 600k worth of superpower-infused sweatshirts donated, there is no denying that Jo and Scamp, and Dude are having a huge impact on the wider community, every single day.
(opens in new tab)
Scamp & Dude Superhero Sleep Buddy
RRP: £30 (international shipping available) | When you buy one of of these super cute bunny toys another is automatically donated. There is a space at the back of the toy to slip a photo of a loved one, making this an ideal gift for those who need comfort.
(opens in new tab)
Scamp & Dude Leopard Print Super Scarf
RRP: £40 (international shipping available) | As with the toys, for every scarf purchased, another is donated to a woman going through cancer treatment, or to a mother of a child in treatment. Offering much needed warmth and comfort at a difficult time.
(opens in new tab)
Scamp & Dude Repeat Star Print Super Scarf
RRP: £40 (international shipping available) | The happy prints, colors and tactile detailing on this scarf is a great way to make anyone's day, and the buy one, donate one scheme that Scamp & Dude run on these scarves ensures your purchase gives back to others.
3. LemLem
If you're looking for beautiful swimwear, the best beach cover-ups, chic dresses and great accessories, LemLem is an artisanal brand, with resort wear at its core. Made ethically and responsibly in Africa, LemLem combines beautiful clothing alongside helping to create economic growth on the continent, whilst keeping traditional art of weaving alive in Ethopia, securing the future of many local women.
In addition to providing local employment, 5% of the brand's online sales go straight to LemLem's foundation. Since 2006, the brand has helped female artisans in Africa make their way out of poverty, creating a pathway to job opportunities, access to healthcare and building a brighter and more industrious future. Working with local social enterprises, the foundation supports women in Ethiopia and Kenya be prepared for textile and fashion jobs in Africa.
But it's not just economic growth the brand is supporting, alongside training and employment, they've helped to support women's health outreach and access to maternal support and education.
Nothing feels quite as good as wearing clothing you know has uplifted and supported the future of others.
RRP: $425 / £425 | Looking for the best dresses? Ideal for a travel capsule wardrobe, LemLem pieces are perfect for sunny destinations. Yellow has been a huge hit on the runway at international fashion weeks, so stock up now for the coming months.
RRP: $295 / £295 | Looking to update your spring capsule wardrobe? A pretty blouse will work across occasions, and in the latest fashion color trends, this pink and orange design will help to brighten up smart casual outfit ideas in an instant.
LemLem Green & White Swimsuit
RRP: $250 / £250 | The best swimsuits are hard to find, but this repeat printed design with waist-flattering, self tie belt and supportive halterneck is a great choice for creating hourglass curves on the beach this summer. The deep V will elongate your frame too.
4. Thinx
Period poverty has been somewhat of a catchphrase of late, but Thinx is one brand that is putting thought into action. Founded by Maria Selby, the best period underwear has revolutionized menstruation for a generation and alongside other eco-friendly period products and has given further options for those looking to move away from pads and tampons and towards more sustainable alternatives.
Now with three brands, Thinx, Thinx Teens and Speax by Thinx which aims to tackle bladder leakages, this clever underwear brand is also helping those with period poverty. For every pair purchased of any of its three brands, Thinx donates a pair to trusted partners that help to battle period poverty and promote reproductive health and donated over 50,000 pairs in 2022 alone.
In addition to this, Thinx set up a cart donation program, giving shoppers the opportunity to donate at checkout. This has resulted in over $400,000 additional donations, helping the brand to make basic hygiene products available to those who need it (through trusted partners).
A proud supporter of grassroots organizations that tackle period poverty and support women's menstrual health and reproductive rights, this game changing brand is helping to make talking about and dealing with 'women's issues' in the future less taboo for all.
(opens in new tab)
RRP: $35 / £30.28 | If you're new to period underwear, it essentially has built in absorption that also wicks moisture away from the body, for a comfortable and dry feel. The briefs account different levels of flow, you can find your perfect pair.
(opens in new tab)
Thinx Heavy-Flow Boyshort
RRP: $38 / £32.87 | Want to feel a little more secure? As a relatively new concept, many are still understandably nervous about period underwear, but the boyshort, as it has legs can feel a little more comfortable and supporting for heavier days.
(opens in new tab)
RRP: $35 / £30.28 | The best part? Thinx period underwear is just full of dull and sensible panties. They're fun and attractive too. We love the bright red color, coupled with the mesh detail for a period tackling brief that also makes you look and feel great.
5. The Little Bra Company
This female founded lingerie company makes some of the best bras for small busts. Founded in 2007 by Emily Lau, after she struggled to find beautiful lingerie that catered for her smaller frame, that felt feminine and sexy, she realized lots of her friends felt the same way.
Fast-forward to 2023 and The Little Bra Company has every type of bra that a petite woman could ask for. Stylish lingerie covering everything from the best t-shirt bras to push up bras and sensual lacy numbers for when you want something special.
Knowing how important good foundations are, Emily and The Little Bra Company donate thousands of bras and underwear every year to those in need, displaced and those affected by natural disasters. The brand also keenly gets involved with numerous charity opportunities to raise funds for specific projects, such as the Foundation for Living Beauty, helping women living with cancer.
And if that hasn't convinced you that Emily Lau and co are International Women's Day super stars, this bra brand offers support (pun intended) to Raised By a Village, donating money to the charity, who help kids during divorce processes.
Tirelessly recognizing the work and needs of others, all the bras are named after friends and family who have supported and continue to support Emily on this journey, meaning that bagging your own support can uplift others too, now how's that for the best bras.
The Little Bra Company Ashly
RRP: $64 / £55 | Available in AA-D cups and 28-36 back size, despite being specifically for small busts and petite frames, this Little Bra Company bra will work for a fairly wide size selection. We love the lace fabric and bronz and pink color combo for a regal feel.
The Little Bra Company Push Up
RRP: $62 / £53 | Don't forget to sort the basics. It's easy to invest in lots of pretty, lacy numbers, but having some smooth cups that just work under everything is our top bra shopping tip. This push-up style comes in four different shades and AA to D cups.
The Little Bra Company Bra
RRP: $62 / £53 | Looking for the most comfortable bras? This sporty-style, t-shirt bra features a racer back fit for extra support and a delightfully loungewear-like fit and feel. The perfectly pink pastel hue just adds to its fashionability.
Rivkie is a fashion editor, writer and stylist with over fifteen years' experience in the industry. Having studied design and pattern cutting at the London College of Fashion, Rivkie fell in love with styling and journalism, covering fashion weeks in London, Paris and New York.
Specialising in plus size fashion, Rivkie has long championed that style is for everyBODY and has been a regular talking head on a host of radio stations and television shows, pushing for greater representation for plus size women and fashion throughout her career.