How to style a gilet—6 outfit ideas to help you add a gilet to your closet
Wondering how to style a gilet? We have 6 ways to wear this season's stylish new outerwear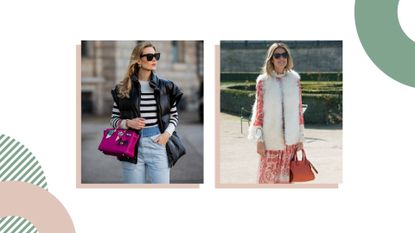 (Image credit: Getty Images / Future)
Learn how to style a gilet from our Fashion Editor, with six ways to wear this stylish and versatile outerwear piece.
Gilets are notoriously hard to style. Is it outerwear? Is it really just an amped-up waistcoat? We're here to help demystify the gilet and show you how to style them to wear as a versatile layering piece. A gilet is a great styling piece all year through as it offers you another outerwear option. Whether you wear it for spring instead of a jacket or work it under one of the best coat trends for 2022 for added warmth in the winter, a gilet should be the item you add to your capsule wardrobe this season.
While some see the gilet as being quite a sporty item, reserved for your leggings outfits, in fact, there are lots of different styles of gilet on the market right now, ensuring you can find both casual and dressier iterations. Think of a gilet like a cross between your best blazer and a cardigan to help you get into the mindset of how you might wear it.
We've broken down the key six ways to integrate a gilet this season to give you a head start. And if you're still yet to invest, we've even rounded up some of the best gilets too.
How to style a gilet—outfit ideas from our fashion experts
Add a gilet to your wardrobe this season with these great outfit ideas.
1. Gilet and Hoodie
What you need
Puffer gilet
Hoodie
Leggings
Want to be warm but with less bulk on your arms? Then opt for a sportier style puffer gilet, layered over any of this winter's best hoodies. Sports luxe has continued to be a strong trend across the runway and ready-to-wear markets and a hoodie with an athleisure-inspired gilet means you don't have to sacrifice warmth for style. Let your gilet draw inspiration from the best winter coats, embracing the comfort of a puffer without the added weight. Keep the rest of your silhouette streamlined by tapering your bottom half with form-fitting leggings and flattering knee-high boots.
A styling tip:
Keep your leggings and boot color the same for a seamless finish. By opting for black leggings and coordinating knee-high boots of the same color your legs will look elongated and endless.
Our fashion editor recommends...
Mango Quilted Zipper Gilet
RRP: $79.99 / £49.99 | Made with water-repellent fabric this gilet is both practical and stylish for the months ahead. This neutral hue will go with so everything too.
RRP: $19.99 / £17.99 | The joy of this look is its comfort and simplicity. Give your best loungewear buys a spring makeover with a puffer gilet.
2. Gilet and Jacket
What you need
Faux fur or wet look gilet
Leather jacket or blazer
Midi skirt
A gilet is essentially a layering piece and as we head towards spring, you might find your winter coat too heavy for increasing temperatures. A leather jacket or oversized blazer and spring weather go hand in hand, but on those slightly milder days, when a jacket doesn't quite suffice, layering a luxe gilet over the top can add both texture, interest and of course warmth to spring's fave jacket styles.
A styling tip...
Don't worry about the jacket and gilet having the same hemline, but do try to opt for a gilet with a more luxurious fabrication such as faux fur or wet look finish for a bit more of a glam aesthetic.
Our fashion editor recommends...
River Island Plus Faux Fur Gilet
RRP: $44.99 / £85 |So luxe, the combination of the faux fur with a leather jacket is a great tactile experience. This gilet is available up to a size 28.
Karen Millen Curve Leather Biker
RRP: $610 £355 | Great for spring and fall seasons, add extra detail and interest with a luxe faux fur gilet to get even more wear out of this wardrobe staple.
3. Gilet and Boho Dress
What you need
Shearling gilet
Boho dress
Suede boots
Cardigans have really enjoyed a resurgence in popularity in recent seasons, but the fashion trend for billowy and full-sleeved dresses has caused quite a cardi conundrum. So how do you show off your sleeves and keep warm? A gilet of course.
Layered over an on-trend, flirty boho dress, a gilet can add great texture and a stylish '70s feel. Look out for fringing and shearling detailing, for that '70s feel.
A styling tip...
While a gilet will work over any length of dress, for a '70s feel, try layering over a midi or maxi dress. This style will also look great on summer evenings.
Our fashion editor recommends...
A.L.C. Sutton Faux Shearling Vest
RRP: $495 / £420 at Net a Porter | An elegant way to add texture and warmth to your outfit, the faux shearling gives this layering piece a gorgeous vintage look.
Anna Scholz Boho Maxi Dress
RRP: $348 / £249 | This pretty boho dress effortlessly combines sheer and opaque georgette panels for a light and airy feel. Available in sizes US 12-24 / UK 16-28.
4. Gilet and Winter Coat
What you need
Slim-fit gilet
Tailored coat
Shirt dress
A gilet isn't just for casual occasions though, they can be worn for dressier outings too. If you've invested in a great tailored winter coat, such as a camel coat, but find on those particularly icy days that it isn't quite warm enough. Then try adding a slim fit, quilted gilet underneath for added protection. This is the most functional integration of a gilet into your wardrobe, allowing you to beat the chill. You could also try a puffer style over the top of a lightweight trench coat too.
A styling tip...
Look for gilets that tonally match your winter coat so that even when you wear your coat open, the finish is still seamless.
Our fashion editor recommends...
Marks & Spencer Padded Gilet
RRP: $50 / £29.50 | This slim-fit gilet has a tailored finish but is packed full of tech. With a concealed hood, secure pockets and flattering stitch detail, it will give extra life to your fave winter coat.
Zara Camel Lapel Collar Coat
RRP: $49 / £29.99 | This tailored Zara coat is super sleek. But with its open front, a gilet will really help to add warmth and protection. You can also try adding a leather belt a secure way of closing this coat.
5. Gilet and Jeans
What you need
Longline gilet
Jeans
Cashmere sweater
Nail casual weekend style this season with a gilet and jeans combination. One of the easiest ways to inject this trend into your wardrobe is to pair it with your best jeans. Swap out your usual weekend jacket for one of this season's sportier style gilets for a look that will take you from lunch dates, to park strolls and everything in between. Try a longline gilet over your favorite cashmere jumper for a look that's both stylish and practical.
A styling tip...
Keep it casual and pair with jeans and a pair of trainers for effortless weekend dressing.
Our fashion editor recommends...
Chi Chi London Padded Hooded Gilet
RRP: $82 / £69 | Go long for added protection and to draw the eye down your silhouette. This gilet comes to just above the knee for a really snug feel, and also comes in white for those looking for something brighter.
Good American Good Legs Raw Hem Jeans
RRP: $99 / £94 | Good American jeans offer a fresh fit on skinny jeans. With distinctive raw hem edging and gap proof waistband, these are a style you'll want to wear on repeat.
6. Gilet and Checked Shirt
What you need
Diamond quilt gilet
Checked shirt
Walking boots
Upgrade your 'weekend in the country' wardrobe with a practical, yet stylish gilet. This look draws inspiration from Kate Middleton, who does country chic so well. Look out for figure-fitting gilets that will sit neatly over a checked shirt. Added detailing such as stud closed patch pockets and a double front fastening ensures your gilet is more than just aesthetically pleasing.
A styling tip...
The main aspects of this look are the checked shirt and walking boots. If you're looking for an outdoorsy outfit, then team this with a trusted pair of fitted jeans that you can tuck into your boots. Want the look without the excursion? Marry this combo with a denim pencil skirt.
Our fashion editor recommends...
Barbour Elderberry Wray Gilet
RRP: $165 / £94.95 | Curved side hems and a dropped back make this gilet really flattering. Barbour is known for their great outerwear, so rest assured that the quilted diamond outer and fleece inner will keep you warm too.
FatFace Olivia Check Shirt
RRP: $62 / £39.50 | A checked shirt is a versatile wardrobe staple. Pick up the color of your gilet in your checked shirt to help tie the look together. A timeless style, this basic will never date and can be worn all year.
Grenson Nanette Lace-Up Hiking Boots
RRP: $385 / £325 | A firm fashion fave, this style is loved by celebrities such as Holly Willoughby. While there are a number of new shoe trends for 2022, the hiking boot is going nowhere, no mountain tops required.
Rivkie is a fashion editor, writer and stylist with over fifteen years' experience in the industry. Having studied design and pattern cutting at the London College of Fashion, Rivkie fell in love with styling and journalism, covering fashion weeks in London, Paris and New York.
Specialising in plus size fashion, Rivkie has long championed that style is for everyBODY and has been a regular talking head on a host of radio stations and television shows, pushing for greater representation for plus size women and fashion throughout her career.