How to choose your activewear according to your body shape
Your guide to pear shaped, busty, plus size, petite and mastectomy active wear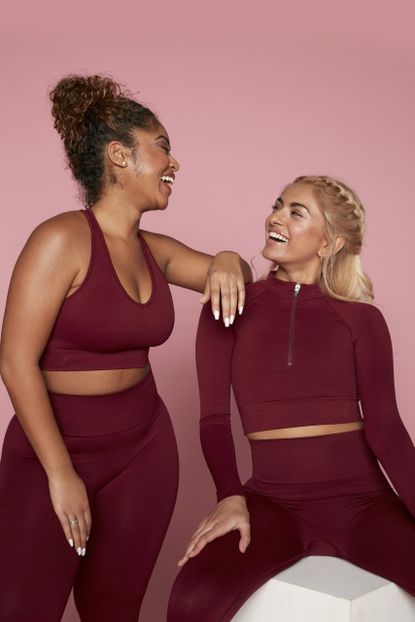 Welcome to woman&home's online shopping where we reveal where to buy the most popular and top-rated products. This guide is about the best sports kits to flatter all body shapes, but you may also be interested in our favourite dresses from The White Company, the most flattering swimwear styles for every shape and M&S's anti chaffing shorts.
Not sure what type of active wear is most flattering for your body type? We're here to help!
There's a whole array of brands out there, many especially tailored to specific body shapes such as petite, busty or plus size but we have loads of tips that will help you enhance your shape through fit, print and clever eye illusions.
Best active wear for large busts
Firstly and most importantly is looking for one of the best sports bras - all women no matter what their size should invest in a well-fitted support. Our breasts are made up of fatty tissue which is surrounded by skin and fragile ligaments called 'Coopers Ligaments'. It doesn't matter whether your breasts are big or small, we all have Coopers Ligaments that can be broken down over time and they won't bounce back.
As a large busted lady you'll already be fully aware of the difference a well-fitted bra can make. Companies such as Bravissimo and Figleaves, Pour Moi, Elomi and Next have a fantastic selection of sports bras and swimwear (opens in new tab) that go up to L cup sizes. Bravissomi and Figleaves also sell active wear tops designed especially to flatter large busts.
Wide scoop necks and V-necks are most flattering for your shape.
Chose tops with visible seams, these help sculpt the body and give the illusion of a smaller waist.
Sports tops especially designed for larger breasts wouldn't ride up as you are exercising, as there is built in space for your boobs.
Wear dark or plain colours on top.
Use the illusion of eye-catching print and details to attract the focus away from your chest area.
Keep warm in a zip up top, which is more flattering than a high-necked sweatshirt.
Best active wear for pear shaped women
Pear shape is the most common figure proportion for women. All it means is that the widest part of your body is below your waist, around your hips. You can be tall, short, heavy, or skinny and still be pear shaped. The main trick to is balance out your hips by enhancing the shoulder area to match in width. It's tempting to want to hide those hips with a long t-shirt but cutting right through at your widest point actually draws the eye down to notice the width, so cropped or top that have a rounded scoop at the bottom are best. For inspiration check out The Good American (opens in new tab) (set up by Khloe Kardashian) which has a fantastically stylish active wear section modeled by pear and plus size women.
Scoop and wide neck tops are most flattering. This will make your shoulders look wider - thus achieving balance.
Wear bright shades and prints on top.
Chose plain or darker prints for your bottom half.
Avoid track pants and opt for wide leg trousers which skim down from your hips to create a balanced shape.
Chose leggings, which have a high waist and feature a wide waistband.
Go for full-length leggings rather than a cropped style.
Best active wear for curvy women
Loads of premium sportswear brands such as Reebok, Nike and Adidas cater for sizes up to a UK 32 or XXXXL as well as more affordable high street options at Figleaves, Curvissa, Asos, Next, M&S and Simply Be. American brands are also a great go to - companies such as Fabletics use women with plus size bodies to model their product so you can see the real fit. The main thing is to embrace your shape (not hide it) by investing in expertly designed pieces, which help accentuate your curves by drawing the eye in and out.
Sportswear with strategically placed panels and seams are your best friend as these help sculpt the body.
Avoid big and baggy, active wear doesn't have to be figure hugging but avoid added bulk by choosing well-tailored pieces.
Asymmetric or rounded scoop bottom tops are more flattering as they don't cut across your body.
Look for trainers that have wide fit options
Chose leggings, which have a high waist and feature a wide waistband.
Best active wear for petite women
Petite girls come in all shapes and sizes, weight doesn't come into it, it's about height. So, generally that means shorter torsos and legs, and narrower shoulders, with boobs, bums and hips to factor-in too. Luckily many brands start their sizes at XXS, although swimwear and trousers can be tricky, so chose items especially from the petite range as they are cut for your shorter dimentions. On the high street head to Asos and Next. Adidas also cater for petite leg lengths, as do specialist petite leggings brand Avoactivewear.com catering for women under 5ft 3. Head to Allbirds for their stylish sports trainer that start in size UK2.
Chose high waisted full length leggings to create length.
T-shirts with front and side knots work well, try knotting one you already own.
Wearing all one tone can help lengthen out your body
Chose smaller prints as large bold ones can break up your frame
Best active wear for post-mastectomy
Leave me Breastless (opens in new tab), a blog helping women who have gone through mastectomy, say, "When choosing activewear post mastectomy, the most important thing is to choose items that are comfortable. If you wear a prosthesis you may chose not to wear it during exercise as they can be sweaty and heavy. If this is the case then you may prefer to opt for a tight fitting crop top underneath a looser fitting tank."
Specialist post surgery companies such as Amoena offer an extensive range of sports bras and swimwear that feature a Mastectomy form, also known as a breast form. This is an artificial breast made of silicone or foam that replaces the missing breast following breast cancer surgery. An alternative to breast reconstruction breast forms are worn externally either inside the cup of a pocketed bra or swimsuit or attached directly to the body. Amoena have designed specialist swim forms which are lightweight, water-resistant and designed to dry quickly.
Freya Lingerie Sonic Moulded Sports Bra Clear
£40, Freya Lingerie sizes 28D-40FF
VIEW NOW: Freya Lingerie Sonic Moulded Sports Bra Clear
Bravissimo Clothing Serena Sports Vest
£16 (was £40), Bravissimo sizes 8-18 (curvy-supercurvy)
VIEW NOW: Bravissimo Clothing Serena Sports Vest (opens in new tab)
Born Nouli Sweet Dreams High Waisted 7/8 Legging
£59, sizes xs-l, bornnouli.com
VIEW NOW: Born Nouli Sweet Dreams High Waisted 7/8 Legging
Fantasie Port Maria Underwired Adjustable Swimsuit
£86, sizes 32D-40GG, Figleaves
VIEW NOW: Fantasie Port Maria Underwired Adjustable Swimsuit (opens in new tab)
Roxy Lead By The Slopes Thermal Zip Up Top
£60, sizes s-xl, Roxy at Next
VIEW NOW: Roxy Lead By The Slopes Thermal Zip Up Top
Lands End Women's Chlorine Resistant Tugless Swimsuit, splice print
£25 was (£50), sizes 8-20 (regular/long/plus), Lands End
VIEW NOW: Lands End Women's Chlorine Resistant Tugless Swimsuit, splice print (opens in new tab)
Good American Oasis Leopard Legging
£96.77, sizes US 0-7, The Good American
VIEW NOW: Good American Oasis Leopard Legging (opens in new tab)
Adidas Originals Adicolor Cropped Cotton-Terry Hoodie
£45, sizes 6-16, Adidas Originals at Net a porter
VIEW NOW: Adidas Originals Adicolor Cropped Cotton-Terry Hoodie (opens in new tab)
Uniqlo Women Airism Seamless V Neck Short Sleeved Longline T-Shirt
£12.50, sizes xxs-xxl, Uniqlo
VIEW NOW: Uniqlo Women Airism Seamless V Neck Short Sleeved Longline T-Shirt (opens in new tab)
Pour Moi Energy Empower U/W Lightly Padded Convertible Sports Bra - Navy/Pink
£28, Pour Moi
VIEW NOW: Pour Moi Energy Empower U/W Lightly Padded Convertible Sports Bra - Navy/Pink (opens in new tab)
Tala Zinnia Legging - Burgundy
£40, sizes xs-xl (regular/tall), wearetala.com
VIEW NOW: Tala Zinnia Legging - Burgundy (opens in new tab)
Figleaves Curve Colourblock Double Layer Top
£28, sizes 12-26, Figleaves Curve
VIEW NOW: Figleaves Curve Colourblock Double Layer Top (opens in new tab)
Fabletics High-Waisted PowerHold 7/8
2 for £24, sizes xxs-xxxl, Fabletics
VIEW NOW: Fabletics High-Waisted PowerHold 7/8
Elomi Energise Sports Bra Navy
£36, sizes 32D-46K, elomilingerie.com
VIEW NOW: Elomi Energise Sports Bra Navy
Marks & Spencer Goodmove Zipped Through Run Top
£29.50, sizes 6-24, Marks & Spencer
VIEW NOW: Marks & Spencer Goodmove Zipped Through Run Top (opens in new tab)
Figleaves Panache Catarina Balconnet swimsuit
£56, bra band size 30-40, Figleaves
VIEW NOW: Figleaves Panache Catarina Balconnet swimsuit (opens in new tab)
Vionic Alma Trainer
£90, sizes UK 3-9, vionicshoes.co.uk
Marks & Spencer Cropped Twist Front Short Sleeve Top
£15, sizes 6-24, Marks & Spencer
VIEW NOW: Marks & Spencer Cropped Twist Front Short Sleeve Top (opens in new tab)
Adidas Energize Tracksuit - Glow Pink / Legend Ink
£69 for set, sizes xxs-xxl (standard/petite/tall), Adidas
VIEW NOW: Adidas Energize Tracksuit - Glow Pink / Legend Ink (opens in new tab)
Adidas Energize Tracksuit - Glow Pink / Legend Ink
£69 for set, sizes xxs-xxl (standard/petite/tall), Adidas
VIEW NOW: Adidas Energize Tracksuit - Glow Pink / Legend Ink (opens in new tab)
Next Shape Enhancing Swimsuit
£26, sizes 6-18 (petite/regular), Next
VIEW NOW: Next Shape Enhancing Swimsuit
Avo The Senara Legging - Raspberry Red
£35, sizes 6- 14, Avoactivewear.com
VIEW NOW: Avo The Senara Legging - Raspberry Red
Allbirds Women's Tree Dashers
£120, sizes UK 2-8, Allbirds
VIEW NOW: Allbirds Women's Tree Dashers (opens in new tab)
Amoena Performance Sports Bra - Black
£27.50, Amoena
VIEW NOW: Amoena Performance Sports Bra - Black
Anita Animal Safari swimsuit
£75, sizes 10-18, Anita at nicolajane.com
VIEW NOW: Anita Animal Safari swimsuit
Marks & Spencer Post Surgery Extra High Impact Sports Bra A-G
£25, Marks & Spencer sizes A-G
VIEW NOW: Marks & Spencer Post Surgery Extra High Impact Sports Bra A-G (opens in new tab)
George Post Surgery Red Frill Swimsuit
£14, sizes 8-20, George Clothing at Asda
VIEW NOW: George Post Surgery Red Frill Swimsuit (opens in new tab)
Amoena Toronto One-Piece High Neckline Swimsuit - Black/purple/mint
£39.05 (was £55.79), sizes 32B-44C, Amoena
VIEW NOW: Amoena Toronto One-Piece High Neckline Swimsuit - Black/purple/mint