We're obsessed with Kate Middleton's blue and green geometric print dress - but what was that white hat all about?
In the interest of nostalgia, we unpack one of Kate's more bizarre fashion choices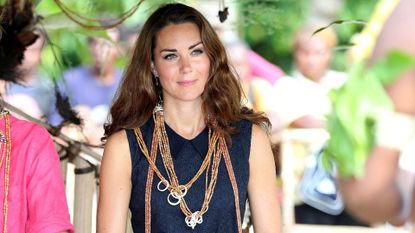 (Image credit: Getty Images)
Kate Middleton's fashion choices always impress us - but we're wondering why she paired this specific hat with one of her most chic dresses.
It's undeniable that Kate looks stunning no matter what she wears. Her style is timeless, classic, and effortlessly chic, and she proves it to us time and time again, even as her time as a royal continues on.
Throughout the years, Kate has proven that staple wardrobe pieces, like her classic Le Chameau wellies or her pastel pink pantsuit, are a must for her - aka, she's not interested in participating in trends. However, we do love when Kate appears to get a little bit out of her comfort zone - did you see the camo cap she wore recently?!
We've been examining one particular outfit the Princess wore back in 2012 while visiting Honiara, Guadalcanal Island on their Diamond Jubilee Tour. Throughout this trip, she wore a lot of beautiful looks (think: floral maxi dresses galore) - but we're questioning a certain hat choice she made.
(Disclaimer: we all wore things in 2012 that perhaps were not exactly *sartorial genius* No judgment here, just curiosity.)
As you can see, the dress is classic Kate - a simultaneously vibrant, yet chic pattern with a conservative cut. She paired it with a pair of white pumps from LK Bennett, which is a predictable shoe choice for Kate, seeing as she still usually opts for a pump.
If you're interested in the dress specifically, it retails for about $1,500 on Net-a-Porter - which is a *bit* out of our price range. We did find a similar, yet more updated style, however, for all of your Kate Middleton-channeling needs - and don't fret, it's eons less expensive than $1,500.
---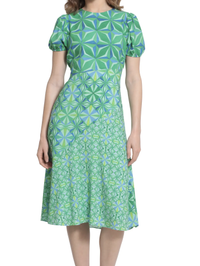 Donna Morgan Geo Print Puff Sleeve Midi Dress, $47.98 | Nordstrom Rack
Playful puff sleeves frame an A-line midi dress featuring a geometric print for retro-chic style.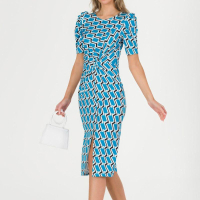 Jolie Moi Arica Jersey Puff Sleeve Bodycon Midi Dress, £59 | Debenhams
Get the royal look with this geometric midi that is extremely similar to Princess Catherine's style, at a great budget price.
The hat she's wearing, however, comes as a bit of a shocking choice. Kate is no stranger to wearing hats, of course (we love when she channeled Jackie Kennedy a few months ago) - but this one is a bit different compared to the headwear she typically opts for.
Kate has been known to wear her fair share of fascinators and hats in her time as a royal - especially for formal royal engagements, such as the Queen's Platinum Jubilee. This headwear, however, isn't quite a hat or a fascinator, really - it almost appears as though it's sliding off her head.
As it pans out, the headwear was simply a fashion choice that was made in the interest of remaining conservative (yet chic) while getting off the plane and arriving on Guadalcanal Island. If Kate is nothing else, she is always respectful to her title - and to others.
Madeline Merinuk is woman&home's US lifestyle news writer. She covers celebrity, entertainment, fashion, and beauty news but is also obsessed with internet trends - you can find her reciting trending TikTok sounds out loud at any given time.
After winning multiple student journalism awards for her investigative work, she graduated from Hofstra University in 2021 with a B.A. in Journalism. After graduating, she worked at today.com, the digital site for the Today Show, where she wrote pop culture news and interviewed big-name personalities like Emily Ratajkowski, Haley Lu Richardson, Emma Corrin, and more.
Her personal interests, in no particular order, are: cheese, Joni Mitchell, reading, hot yoga, traveling, having multiple chapsticks in every handbag at all times, and dancing to ABBA songs as if she were in the Mamma Mia movies.