The coronation proved cape dresses aren't just for royalty
Cape dresses were all the rage at the coronation - here's who sported them at the historic event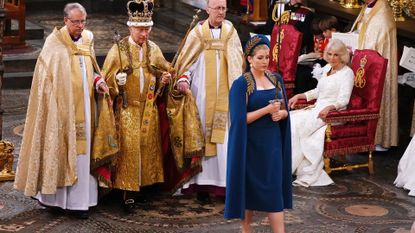 (Image credit: Getty Images)
Cape dresses proved to be quite the trend at the coronation, and it wasn't just members of the royal family who sported them. Check out some of the best cape dresses we saw at the coronation, plus where you can buy a style of your own.
King Charles' coronation saw a plethora of stylish outfits from royals and non-royals alike. We particularly loved Kate and Charlotte's matching tiaras and Alexander McQueen dresses, as well as Queen Letizia of Spain's bubblegum pink peplum dress. We also saw a resurgence of headbands, an occasionwear accessory that's definitely still in style. All in all, the weekend proved to be one of great historical and sartorial significance.
One trend that we saw a lot of at the coronation is cape dresses. Cape dresses are undoubtedly largely worn by royals in particular, as the look tends to give off an air of regency and sophistication. However, at the coronation, many non-royal women proved that perhaps the style can be worn by anyone, and maybe even in a day-to-day context.
Penny Mourdaunt's cape dress was fashioned in a teal color with gold leaf embroidery, which helped add some sophistication to her look, seeing as she had the important duty of wielding that eight-pound sword.
While Finnegan Biden also sported a cape dress of a light yellow hue - but unlike Penny's, Finnegran's cape extended over her shoulders and chest and down the back.
Even Kosovo President Vjosa Osmani opted for a cape dress for the day, proving that cape dresses withstand the sartorial test on a global scale.
Royals of course participated in the trend, too, with Queen Mathilde of Belgium also sporting a light pink cape dress.
Although you might be thinking cape dresses are a bit out of your comfort zone, they're proving to be popular, even at high-street retailers like Zara and Bloomingdale's. These cape dresses are a super stylish way to stand out at a special occasion without putting in any extra effort - and let's be honest, who doesn't want to wear a cape? It just sounds fun, if nothing else.
Plus, cape dresses don't have to be so literal - you could opt for a style that maybe just has a draped shoulder or something similar to give the illusion of a cape.
Luckily, we found some styles that you can indulge in for the summer months that will give you that ultimate level of sophistication for your next formal outing.
---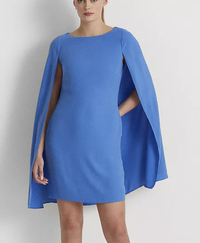 Lauren Ralph Lauren, Cape Overlay Dress, $126.75 (£100) | Bloomingdale's
This ultra-chic cape dress is perfect for any special occasion. It fits just above the knee and comes in the most amazing shade!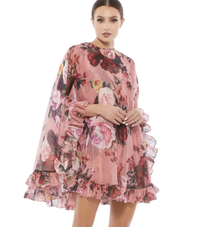 FLORAL PRINT HIGH NECK RUFFLE HEM CAPE MINI DRESS, $398 (£317) | Macduggal
Crafted from billowy floral-print chiffon, this stunning dress boasts a high-fashion look with wing sleeves, pretty ruffle trim, and a leggy babydoll length - perfect for special occasions.
Madeline Merinuk is woman&home's US lifestyle news writer. She covers celebrity, entertainment, fashion, and beauty news but is also obsessed with internet trends - you can find her reciting trending TikTok sounds out loud at any given time.
After winning multiple student journalism awards for her investigative work, she graduated from Hofstra University in 2021 with a B.A. in Journalism. After graduating, she worked at today.com, the digital site for the Today Show, where she wrote pop culture news and interviewed big-name personalities like Emily Ratajkowski, Haley Lu Richardson, Emma Corrin, and more.
Her personal interests, in no particular order, are: cheese, Joni Mitchell, reading, hot yoga, traveling, having multiple chapsticks in every handbag at all times, and dancing to ABBA songs as if she were in the Mamma Mia movies.