Susanna Reid stuns in affordable Next dress – and it's selling out fast!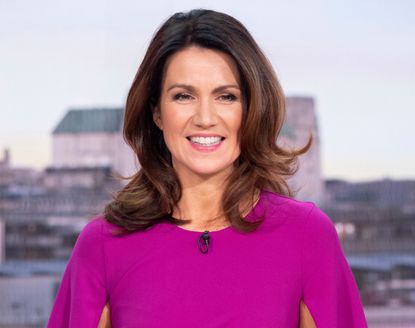 In recent months, it's safe to say that Susanna Reid has emerged as somewhat of a style icon.
We here at w&h keep a close eye on her sartorial offerings on the Good Morning Britain sofa, and more often than not, find ourselves coveting her latest dresses.
The popular morning presenter is a fan of the simple, but stylish, mid-length dress, ensuring she keeps her look professional yet playful whilst presenting GMB. You'll rarely spot Susanna wearing anything without sleeves, so she gets points for being practical too. And, luckily for us, the presenter has a penchant for high street labels, which means that many of her most stylish numbers are actually affordable, with brands like Warehouse, Hobbs and Dorothy Perkins regularly gracing the GMB screen.
Susanna often pairs her favourite dresses with simple, pointed court heels, which are a failsafe way to always look put together. But we digress.... On to Susannah Reid's dresses! Take a look at some of her best looks so far, and find out where you can bag them for yourself...
29th January 2019, Next dress
Susanna wowed viewers on Tuesday's episode of Good Morning Britain in this figure-hugging magenta dress from Next. The split-sleeve creation is one of the presenter's chicest fashion choices yet - and it seems customers love it as much as we do!
After Susanna wore the dress, the magenta version almost sold out online, and is now only available in a size 6. At £55, it's a pretty affordable buy, and best of all is perfect office wear, or still suitably stylish for a night out.
But never fear if you wanted it for yourself, as it's still available in all sizes in two different colours! On offer is a royal cobalt, and a gorgeous deep red. So be quick and get your size before it sells out!
Buy now for £55 at Next (opens in new tab)
16th January 2019, floral Phase Eight dress
Bringing a touch of spring as she popped in for a natter with the Loose Women on Wednesday, Susanna showed off her recent weight loss in a curve-clinging floral wrap dress.
Featuring a figure-flattering deep v neckline and ruching across the middle, it's a classic silhouette that would suit any frame. Whilst the bold floral print hides a multitude of sins.
We love how Susanna has styled it with a pair of sparkly courts, but it would look just as gorgeous dressed down with tights and boots for colder days.
Priced it at £99 from Phase Eight, it's a pricey option, but one you'd be sure to get plenty of wear out of!
Buy now for £99 at Phase Eight (opens in new tab)
10th January 2019, leopard print Sosandar dress
Animal print has been a huge trend this winter, and it's not going anywhere. So it's no surprise to see Susanna donning a leopard number as she presented Good Morning Britain.
Putting her own spin on the much-loved trend, we love how she's given it a colour pop makeover with an eye-catching red shade.
The frothy frills along the hemline and arms give the dress a really feminine feel, whilst the high neckline perfectly balances out the peek-a-boo detailing.
At just £69 from online brand Sosandar, it's the perfect investment piece to see you through to spring. Be quick though – it's already selling out in some sizes.
Buy now for £69 at Sosandar (opens in new tab)
9th January 2019, floral Oasis dress
Since the start of 2019, Susanna Reid has been favouring more and more floral-inspired dresses - and this new Oasis number is one of our favourites so far.
The chiffon midi dress is the perfect stylish option for this chilly time of year, with its longer length and protective, high-neck design. Although the GMB host has opted to wear hers with no tights and a pair of yellow heels, we reckon this would also look great with some black tights and boots, for the cold January weather.
The Oasis number is also pretty affordable too. On sale for £58, the chic looking piece won't break the bank, but will work from now right through til summer!
You'll need to be quick though if you want to buy it, as it's already selling out!
11th December 2018, Debenhams red shirt tunic
On Tuesday's Good Morning Britain, Susanna opted for a festive red dress from high-street department store Debenhams.
With a belted waist and mid-length skirt, the bright red dress flattered both the presenter's hourglass figure and her olive complexion and dark hair.
The open neck tunic has a relaxed fit making it ideal for day-to-day wear, yet looks elegant enough for an after-work event or Christmas party. Team with black or gold heels and gold jewellery for a glamorous festive ensemble.
Priced at £129, the Damsel Dress is a little more expensive than some of Susanna's previous choices, but is worth the investment given its versatility and gorgeous colour!
Buy now for £129 from Debenhams. (opens in new tab)
10th September 2018, M&S spotted red dress
For a dull Monday morning, Susanna opted for a bright red dress from one of our favourite high-street retailers, Marks & Spencer.
The stunning, spotted wrap dress is perfect for this time of year - allowing you to show off any residual tan whilst still staying warm as the temperatures drop.
The longer sleeves are also ideal for those of us less secure in showing off our uppers arms, and the frilled, wrap detail ensures a flattering silhouette.
And while Susanna's dress may look expensive, it's actually the most affordable one she's worn in a while, at just £35!
It's also available in a more subtle black and a demure navy colour, if you want the dress for a more formal occasion.
But be quick, as we predict this will sell out quickly!
Buy now for £35 from Marks & Spencer. (opens in new tab)
5th September 2018, blue floral wrap dress
Flying the flag for Phase Eight once again, Susanna looked fabulous on a recent Good Morning Britain in this floral wrap dress.
The Dianah Floral Print Dress has details similar to that of Susanna's previous outfit, but with kimono sleeves and a gorgeous 'Peacock' hue that will enhance what's left of your summer tan!
As Susanna has proven time and time again, you can't go wrong with a nude heel. Team yours with a pair of light-coloured courts and gold drop earrings.
Buy now for £140 from Phase Eight (opens in new tab)
18th July 2018, pink wrap dress
Keeping her summer style on point, she recently wore this wrap dress on Good Morning Britain. With her hair done in a Kate Middleton style blow-dry, she looks effortlessly elegant.
Never to be one to shy away from bright colours, we're loving the pink and blue combo. Wrap dresses always suit an hourglass shape, plus the v-neck line will really flatter a fuller bust.
Pick up on the blue tones with your bag and introduce some gold to this look with a pair of heeled sandals and stacking rings.
Buy now for £130 from Phase Eight (opens in new tab)
12th July 2018, butterfly and floral dress
Sticking to her favourite shape of dress, this tight fitted one hugs all of her curves in the right places. Bringing the summer to our screens, this floral and butterfly motif dress from Paper Dolls is super feminine for Susanna.
Teamed with some bright pink heels and her signature loose curls, this entire outfit is a triumph! Plus the capped sleeves on this dress makes it ideal if you want to conceal upper arms.
Buy now for £58 from Paper Dolls at Dorothy Perkins (opens in new tab)
4th July 3018, fitted bright red Karen Millen dress
Oozing confidence, this vibrant shade of red really flatters and enhances her sun-kissed skin. Styled with easy tousled curls, she is pulling this fitted dress off with ease.
Finishing just on the knee, this piece is ideal for a day at the office or even for an upcoming wedding or event. Wear at the office with some classic nude courts and a luxe leather tote. Spice things up for a party with bright printed heels and gold statement earrings. Don't be afraid to clash when it comes the print of the shoes, the more daring the better we say.
If you're worried about wearing such a fitted dress, then slip on a pair of saviour spanx underneath.
Buy now for £180 from Karen Millen (opens in new tab)
26th June 2018, summer yellow M&S dress
Susanna decided on the perfect summer outfit for the sunny weather we're experiencing at the moment, with this gorgeous M&S kimono dress.
The star paired the dress, with tie wrap detail, which a pair of matching yellow Zara heels with an embellished jewel detail.
This M&S dress is also super affordable, on sale at the high-street retailer for just £29.50. Dress it up with heels like Susanna, or keep it equally as glamorous with a pair of pretty sandals for a more relaxed look.
However, if yellow isn't your colour, the dress is also available in a further three colours - pink, ivory, and navy. So which will you be adding to your shopping basket?
Buy it now from Marks & Spencer, £29.50 (opens in new tab)
7th June 2018, M&S lace dress
Susanna looked as smart as ever on Thursday's episode of Good Morning Britain, with stylist Debbie Harper opting for a fun - yet business like - lace floral bodycon dress.
The £79 dress is a little more expensive than your ordinary Marks & Spencer buy, but it would certainly be worth the investment, given that it could work for anything from a day of meetings to a fun summer party.
Plus, it's available in both a regular and a long design, meaning it'll work for any height!
The gorgeous statement dress isn't only popular with Susanna though - it's actually going down a storm with M&S customers too, with the brand confirming that it's selling fast on their website.
Luckily, the item is still available in sizes 6 - 22, but if you want it, you may need to hurry, as your size could well sell out fast!
Buy it now from Marks & Spencer for £79 (opens in new tab)
6th June 2018, floral M&S dress
The 47-year-old is clearly favouring the floral trend as summer draws in - and of course, Marks & Spencer too! The presenter picked yet another design from the high-street retailer for Wednesday's installment of GMB, and it's the perfect pick for staying professional in the warmer weather.
With its wide bell sleeves and floaty design, this £45 dress from M&S will definitely keep you looking chic and cool in the heat.
The 3/4 length sleeves are also perfect for covering up your upper arms, if you're less keen to show them off.
Susanna's gorgeous floral dress is still available in all sizes - and at under £45, it's practically a bargain.
Buy it now from Marks & Spencer for £45 (opens in new tab)
4th June 2018, J by Jasper Conran Dress
Susanna Reid made sure to add a splash of brightness to the drizzly weather at the start of June, with this bold yellow and white striped dress.
The GMB host looked like the epitome of summer-time, in the J by Jasper Conran design, which is actually stocked at Debenhams.
She paired the look with some fabulous white heels, which went perfectly with the bold colours of the dress.
And amazingly, Susanna's choice is on sale - so if you're in need of a dress for the warmer months, it's the perfect option! The 'wiggle dress' is usually sold for £59 online, but has been reduced to just £44.25.
The short-sleeved design is currently available on all sizes too, meaning it's the ideal time to snap it up before it goes.
Buy it now from Debenhams for £44.25 (opens in new tab)
22nd March 2018, Boden Kaia Ottoman Dress
Susanna proved to be as stylish as ever on a Thursday episode of Good Morning Britain, in a sleek and simple Boden dress paired with hot pink Next heels.
The presenter turned to a designer much loved by the Duchess of Cambridge for this green dress, with a flattering pink tie waistline and hemmed detailing.
The dress is slightly more on the expensive side, at £90, but is a brilliant investment piece. While it's perfect for work or formal occassions with a pair of high heels, it could also work for a relaxed dinner with friends or weekend party. Team with a jacket and some accessories to dress it down a little.
Buy it now from Boden for £90 (opens in new tab)
1st March 2018, Ted Baker Dress
Susanna wore this beautiful Ted Baker dress, which is exclusive to John Lewis on Thursday's episode of Good Morning Britain.
The dress originally cost £179, but has now been given a 25%, meaning it's available for the reduced price of £134.25. The flattering silhouette combined with the elegant pattern means this dress would be perfect on any shape.
Susanna chose to accessorise with a pair of nude court shoes, and we think this was perfect, but it could also look lovely with a pair of white trainers, to bring out the white flowers in the pattern.
Buy it now from Ted Baker at John Lewis for £134.25 (opens in new tab)
26th February 2018, Phase Eight Kimono Dress
Susanna wore this nude coloured kimono dress on Monday morning's episode of Good Morning Britain.
She paired the dress, which features a super flattering waist cinch detail, with a pair of floral embroidered heels.
The combination of the subdued colour and classic shape make this the perfect addition to any woman's wardrobe.
Buy it now from John Lewis for £88 (opens in new tab)
8th February 2018, Fenn Wright Manson Betsy Dress
Susanna looked gorgeous in this cool toned floral dress on 8th February. The dress is from Fenn Wright Manson and is a lovely take on the classic floral dress, it retails at £119.20.
She paired the dress with pale nude pointed heels, and chose to wear her hair behind her back to accentuate the elegant neckline.
You could do as Susanna does, or wear a brighter shoe to give the whole outfit a little bit of a kick.
Buy it now from Fenn Wright Manson for £119.20 (opens in new tab)
January 31st 2018 , Hobbs Lois Dress
Susanna chose this gorgeous royal blue dress, which is enough to lift spirits on the final day of cold January.
The dress is by a firm favourite of celebrities, including the Duchess of Cambridge, Hobbs. It retails at £139, and is super versatile, while the details in the neckline and waist, as well as the colour, mean it walks a fine line between classic and interesting - a great investment!
Susanna chose red heels with the dress (very patriotic!), but we would also recommend a fun pair of sandals for the summer, or white trainers if you are getting on with your day.
Buy it now from Hobbs for £139 (opens in new tab)
Marks & Spencer Lace Skater Dress worn 29 January 2018
Susanna has once again turned to high-street favourite Marks & Spencer, for this formal but flattering lace skater dress. The below-the-knee design and lace detail collar ensure this look is sophisticated and smart, while the fun lace design and gorgeous floral patterns make sure that this outfit is a super-stylish pick.
Susanna wore the M&S design in deep purple, with a matching pair of heels. However, sadly Susanna's dress has proven so popular that the purple style has sold out. But don't fret! The dress is still available in five other colours that are perfect for your upcoming Spring weddings. Buy yourself the dress in blush pink, antique rose, silver grey, navy, or duck egg - any of colours would make for a perfect wedding guest outfit for the upcoming months. Best of all, the gorgeous dress is available for the very reasonable price of £59, which if you ask us, is a steal for a dress as nice as this one.
Buy it now from Marks & Spencer for £59 (opens in new tab)
Marks & Spencer Lace Bodycon Midi Dress worn 28 November 2017
Susanna returned to her ever-popular preference for gorgeous floral dresses recently live on Good Morning Britain. The presenter turn to one of our favourite high-street retails, Marks & Spencer, for this choice - picking a lace floral midi dress, that hems off just below the knees.
The flattering pick makes for a great choice if you're keen to cover your arms, while also maintaining a sleek and stylish look. Susanna accessorised her dress with a red belt to cinch in her waist, and some red heels from Office. This dress is definitely the perfect way to stay warm and chic as the winter draws in!
Buy it now from Marks & Spencer for £49.50 (opens in new tab)
Oasis Skater Dress worn 6 November 2017
Susanna Monday morning pick is one of her best bargain outfits yet - selling for just £33.60 in the sale! The skater dress, from Oasis, is as flattering as it is stylish, and is a brilliant option for those darker winter days and nights. Team it with simple heels and a blazer for work, or dress it up with some brightly coloured heels for a night out - either way, this dress would be the perfect addition to your wardrobe!
Buy it now from Oasis for £33.60 (opens in new tab)
Hobbs Charlie Dress worn 30 October 2017
If you loved Susanna's start of the week get-up you'll have to be quick. The Charlie dress from Hobbs has gone on sale and is selling fast! The floral printed dress has lovely fluted sleeves which are flattering and elegant. We love the bright lemon drop floral pattern, it is perfect for brightening your wardrobe as the days get darker.
Buy it now from Hobbs for £74 (opens in new tab)
Marks & Spencer Collection worn 16 October 2017
To start the week Susanna opted for a lovely floral number from Marks & Spencer and it has put a big smile on our faces. Stylist Debbie Harper has a keen eye for some of M&S's best pieces and we love when she gets Susanna to show us how they should be worn. The long sleeves are super flattering as is the dark navy/black base colour. The floral pattern remains super on trend this season and is also very flattering. And the best thing about this dress - the price! At just £29.50 we see this dress flying off the hanger. If you want to grab one you had better be quick.
Buy it now from Marks & Spencer for £29.50 (opens in new tab)
Phase Eight Exclusively For John Lewis worn 10 October 2017
Susanna's stylist Debbie Harper picked a real winner with this Phase Eight Artist Palette Dress! What better way to brighten the darker evenings than with the flattering patterned dress? The sleeves offer great coverage and the twist detailing at the waist will really pull you in. Exclusively for John Lewis this dress costs £89. While it isn't one of Susanna's cheapest dresses, it is perfect for lots of occasions and you are sure to want to where it as much as possible. We think it is a great investment!
Buy it now from John Lewis for £89 (opens in new tab)
Amana Rose pink dress worn 20th September 2017
Susanna took a leaf out of the style-book of the Duchess of Cambridge with this pretty blush pink number. The dress, from L.K.Bennett, looks a lot like dresses worn by the royal in the past - and it was even worn by Prince George's new head-teacher on his very first day of school! The dress comes in a subtle sophisticated shade that flatters Susanna's dark hair, and the long flared sleeves are the perfect way to cover up as the colder weather fast approaches. This pink dress is available to buy for £250, so although its higher-end, it's the perfect transitional outfit for all weathers - so would be well worth the price.
Buy it now from L.K.Bennett for £250 (opens in new tab)
Pink leopard print worn 18th September 2017
The popular presenter changed up her look at a recent awards ceremony, but again took her inspiration from the Duchess of Cambridge, and the regal dresses of Issa's House of Fraser range. Issa is of course the designer who made the Duchess' popular blue silk engagement dress - and this vibrant pink leopard print number (opens in new tab) is from her new high-street collection. Susanna accessorised the dress with a stylish pair of specs, and some nude court shoes, and we think she looked fabulous for a night out in the city.
Buy it now from Issa at House of Fraser for £109 (opens in new tab)
Kimono Sleeved Midi worn 12th September 2017
Susanna's stylist loves to dress the presenter in florals and we cannot get enough of her latest choice! The kimono sleeve is very flattering and is a lovely change to an ordinary three-quarter length sleeve. The oriental floral pattern is delicate and feminine and the pop of pink offers a great opportunity to match your accessories.It comes in a shorter length for those who are more petite.At only £56 from Oasis, this dress is a must-have final summer purchase. Thankfully, the navy base colour means that you can easily make use of it this autumn and winter too. Try it with a pair of heeled boots and a leather jacket for a chic casual look.
Buy it now from Oasis for £56 (opens in new tab)
Floral Dress worn 4th September 2017
It was Susanna's first day back at work and she looked fully refreshed following her summer break. This black and yellow floral dress by Very was very flattering on screen and looked great with the thin black belt her stylist Debbie Harper picked out. At just £45 this dress is the perfect way to start building your autumn wardrobe.
Buy it now from Very for £45 (opens in new tab)
Teal dress worn 26th July 2017
This teal pick (opens in new tab) from Susanna is one of our current favourites. The lace detail and subtle but sophisticated colour make it the perfect outfit for work or play. Plus, it's available for the brilliantly low price of just under £37!
Buy it now from Oasis for £36.80 (opens in new tab)
Floral dress worn 13th July 2017
This dark floral number is from one of our favourite stores - Hobbs. This sleeved dress is a great option for ladies who are perhaps a little self-conscious of their arms. It's a little pricey, at £115, but the dress is actually on sale, reduced from £169! So really, it's a complete bargain...right?
Buy it now from Hobbs for £115 (opens in new tab)
Floral dress worn 10th July 2017
Susanna Reid's floral frock (opens in new tab) was a bit of a a departure from her normal bold, statement colours. The simple dress could work brilliantly for a wedding or aday at the races - pair it with some classic nude heels like Susanna's done to complete the look, as they'll compliment the more vibrant dress.
Buy it now from Dorothy Perkins for £35 (opens in new tab)
Pink dress worn 13th June 2017
This beautifully simple pick from Susanne manages to be both relaxed and professional at the same time. The so-named 'flippy dress' has a casual flowing skirt, but keeps business on top with a smarter, high collar. The perfect option to take you from the boardroom to the bar! This dress is also loved by Holly Willoughby too, who also owns it, so this hot pink number is definitely a favourite amongst our favourite TV ladies.
Buy it now from Warehouse for £25 (opens in new tab)
Pink lace dress worn 16th May 2017
This simple baby pink number (opens in new tab) is one of Susanna's biggest bargain outfits. Available in Debenhams, this one is from Principles by Ben de Lisi, and is now selling for just £22.50!
Buy it now from Debenhams for £22.50 (opens in new tab)
Green shirt dress worn 26th April 2017
The presenter led the way in the style stakes with this fashion-forward pick back in April. This geometric shirt dress with full-length sleeves is an ideal pick as the winter months draw in, as it'll make sure you still look great will keeping you cosy and warm.
Buy it now from Warehouse for £25 (opens in new tab)
But as with all Susanna Reid dress picks, these will probably be sold out before too long - so make sure to go and pick yours up ASAP!