Serena Williams shows she can slay on the red carpet as well as the court in velvet dress with thigh-high split
Serena Williams showed off her incredible legs in a stunning gown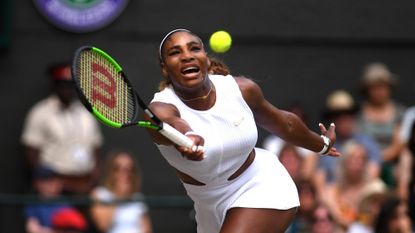 (Image credit: Photo by Laurence Griffiths/Getty Images)
Serena Williams hit the red carpet at the NAACP awards in a stunning black number that perfectly showed off her athletic figure.
Serena Williams brings her A-game wherever she goes, whether its blasting her opponents with her killer backhand, or stunning fans on a red carpet. In February, Serena wore an amazing black gown to the NAACP awards, and you have to see how good it looks on her to believe it.
The tennis athlete, 41, is certainly queen of the tennis courts, but proved herself to be the queen of the runway too with this custom Brandon Blackwood design.
The dress, which features a thigh-high split, also has a plunging v-neck, which perfectly compliments the black, sheer bra that she chose to wear underneath. The form-fitting gown's uber-high leg slit shows off Serena's insanely muscular legs, giving us mega fitness inspiration for 2023 (it's never too late to start your fitness journey - right?!)
To complete the look, she wore a pair of black stilettos to match the black velvet dress. She also wore some silver jewelry, as well as red nails and a pink lip, to pull the look together.
At the NAACP Image awards, Serena, who also happens to be friends with Meghan Markle, was awarded the Jackie Robinson Sports Award, which "honors athletes who excel in their field of play while also making efforts in areas like social justice and civil rights," according to The Bleacher Report.
"I'm incredibly humbled to be amongst some of the greatest names in today's culture, celebrating those who promote equity through creative endeavors," Williams said (opens in new tab) at the awards while at the podium. "Together, we are a team of trailblazers, and we represent what is possible, when you truly believe in yourself, and your potential, and follow your life and passion."
Although the athletic icon is known mostly for her efforts on the court, she decided in late 2022 that perhaps is was time to focus on other parts of her life.
In September, Serena revealed to Vogue that she would be stepping away from tennis so she could focus more on her family - but she doesn't want to call it retirement.
"I have never liked the word retirement," Serena told Vogue.
"It doesn't feel like a modern word to me. I've been thinking of this as a transition, but I want to be sensitive about how I use that word, which means something very specific and important to a community of people," she added.
"Maybe the best word to describe what I'm up to is evolution. I'm here to tell you that I'm evolving away from tennis toward other things that are important to me."
Madeline Merinuk is woman&home's US lifestyle news writer. She covers celebrity, entertainment, fashion, and beauty news but is also obsessed with internet trends - you can find her reciting trending TikTok sounds out loud at any given time.
After winning multiple student journalism awards for her investigative work, she graduated from Hofstra University in 2021 with a B.A. in Journalism. After graduating, she worked at today.com, the digital site for the Today Show, where she wrote pop culture news and interviewed big-name personalities like Emily Ratajkowski, Haley Lu Richardson, Emma Corrin, and more.
Her personal interests, in no particular order, are: cheese, Joni Mitchell, reading, hot yoga, traveling, having multiple chapsticks in every handbag at all times, and dancing to ABBA songs as if she were in the Mamma Mia movies.