Ruth Langsford wore a dress from a supermarket on This Morning and it's a total bargain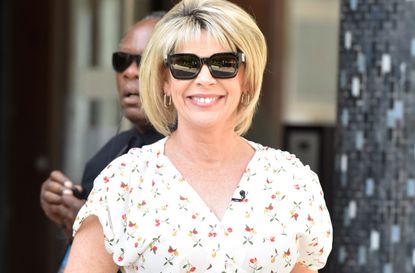 Ruth Langsford wowed viewers during Tuesday's instalment of This Morning, when she stepped out in a gorgeous floral frock.
Taking to Instagram to share the details of her outfit as per usual, Ruth twirled in the flowing, flowery midi dress.
Luckily for fans of Ruth who were hoping to steal her style, the 59-year-old telly star revealed that the pale blue dress is actually available at the Tesco!
Captioning the social media upload, the breakfast TV favourite explained that the feminine number is from Tesco's clothing brand, F&F, which means you can grab it during your weekly grocery trip.
The even better news is that you can pick up the pretty piece for just £26, so you can nab a gorgeous new outfit along with the milk, bread and eggs for less than 30 quid.
A trip to the supermarket has never been so exciting!
Don't worry if you don't have a Tesco nearby, though. F&F is also available to buy online on Next's website.
READ MORE:Ruth Langsford looks stunning in M&S dress on a date night with husband Eamonn
As Ruth teamed the dress with a pair of nude court heels and her signature sleek bob, hordes of her loyal supporters swooned over the chic look.
One praised: 'Looking good Ruth, so nice that you wear clothes we viewers can afford'; while another chipped in: 'Gorgeous Ruth! You're always a stunner! We're so lucky to have you and Eamonn on This Morning every day. Making us all very happy with your infections laughter. 😊😊'
Ruth seems to be an expert when it comes to looking good in bargain buys these days and impressed her followers again last month when she sported a £15 Primark dress (opens in new tab).
As she showcased the pink and red floral ensemble, fans applauded her low-cost fashion choice.
'Just shows when you wear it with style and panache you don't have to wear designer labels to look fabulous 🙌🏻 💕,' one gushed.
And a second added: 'My god your dress was from Primark, would never have believed that , it looked so expensive, and you wore it well 🙏🏼.'