Queen Letizia of Spain steps out in the most fabulous crimson gown, and she's a total vision
Queen Letizia proves red is definitely her color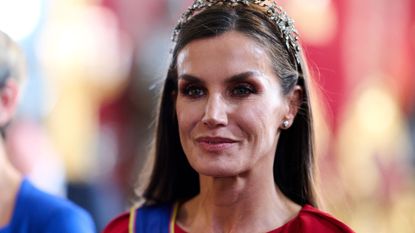 (Image credit: Getty Images)
European royals have just as much fashion sense as the Brits - and Queen Letizia of Spain proves this once again with a stunning, crimson red gown.
Everyone has that one color that just suits them better than others, and for Queen Letizia, her color just might be a bold red, as proved by her most recent formal gown.
The Spanish royal family hosted a dinner for the President of Colombia, Gustavo Francisco Petro, and his wife, and Letizia gave one of her best looks yet.
Letizia is no stranger to a stunning dress (we particularly love her flowing, summery white dress and her floral midi dress), but the one she wore at the Royal Palace the other day might just take the cake as her most fabulous one to date.
Her gown is floor length and formal, with a peplum style waist and super chic, flowing cap sleeves. With her dress, she wore a pair of platform, matching red heels to go with the look, proving that perhaps red on red is always a good idea.
Red is truly a color that can work for any time and season, and although we're not necessarily in the market for a long, formal red gown, we did find some styles of red dresses that would give similar energy to Queen Letizia's (without the royal engagement aspect of it all, of course.)
---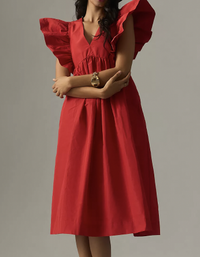 By Anthropologie Volume-Sleeve Babydoll Dress, $160 (£126) | Anthropologie
This beautiful and elegant dress is perfect for any occasion, hitting at just about a midi length and boasting a lightweight and easy fabric.
Ruched Bodice Midi Dress, $144 (£114) | Boden
The smocked back on this vintage-inspired printed midi dress adds a little ease to the fitted bodice. It's cut from a linen-blend fabric for a lightweight drape that glides effortlessly over the body.
The celebration with the President of Colombia came just three days before King Charles's coronation on May 6, of which King Felipe VI and Queen Letizia are attending. Follow along with our King Charles Coronation live blog for all the latest coverage.
The coronation will be attended by approximately 2,000 guests, which marks quite the difference from Queen Elizabeth's coronation - which was attended by 8,000 guests (nearly quadruple the size of Charles's) with 129 nations and territories represented at the event. King Charles has also said on multiple occasions that he has great "respect and admiration" for the Spanish royals.
We can't help but wonder what amazing outfit Letizia will surprise us with at the coronation - but until then, we'll keep taking a look back at her best fashion moments so far.
Madeline Merinuk is woman&home's US lifestyle news writer. She covers celebrity, entertainment, fashion, and beauty news but is also obsessed with internet trends - you can find her reciting trending TikTok sounds out loud at any given time.
After winning multiple student journalism awards for her investigative work, she graduated from Hofstra University in 2021 with a B.A. in Journalism. After graduating, she worked at today.com, the digital site for the Today Show, where she wrote pop culture news and interviewed big-name personalities like Emily Ratajkowski, Haley Lu Richardson, Emma Corrin, and more.
Her personal interests, in no particular order, are: cheese, Joni Mitchell, reading, hot yoga, traveling, having multiple chapsticks in every handbag at all times, and dancing to ABBA songs as if she were in the Mamma Mia movies.