Neon? For spring? Heidi Klum and JLo prove it could be groundbreaking
Neon looks are about to be everywhere for the warmer months...
(Image credit: Getty Images)
Celebs we love to keep our eyes on, like Heidi Klum, Sofia Vergara, and JLo just stepped out in stylish neon looks - and we're rushing to find our own neon ensembles ASAP.
Between Heidi Klum, Sofia Vergara, and a slew of other celebrities who are rocking neon colorways for the warmer weather, we've decided that we definitely will be needing to indulge in what is becoming the fashion color trend of 2023.
Heidi was recently spotted in Pasadena, CA wearing quite the summery, neon look. She sported an orange, body-con dress, coupled with matching neon orange gloves. She also chose to pair the dress with, again, neon orange strappy heels, and a stylish, chunky gold necklace to really round out the look.
Sofia Vergara also is apparently a fan of the neon trend. Recently, the Modern Family star was also spotted in the Los Angeles area wearing an outfit that really let us know where she stands on the whole "is neon cute or not?" debate - and she is definitely on board.
The pièce de résistance of her outfit is her neon yellow trench coat, which wraps at the waist with an accompanying neon yellow belt. She paired this statement coat with a pair of classic blue jeans and strappy nude heels, as well as her super chic Christian Dior tote - plus, a pair of her signature Sofia Vergara sunglasses.
This trend doesn't just extend to streetwear and more casual looks - even the red carpet has been booming with a neon resurgence recently. At the premiere of Ben Affleck's new movie Air, we saw Jennifer Lopez sport a neon yellow gown. Although, of course, JLo looks good in truly anything, we have to say that we love the brighter tones on her.
And even comedy king Jeff Goldblum proved this trend to be universal as he popped onto the set of Jimmy Kimmel Live sporting a neon orange turtleneck sweater. So, yes, truly anyone can wear neon and pull it off.
This isn't the first we're hearing about a neon renaissance, though - last year, the Barbiecore trend emerged, in which celebs were constantly wearing Barbie-pink looks. These outfits, which spanned from full-glam gowns to streetwear blazers, were all the rage - and seeing as this trend focused on solely neon pink clothing, it was pretty hard to miss when celebs like Anne Hathaway, Lizzo, Florence Pugh, and more participated.
---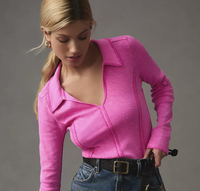 Pilcro Stitched Long-Sleeve Top in Neon Berry Juice, $78 | Anthropologie
Delivering iconic silhouettes crafted from premium denim - along with boho blouses, breezy buttondowns, and beyond - this only-at-Anthro collection is designed to fit, flatter, and feel amazing.
Plus, after the new teaser trailer dropped yesterday for this summer's upcoming Barbie film, (starring our fave Helen Mirren, Margot Robbie, and Ryan Gosling) searches for "Barbie fashion" skyrocketed over 106%, according to Google Trends - so, yeah, you might be seeing a lot of neon pink in the coming months.
Overall, we'd advise folks to keep an eye out at their favorite stores - because if you haven't already seen neon pieces infiltrating their clothing racks, you're about to.
Madeline Merinuk is woman&home's US lifestyle news writer. She covers celebrity, entertainment, fashion, and beauty news but is also obsessed with internet trends - you can find her reciting trending TikTok sounds out loud at any given time.
After winning multiple student journalism awards for her investigative work, she graduated from Hofstra University in 2021 with a B.A. in Journalism. After graduating, she worked at today.com, the digital site for the Today Show, where she wrote pop culture news and interviewed big-name personalities like Emily Ratajkowski, Haley Lu Richardson, Emma Corrin, and more.
Her personal interests, in no particular order, are: cheese, Joni Mitchell, reading, hot yoga, traveling, having multiple chapsticks in every handbag at all times, and dancing to ABBA songs as if she were in the Mamma Mia movies.