Sofia Vergara's debuts her Foster Grant sunnies and they're way cheaper than you'd think
If Sofia Vergara approves of these Foster Grant sunglasses, then we approve of them too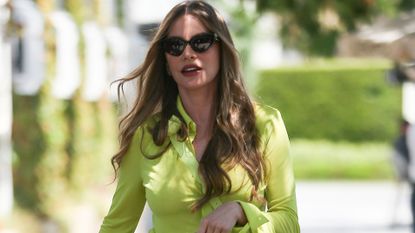 (Image credit: Getty Images)
Sofia Vergara just posted a selfie wearing Foster Grant sunglasses, and we're rushing to buy them immediately.
It appears that Sofia Vergara's beauty brand was only the beginning and the only way is up for the hardworking actor. There's no denying that she's a subtle fashionista. Although the actress stays pretty quiet, despite her international fame, she always steps out in stunning looks, whether she's hosting America's Got Talent or simply running an errand.
Recently, Sofia posted a selfie from a trip she took to the desert, wearing a pair of Foster Grant sunglasses. "Perfect for the desert 😍 @fostergrant," she captioned the photo. She also tagged the Instagram account for Foster Grant in the post.
The popular sunglasses brand recently teamed up with the Modern Family star to make a new line of sunglasses, and the new frames are definitely stunning, as displayed in this recent Instagram picture.
The Foster Grant Instagram account even commented under her post, "@sofiavergara we can't agree more with you! You look amazing!"
On the Foster Grant website, folks can check out over 10 pairs of sunglasses that Sofia made in collaboration with the eyewear brand, and they're all cooler than the next. On the page featuring Sofia's collection, Foster Grant describes the collection as, "Bold. Sexy. Dramatic. The right sunglasses illuminate whatever statement you want to make. On white sandy beach and red carpets alike." And good news - they're all under $30.
Although we never want the celeb to cover up her beautiful siren eyes, we think using a pair of sunglasses she helped create, in the Saudi Arabian desert, no less, is a pretty good excuse.
---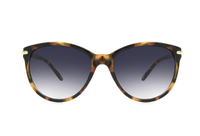 (opens in new tab)
Monica Sofia Vergara® x Foster Grant Sunglasses, $21.67 | Foster Grant (opens in new tab)
A milky tortoise print adorns the plastic frames of these chic round Sofia Vergara® x Foster Grant® women's sunglasses. Upping the style ante is a row of metal studs and inlaid clear crystals that runs from the end piece down the temple, while scratch-and impact-resistant lenses offer 100% UVA-UVB sun protection.
And, as if Sofia couldn't become any more iconic, she recently posted a picture of her partying with Priyanka Chopra, Heidi Klum, Jessica Alba, and Rita Wilson. From the images, folks can see that she was out at a 25th anniversary celebration for the mainstay makeup brand Anastasia Beverly Hills, started by Anastasia Soare.
But those weren't the only female legends present at the party. In a group photo posted by Heidi Klum herself (who is a best friend to Sofia), you can see a large group of women who came to celebrate the brand besides Sofia, including Oprah, Kim Kardashian, Jennifer Lopez and more.
At the party, Sofia wore a black dress with a chic mock neck, paired with some sheer black tights - making for a perfect, age-defying look. Seriously - she could pull anything off!
Madeline Merinuk is woman&home's US lifestyle news writer. She covers celebrity, entertainment, fashion, and beauty news but is also obsessed with internet trends - you can find her reciting trending TikTok sounds out loud at any given time.
After winning multiple student journalism awards for her investigative work, she graduated from Hofstra University in 2021 with a B.A. in Journalism. After graduating, she worked at today.com, the digital site for the Today Show, where she wrote pop culture news and interviewed big-name personalities like Emily Ratajkowski, Haley Lu Richardson, Emma Corrin, and more.
Her personal interests, in no particular order, are: cheese, Joni Mitchell, reading, hot yoga, traveling, having multiple chapsticks in every handbag at all times, and dancing to ABBA songs as if she were in the Mamma Mia movies.