This gorgeous Duchess of Cambridge headband dupe is now 50% off at MatchesFashion
This pretty Ganni headband wouldn't look out of place on Duchess Catherine.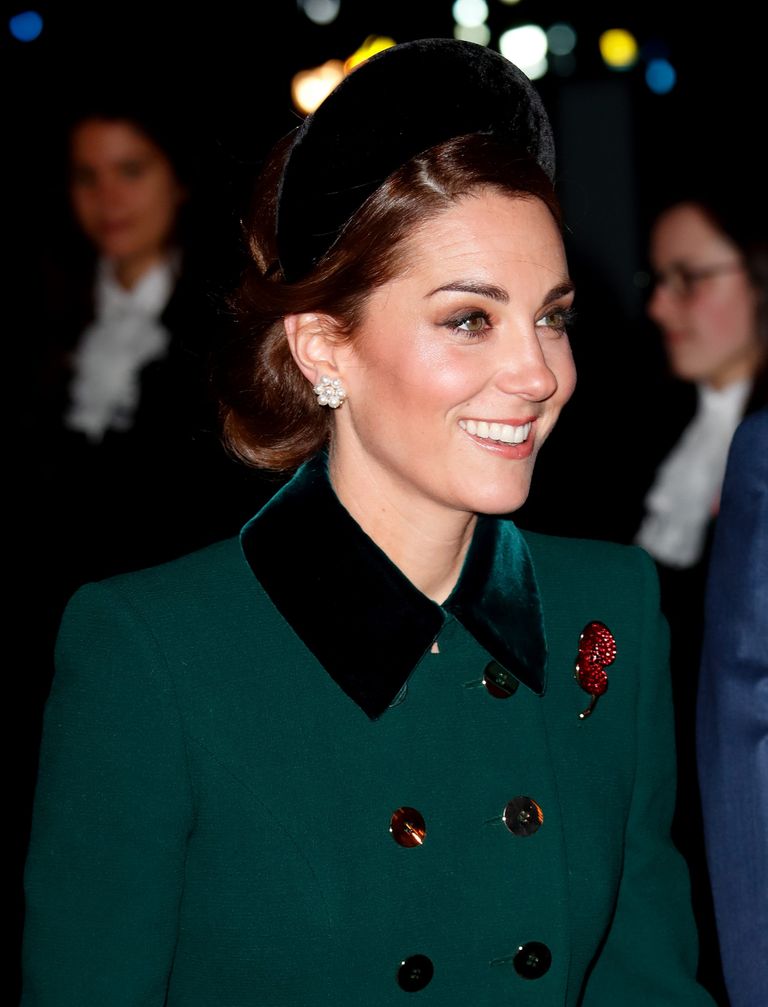 (Image credit: Getty Images)
The Duchess of Cambridge has some of the most enviable looks around. Her bouncy blow dry is practically iconic - and something we've all tried to recreate with the best hair dryers at our disposal.
But another thing that defines Catherine's signature hairstyle is a great headband - something she's become partial to in the last few years.
And now we can recreate some of her most iconic looks, with this gorgeous green and black glittering headband from Ganni, which is an incredible dupe for some of Catherine's best headbands. Did we mention that it's now 50% off in the MatchesFashion sale?
SHOP NOW: GANNI Zebra-patterned beaded padded headband – was £170, now £85, MatchesFashion.com
The Ganni headband is very similar in style to the forest green Jane Taylor band the Duchess of Cambridge wore for the Remembrance Day Service at Westminster Abbey (above) in November 2018, and is every bit as chic.
In fact, it's a very similar oversized style to the headbands that Catherine regular wears.
The subtle glittering green and black zebra pattern on the playfulheadband will bring a feminine touch to any outfit. Crafted from padded twill to achieve that signature Kate silhouette, the on saleGanni headband is hand embroidered in bevelled beads that catch the light as you move.
So whether you have an upcoming special occasion that you want to stand out at – as Duchess Catherine proves, statement headbands are a chic alternative to a hat – or you just fancy treating yourself to a little bit of luxury, we'd advising taking advantage of this amazing offer while you can. It's certainly a great way to incorporate a bit of designer gear into your wardrobe at a reasonable price!
The Duchess of Cambridge has been schooling us in how to wear headbands for years, and has delivered some of her most iconic fashion moments wearing one.From the floral white Jane Taylor headband she wore for Prince Louis's christening in July 2018, to the black velvet number she wore for a visit to Dublin.
And where Duchess Kate's signature headbands from go-to brand Jane Taylor can cost hundreds, this Ganni band from MatchesFashion is practically a steal. (And every bit as luxurious.) Who said you had to break the bank to get the royal look?
It's not just the gorgeous Ganni band that MatchesFashion have slashed the price of, either. MatchesFashion have some stunning royal-worthy headbands on sale at up to 60% off at the minute – so there's no better time to try out the headband trend.
Go on, treat yourself...
The best headbands to buy in the MatchesFashion sale
Benoît Missolin Stella faux pearl-embellished gingham headband – was £130, now £52
VIEW NOW: Benoît Missolin Stella faux pearl-embellished gingham headband – was £130, now £52
Sophie Buhai Classic Velvet Headband – was £200, now £100
VIEW NOW: Sophie Buhai Classic Velvet Headband – was £200, now £100
Shrimps Antonia faux-pearl headband – was £150, now £75
VIEW NOW: Shrimps Antonia faux-pearl headband – was £150, now £75
Maryjane Claverol Galaxy Crystal Headband – was £275, now £110
VIEW NOW: Maryjane Claverol Galaxy Crystal Headband – was £275, now £110
Shrimps Bevelled-bead and faux pearl-embellished headband – was £165, now £82
VIEW NOW: Shrimps Bevelled-bead and faux pearl-embellished headband – was £165, now £82
House of Lafayette Lili 1 embellished padded-velvet headband – was £265, now £106
VIEW NOW: House of Lafayette Lili 1 embellished padded-velvet headband – was £265, now £106