Marks & Spencer have launched a huge 70% off sale – from flattering leggings to cosy jackets, here's what to buy
From beauty to nightwear - get these brilliant deals before they go...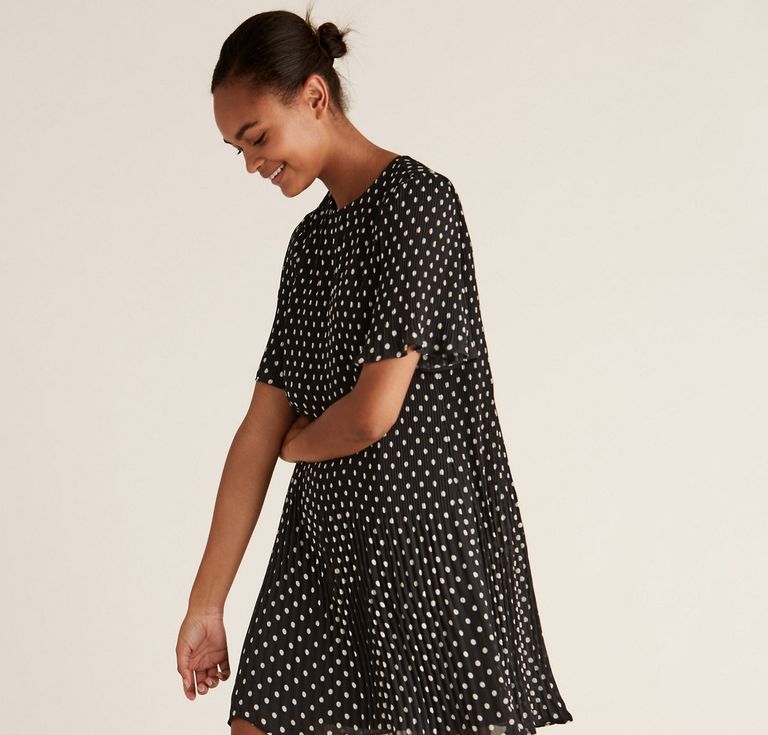 Marks & Spencer have launched a huge 70% off sale across selected lines – and we're dying to get our hands on these gorgeous dresses, jumpers leggings and jackets.
When it comes to finding everything from the best leggings to the best bras, nothing beats Marks & Spencer. And now the high street store have launched a huge up to 70% off sale, we think we might love it even more.
Amazingly, M&S have slashed prices across their departments – with great savings on womenswear, lingerie and beauty. So whether you're looking to spruce up your back to work wardrobe, or you're wanting to add to your growing lockdown loungewear collection, there are some great bargains to be found in the Marks & Spencer sale.
VIEW NOW: Marks & Spencer up to 70% off sale
From smart and pretty dresses for work, to great workout leggings, jackets and tops, you'll be spoilt for choice on this one.While it's not quite time to break out the winter coat, the M&S sale has a great range of transitional jackets and anoraks – perfect for throwing on over dresses to stave off the Autumn chill. From easy-chic denim to streamlined waterproof (because God knows we need it) M&S have some great options in their sale.
We're also loving their discounted selection of smart trousers – perfect for back to office wear. They even have thosepolka dot cropped trousers that customers were raving about on sale for just £9.50 – saving those late to the party a great £10.
And while we love the huge range that M&S are offering in their up to 75% off sale, scrolling through so many options can be a little overwhelming. But worry not, because we've done the hard work for you and picked out some of the best deals to be found in the Marks & Spencer sale.
Go on, treat yourself...
What to buy for up to 70% off in the Marks & Spencer sale
Polka Dot Wide Leg Cropped Trousers – were £19.50, now £9.50
VIEW NOW: Polka Dot Wide Leg Cropped Trousers – were £19.50, now £9.50
Printed Mini Waisted Dress – was £29.50, now £14.50
VIEW NOW: Printed Mini Waisted Dress – was £29.50, now £14.50
Go Move Gym Leggings – were £25, now £12.50
VIEW NOW: Go Move Gym Leggings – were £25, now £12.50
Cotton Broderie Short Wrap - was £25, now £7.50
VIEW NOW: Cotton Broderie Short Wrap - was £25, now £7.50
Denim Single-Breasted Utility Jacket – was £35, now £15
VIEW NOW: Denim Single-Breasted Utility Jacket – was £35, now £15
Cotton Belted Wide Leg Chinos – were £35, now £15
VIEW NOW: Cotton Belted Wide Leg Chinos – were £35, now £15
Technical Bomber Jacket – was £59, now £29
VIEW NOW: Technical Bomber Jacket – was £59, now £29
Moringa Renewal Treatment Mask - was £49, now £24.50
VIEW NOW: Moringa Renewal Treatment Mask - was £49, now £24.50
Linen V-Neck Mini Relaxed Dress – was £35, now £15
VIEW NOW: Linen V-Neck Mini Relaxed Dress – was £35, now £15
Lemon Bardot Maxi Waisted Beach Dress – was £28, now £8.40
VIEW NOW: Lemon Bardot Maxi Waisted Beach Dress – was £28, now £8.40
Tie Neck Short Sleeved Blouse – was £19.50, now £5.85
VIEW NOW: Tie Neck Short Sleeved Blouse – was £19.50, now £5.85