Marks and Spencers x Ghost fashion collection is available now and the Duchess of Cambridge inspired dresses are selling fast
This is not just any Marks and Spencers fashion collection, this is the M&S collaboration we've been waiting for all year...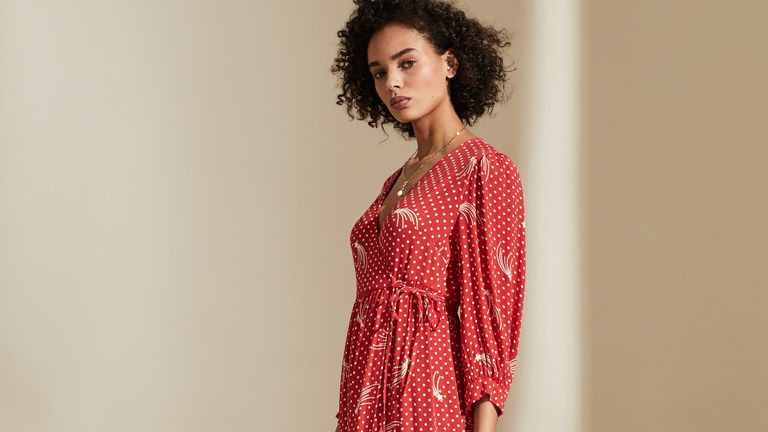 (Image credit: M&S)
By Lydia Swinscoe published
The Marks and Spencers x Ghost collaboration has landed and we couldn't be more excited.
We all know the Duchess of Cambridge is a huge fan of clothing brand Ghost, but with most of the regular collection coming in at over £150 it's not so affordable. Luckily, M&S have recognised our admiration for Ghost and teamed up on a small 10 piece dress collection that is a little easier on the bank balance...
Quick links - shop the M&S x Ghost collaboration
Whole Ghost dress collection - prices start from £59
Ditsy print dress (very similar to one the Duchess of Cambridge owns) - £79
It's now easier than ever to shop the Duchess of Cambridge's wardrobes. Along side her love for these festive gold earrings and Boden knits, many of Kate Middleton's dresses are from Ghost. While you can't get her exact dresses in the M&S x Ghost collection there's some great alternatives that are strikingly similar.
The limited-edition collection is made up of 10 unique pieces with prices ranging from £59 to £79, each designed by Ghost London especially for M&S. Featuring peter-pan collars, ditsy floral prints and ruffles, there's a lot to get excited about and we're expecting a sell-out of this fun button down dress, which is not all too dissimilar to one of the Duchess of Cambridge's Ghost dresses.

The collection also features three mini-me dresses for children
The M&S x Ghost dress collection
Shop the Marks and Spencers x Ghost dress collection
Lydia is Lifestyle News Editor at woman&home
She specializes in travel, food & drink, fashion, beauty and wellness.

Her travel writing has been published in BBC Good Food, Oh magazine, Harper's Bazaar, Town&Country, Elle and MailOnline.
Before joining woman&home Lydia headed up the fashion & beauty print team at Now, and worked as Fashion & Beauty Editor at Top of the Pops magazine where she interviewed and styled some of the world's biggest pop acts, from Taylor Swift and Little Mix to Demi Lovato and One Direction.