Kim Cattrall wears a bejeweled octopus hat - but the out-there headwear could have a double meaning
Is the former Sex and the City star giving us a clue about her next role?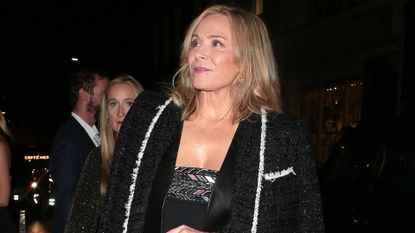 (Image credit: Getty Images)
Kim Cattrall is most well-known for her role as Samantha Jones on HBO's hit show, Sex and the City. Recently, Kim made the bold wardrobe choice of an octopus hat - but it turns out, this aquatic headwear could be giving fans a clue of whether she could be guest-starring on another beloved show soon.
For some TV programs, costumes can really make or break the show's success. Patricia Field knows this all too well, and uses her talents as a costume designer to her advantage on adored shows like Sex and the City, and now Emily in Paris.
During Kim Cattrall's stint as Samantha on Sex and the City, she was lucky enough to work with Patricia, the legendary costume designer for the HBO show who is highly regarded for creating the iconic wardrobes of all four SATC women (but particularly Carrie's, of course.)
Knowing this, people have been noticing a sort of a sneaky link between one of Kim Cattrall's more recent bold wardrobe choices and a little popular show we all love on Netflix called Emily in Paris, also coincidentally costume designed by Patricia Field. Fans are speculating that this out-there hat worn by Kim could potentially mean she'll star in the next season of Emily in Paris.
We know this sounds a little far-fetched, but allow us to indulge.
A few days ago, Kim Cattrall posted a picture on her Instagram of her wearing said octopus hat. "Hatcopus," she captioned the image, before tagging Patricia Field in the comments.
This seemed innocuous at first glance, until we took a deeper look into the context of the picture. Again, this is all speculation, but allow us to elaborate why this hat could potentially signal that Kim is joining the cast of Emily in Paris.
Patricia Field was unable to do the costume designing for the SATC reboot, And Just Like That... due to conflicts with Emily in Paris, the show she had already signed on to costume design in the coming years.
In late 2021, there was a lot of controversy about why Kim Cattrall wouldn't be coming back to play Samantha and joining Carrie, Miranda, and Charlotte in And Just Like That... (we now know it's due to an ongoing feud between her and Sarah Jessica Parker.)
On Emily in Paris, some of the characters, namely Emily and her best friend Mindy, have some pretty eccentric styles - and we can thank Patricia Fields for this. So it makes us wonder - when Kim Cattrall posted the picture of her octopus hat and tagged Patricia, could it mean she's potentially doing a fitting for a new character that will appear in season 4, played by Kim herself?
To add fuel to the fire, Kim Cattrall attended the season 3 premiere of Emily in Paris back in December 2022, and even posed for pictures with her apparent bestie, Patricia.
We're not the first to speculate on this rumor, though, and co-creator of Emily in Paris Darren Star knows this. "It would be amazing to have Kim on the show," he said during an appearance on SiriusXM in late 2022. So, no confirmation, but clearly the door is open.
Of course, we can't be certain whether she'll appear in the fourth season of the Netflix hit - but if she does, we certainly expect to see the octopus hat make an appearance.
Madeline Merinuk is woman&home's US lifestyle news writer. She covers celebrity, entertainment, fashion, and beauty news but is also obsessed with internet trends - you can find her reciting trending TikTok sounds out loud at any given time.
After winning multiple student journalism awards for her investigative work, she graduated from Hofstra University in 2021 with a B.A. in Journalism. After graduating, she worked at today.com, the digital site for the Today Show, where she wrote pop culture news and interviewed big-name personalities like Emily Ratajkowski, Haley Lu Richardson, Emma Corrin, and more.
Her personal interests, in no particular order, are: cheese, Joni Mitchell, reading, hot yoga, traveling, having multiple chapsticks in every handbag at all times, and dancing to ABBA songs as if she were in the Mamma Mia movies.