Everyone is wondering the same thing about Jessica Chastain's 2023 Met Gala look
Jessica Chastain turned heads at the 2023 Met Gala with a dramatic hair transformation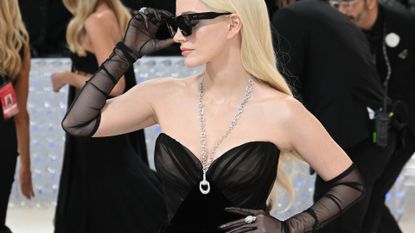 (Image credit: Getty Images)
Jessica Chastain was the epitome of cool girl style at the 2023 Met Gala in a stunning black gown and shades, but it was the star's ice blonde hair that had everyone talking on the night.
The first Monday in May always stands to be an exciting one as, it's the date of the iconic Met Gala every year. This year, the 2023 Met Gala theme was 'Karl Lagerfeld: A Line of Beauty', and all of the Met Gala's best dressed celebs for 2023 interpreted the theme in a different way.
Between Nicole Kidman's vintage Chanel look and Penelope Cruz's archival bridal gown, we haven't been able to keep our eyes off the carpet - and our jaws dropped when we saw Jessica Chastain arrive.
The award-winning actress opted for the edgier side of Karl's repertoire as an homage to the late fashion designer, and she left us with MUCH to discuss - especially that bleached hair transformation that was a dramatic departure from her usual flame red hair.
Jessica debuted an icy-toned, silvery blonde hair color that perfectly complemented her fair skin and peachy makeup, and gave a sharp (but fantastic) contrast to her all-black ensemble.
This hair color is quite the stark change from her typical, fiery red locks - which truly have been a signature part of Jessica's overall look through the years. Because of this, we began wondering if perhaps the dramatic transformation might not be a real 'transformation' after all and instead might just be a temporary look for the night.
Fans were quick to comment on Jessica's hair on the night too, and everyone was questioning if the look was a wig or a more permanent transformation.
"I'm sorry there is NO WAY jessica chastain would dye her hair blonde it has to be a wig," one fan tweeted.
"Tell me that's a wig on Jessica Chastain's head. TELL ME THAT IS A WIG RIGHT NOW #MetGala2023," another Twitter user added as fans saw Jessica arrive at the event.
Even hair expert and Queer Eye star Jonathan Van Ness commented on it during E!'s livestream of the red carpet.
"I think this is a wig," Jonathan said during the livestream, questioning whether Jessica's bleached locks were actually her own.
The actress, who is currently starring in A Doll's House on Broadway in New York, has been spotted on stage recently and in promotional shots for the show with her signature red locks - and will continue to do so. Yes, sorry folks, JVN was right - Jessica's hair is, indeed, a blonde wig.
"It's not forever," Jessica told a correspondent on the red carpet. "It's for Karl."
While we love her natural hair color, we still think this dramatic bleach blonde looks incredible on her.
Jessica's 2023 Met Gala look wouldn't be complete without the dress, of course, which was a strapless, black gown from Gucci. The vintage black tulle gown, which boasts a sweetheart neckline, paid tribute to Karl Lagerfeld's design aesthetic in both its monochrome color scheme and the accessories.
The star sported a pair of the late fashion designer's signature shades and a pair of black, mesh gloves that reached to her elbows, evoking a true sense of Karl Lagerfeld glamour.
Madeline Merinuk is woman&home's US lifestyle news writer. She covers celebrity, entertainment, fashion, and beauty news but is also obsessed with internet trends - you can find her reciting trending TikTok sounds out loud at any given time.
After winning multiple student journalism awards for her investigative work, she graduated from Hofstra University in 2021 with a B.A. in Journalism. After graduating, she worked at today.com, the digital site for the Today Show, where she wrote pop culture news and interviewed big-name personalities like Emily Ratajkowski, Haley Lu Richardson, Emma Corrin, and more.
Her personal interests, in no particular order, are: cheese, Joni Mitchell, reading, hot yoga, traveling, having multiple chapsticks in every handbag at all times, and dancing to ABBA songs as if she were in the Mamma Mia movies.