How to make sure your bag is not spreading Covid-19 and the best bags to reduce hand contamination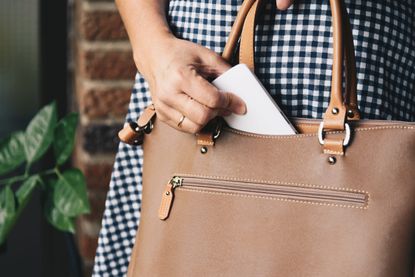 At a time when washing our hands is absolute paramount, it may slip our minds to clean our handbags too. With the ability to harbour up to 10,000 types of bacteria, our handbags can be dirtier than the average toilet seat!
Making a trip to the supermarket with your handbag in tow now poses as a potential health risk. But following a few simple guidelines and practicing good handbag hygiene will minimise the risk of spreading harmful germs.
Handheld items, such as handbags are often placed on unclean floors and surfaces. The World Health Organisation (WHO) suggests that COVID-19 may persist on surfaces for a few hours or up to several days.
Whilst this varies under different conditions, the porous texture of leather, which is a skin in itself, creates the perfect conditions for bacteria to thrive and spread. Handbag handles in particular are a danger zone and breeding ground for germs. The more often the handbag is used, the more natural oils from hands are absorbed into the leather.
Fear not because leading luxury handbag restoration retailer, Handbag Clinic (opens in new tab), have issued advice on what to do to minimise the spread of harmful bacteria via our handbags.
How to practice good handbag hygiene
1. Become an avid hand-washer
Although something we're all already doing, the most effective way to stop the contamination of our handbag handles is to regularly wash and sanitise hands throughout the day. You may be worried that using hand sanitiser then handling your handbag may damage the surface. But Handbag Clinic co-founder Charlotte Staerck assures that is not the case.
"The use of a hand gel will not damage your handbag despite it containing alcohol, providing it is used on the hands and not applied directly to the leather, fabric or suede. We would advise cleaning your hands and then leaving the product to soak in for a few minutes to ensure there is no build up which could then create a localised stain", she explains.
2. Look after your bag
The easiest way to remove germs is by cleaning your handbag. If you don't want to cash out for a specialist cleaner, give the handles a quick wipe down with a damp cloth. Avoid using baby wipes or chemicals, which can damage the surface of the handbag. To protect your luxury goods, invest in a specialist handbag cleaner - like The Handbag Clinic (opens in new tab), who offers specific care kits for leather bags and suede bags.
3. Avoid leaving your handbag on unclean surfaces
Treat your bag like the precious cargo it is. Leaving your handbag on the floor or on surfaces is the surest way to coat your bag in nasty bacteria.
4. Always keep shoes in a separate bag
Shoes are another huge germ-magnet. If you're carrying a spare pair of shoes in your handbag, make sure you place them in a separate bag before putting them in your handbag.
5. Beware of germs at home
Be aware of the germ hotspots at home, especially as it is where we're now spending most of our time! The kitchen is usually the top germ hotspot, followed by bathroom floors, which even at home contain high levels of bacteria that can be easily transmitted to the bottom of your bag.
6. Clean your cosmetics
Portable cosmetics and toiletries, such as hand cream, hand sanitiser and lip balm are prime culprits for cross-contamination. Wipe down each item and always place them inside a small make up bag before dropping them into your handbag.
7. Make sure you declutter your bag regularly
Remember your bag is not a bin. Avoid throwing rubbish, old receipts, used tissues and unnecessary items in your handbag. It is not only the bags themselves that harbour thousands of bacteria, it is the items we are carrying with us.
8. Never place your handbag on your bed
Many people have a habit of placing their handbag on the bed when they arrive home, but this is extremely unhygienic. Store your handbag in a dust bag or on a clean surface. Ideally the room in which you store your handbags should be kept at a cool temperature and away from sunlight, to avoid the spread of bacteria and prevent any deterioration to the bags.
9. Opt for a cross body bag
As well as being a key look for this spring/summer, cross body bags can help to reduce hand contamination overall. Of course, your bag can still be exposed to bacteria when you open and close it. However, the golden rule is to practice good hand hygiene and to clean the contents of your bag as well as the handbag.
Our fashion team's pick of the best crossbody bags
If you fancy adding a gorgeous crossbody bag to your collection, then you're in luck. The woman&home fashion team have selected the best offerings in the high street right now, with a a great range of prices and styles to suit all tastes. As if we needed an excuse...
Happy handbag shopping!
Aspinal of London's iconic 'A' bag is a great choice for everyday wear. The only slight drawback is that we've found ourselves spoilt for choice. Choose from pebble, smooth or saffiano leather and a range of 10 gorgeous shades.
Rimowa Never Still Messenger bag
Sponsored
When it comes to travel, a crossbody bag is our top pick for taking on trips with you because not only are they super comfy to wear, they provide a practical fit meaning you won't drop or lose anything and they even look nice. And we love this option from suitcase brand Rimowa, which was especially designed for travel and features adjustable straps, a large two-way zip compartment and an outside pocket for daily essentials.
Zara Oval Leather Crossbody Bag with Buckle Detail
Reminding us of a particular designer bag (opens in new tab)at a fraction of the high-end price tag, this is a buy now, wear forever kind of piece. The tan shade will not only go with everything in your wardrobe, but, as the outer is made from real leather, it'll get better and better with age.
We're suckers for a multi-tasker, and this bag can be carried by the shorter chain handle, or the longer crossbody one. It opens nice and wide too, meaning no aimless fishing around for your keys.
Whistles Bibi Crossbody Bag
When a brand releases a bag in new colourways season after season, you know it's a hit. Bibi ticks all our boxes - comfortable adjustable strap, practical compartments, luxe leather fabric - making it a seriously sensible investment buy.
Yes, this is on the pricier end of the high street, but this Fossil bag will quickly earn it's in your wardrobe. The tan shade makes it super versatile, while the rainbow stripes add a splash of personality.
We might not be going further than the supermarket at the moment, but this is the perfect little bag for an evening out once restrictions have lifted. It's an absolute bargain too.
Emma White is a freelance fashion and lifestyle writer. She has worked in the publishing industry since she graduated with an English Literature degree from the University of Southampton in 2018. Combining her love of writing and fashion, she started working as part of the fashion team at woman&home in early 2019.
Emma writes about a broad range of fashion topics, from trending seasonal styles, to sustainable fashion, how to get designer looks for less on the high street and timeless wardrobe classics. When she isn't writing she is probably shopping, looking for the latest piece to update her wardrobe.