Dr. Jill Biden's wedges are our shoe choice of the summer
The First Lady is proving to be our new style icon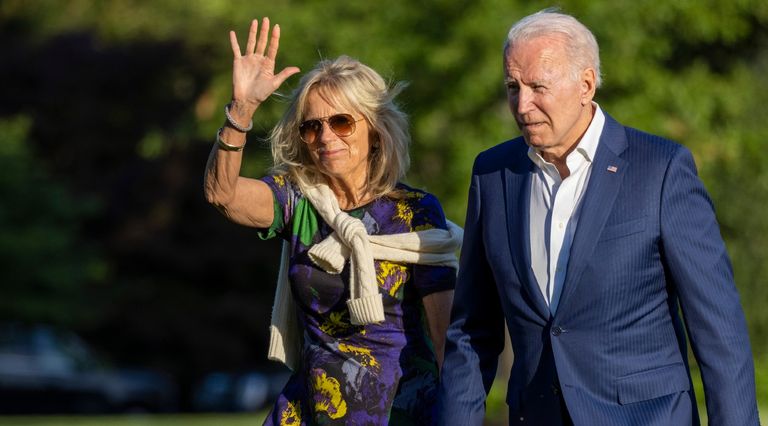 (Image credit: Tasos Katopodis/Getty Images)
First Lady Jill Biden knows how to make an entrance.
While arriving back in Washington D.C. with the president, Dr. Biden stepped out of Marine One sporting a casual summer look and her shoes of choice were none other than a classic pair of espadrille wedges.
Jill's espadrille's feature a round toe, black canvas upper, and rope wedge making them ideal for dressing up or down this summer. Since the shade Jill chose is so versatile, you can wear them for more formal occasions or match them with your best jeans and a t-shirt for a dressed-down look.
Pairing the canvas black shoes with a floral purple dress, the First Lady tied a cream sweater around her neck to dress the look up even more, creating a relaxed and casual edge.
For the past few administrations, it seems First Ladies have sported more formal looks, but lately, Dr. Biden has been reinventing the title. Most of her wardrobe has a casual, simple feel to it. Her go-to wedges are no exception.
The Bidens have been working to simplify their message, from rolled sleeves and easygoing looks like these to messaging that's meant for average Americans. Such was the case when Dr. Biden took a minimalist approach to her outfit when she wore a classic powder blue suit to meet the Queen in Windsor. Critics have also noticed that she tends to favor comfort and sustainability with her fashion choices, showing she's not afraid to recycle fashion.