Anne Hathaway dressed like her character in The Devil Wears Prada and fans can't get enough
The Internet had a lot to say about Anne Hathaway's latest look after she shared it on Instagram...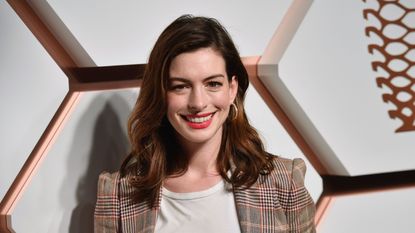 (Image credit: ANGELA WEISS/AFP via Getty Images)
In one of her latest Instagram posts, Anne Hathaway gave fans serious The Devil Wears Prada feels, sporting the same sort of bangs that her iconic character Andrea Sachs is known for.
In addition to her choice of hairstyle—a ponytail with her wispy bangs falling over her forehead—Anne, who discovered an unusual new hobby while losing her sanity "several times" during lockdown, also dressed as Andrea would.
The actress wore a striking collared floral minidress by Valentino and one of the best winter coats—a black knee-length wool coat with gold buttons by the same brand. She finished off her look with a bright yellow Valentino bag, sheer Wolford tights, black platform boots by Giuseppe Zanotti and Bulgari jewelry. The caption of the photo simply says, "Grazie/Merci/ThankYouForever @maisonvalentino."
---
The resemblance wasn't lost on Anne's Instagram followers, who immediately commented on her look.
"Andy bangs FTW," someone wrote (in case you needed to Google that: FTW means for the win).
"Andrea... that's all," another one commented, directly referencing what some consider to be the most iconic line of the whole movie, pronounced by the always-wonderful Meryl Streep, who plays Anne's boss in the film.
"Andrea Sach!" another fan wrote matter-of-factly.
It's clear that, although The Devil Wears Prada, which tells the story of a recent college graduate (Anne) trying to make it in the journalism business and landing a job as the assistant to a diabolical magazine editor, is over 15 years old, it still strikes a chord.
Funnily enough, as emblematic as the production has become of Anne's career, it turns out that the actress wasn't guaranteed the role. "I will give you some tea: I was the ninth choice for The Devil Wears Prada," Anne said during a surprise appearance on RuPaul's Drag Race about a year ago. "But I got it! Hang in there, never give up."
According to reports, Claire Danes and Juliette Lewis also auditioned for the part but the producers' first choice was actually Rachel McAdams. It's funny how things turn out.
Anna Rahmanan is a New York-based writer and editor who covers culture, entertainment, food, fashion and travel news. Anna's words have appeared on Time Out New York, the Huffington Post, Fortune, Forbes, Us Weekly, Bon Appetit and Brooklyn Magazine, among other outlets.