Black Jackets: The Ultimate Figure Flatterer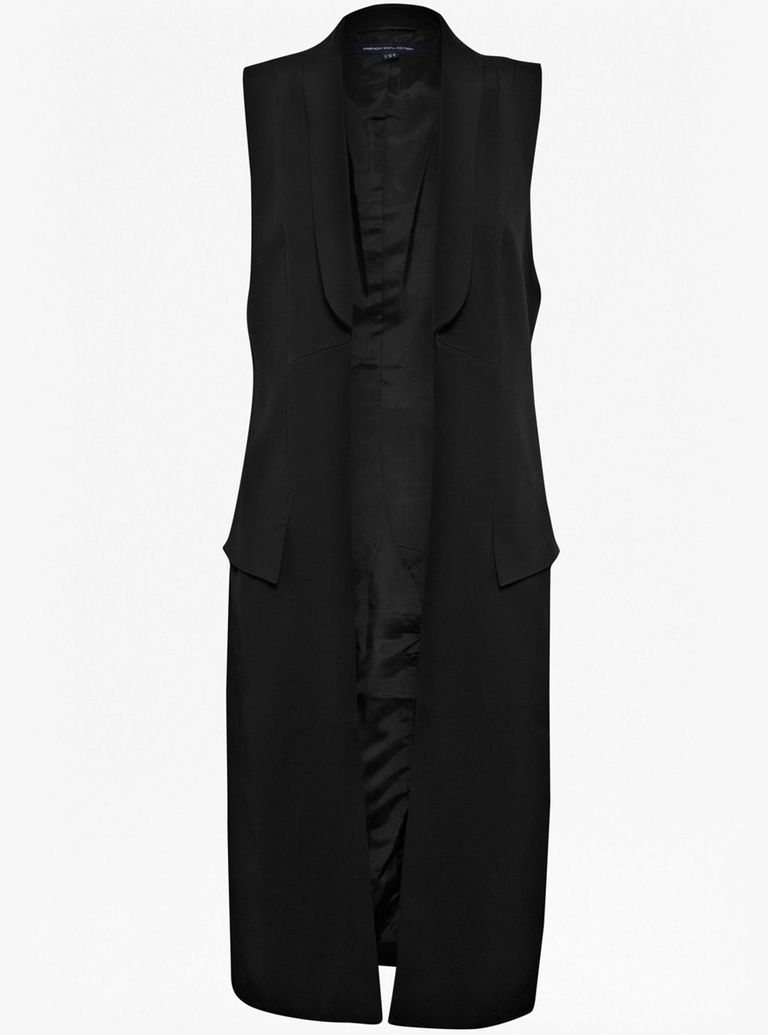 It's a work and casual wear essential no wardrobe should be without - so whatever your shape, find a cut to flatter you...
Best for: Tall body shapes
Make the most of those long limbs by stretching them even further! A longline sleeveless jacket is a great way to show off your shape and turn heads. We love this simple but effective version from French Connection. Plus, it's so on-trend right now: just layer it over black trousers and a grey polo neck for a smart work look, or a long-sleeved midi dress for a stylish casual weekend outfit.
Mango Bead Embroidery Jacket, £79.99
Best for: Petite body shapes Petite frames can afford to add a little bulk, so this cropped, beaded jacket from Mango will look great on you. The perfect little black jacket to dress up a simple outfit for the evening, this is a classic shape that will serve you well for years to come.
Phase Eight Tuxedo Jacket, £75
Best for: Rectangle body shapes Worried about making your shoulders look wider in a jacket? A deep V-front is a great way to instantly draw the eye downwards instead. This stunning Tuxedo jacket from Phase Eight is also embellished, making it perfect for evening wear, or even dressing up after work.
Topshop Ribbed Slim Peplum Jacket, £49
Best for: Rectangle body shapes Balance out wider shoulders with a flattering peplum hem, like the one on this Topshop jacket. Not only will it widen out your hips, it will also make your waist appear tiny - result! We love the relaxed style of this jacket, which would look perfect paired with jeans in the day, whilst still being smart enough for work.
Simply Be Black Leather Jacket, £70
Best for: Hourglass body shapes Don't be fooled into thinking that you're 'too curvy' for a biker jacket. Just choose a more fitted style, like this Simply Be leather version, that will accentuate your shape rather than swamping you. Rock chicks rejoice!
Very Definitions Biker Jacket, £140
Best for: Petite body shapes A shorter-length biker jacket will look great on you. In fact, this could even be the ideal style for petite girls. Wear with anything - go casual with skinny jeans, dress down a girly dress or throw on over your work jacket. It's a versatile buy you shouldn't be without.
George Tailored Coat, £32
Best for: Tall body shapes A longer-line jacket is always flattering on you, and a simple double-breasted style, like this one from George, will always be a classic. Wear during the colder months to add instant style to any outfit.
Simply Be Zip Detail Tux Jacket, £65
Best for: Boyish body shapes The perfect way to create a feminine shape is with waist detailing, and the horizontal zips and deep v-neck of this Simply Be tux jacket make it extremely flattering. It's a waist-cinching wonder!
Michael Kors Satin-Trimmed Crepe Blazer, £210
Best for: Apple body shapes Want to appear slimmer on top? A satin lapel will instantly draw the eye upwards and away from problem tummy areas. This Michael Kors blazer is also a flattering fit - loose enough to just skim the body, but not baggy enough to add extra inches. Wear this for all occasions - the classic style will never date.
The Kooples Stretch Jacket With Faux Pony Leather Collar, £197.50
Best for: Pear body shapes What could be more perfect to draw the eye upwards and away from your problem areas than a zebra-print collar?! Black jackets don't have to be plain, and this one from The Kooples proves that. Pear shapes will widen the top half of their frame with this simple design, and turn heads in the process!
New Look Black Leather-Look Jersey Front Waterfall Jacket, £39.99
Best for: Apple body shapes If you're having a day when you don't feel enitrely comfortable, sometimes the best option is to simply cover up - but that shouldn't have to mean forgoing style! This gorgeous waterfall front jacket from New Look will make you feel comfortable and on-trend.
Ted Baker Snaker Bomber Jacket, £99.50
Best for: Pear body shapes Bomber jackets are notoriously difficuly to wear, but pear shaped ladies will pull them off perfectly. The must have jacket of the season, we love this snake print version from Ted Baker. The elasticated hem will hopefully sit just below your waist, making you look slim and lengthening the body. Best of all, this style is so easy to wear with your casual outfits.
Whistles Campbell Jacket, £195
Best for: Boyish body shapes A simple one-button blazer is the most effective way of pulling you in at the waist and instantly creating a curvier body shape. This Whistles jacket will be a figure-fixing saviour - well worth investing in!
Vince Camuto PU Side Zip Jacket, £64.50
Best for: Hourglass shapes Make the most of your figure with a form-fitting black jacket. This Vince Camuto version will accentuate your shape in all the right places, and the side zip adds an interesting twist.