Lisa Snowdon is the face of Become - the menopausal fashion brand we've been waiting for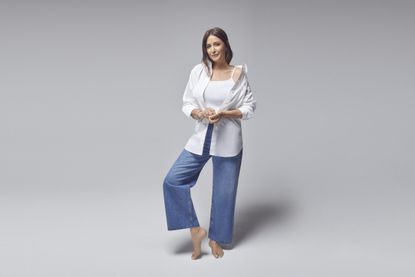 TV presenter Lisa Snowdon has been appointed brand ambassador for new menopausal clothing brand, Become.
All clothing is designed with patented technology to help you say goodbye to hot flushes and night sweats.
Created for women, by women, the range is designed to alleviate hot flush symptoms and regulate body temperature during the menopause.
The collection includes, t-shirts (both long-sleeved and short-sleeved), vest tops, camisoles, briefs and night dresses in a range of colours that will easily fit into any existing wardrobe.
All the products have been proven to reduce the number and severity of hot flushes and night sweats. 87% of women found that it made a significant difference to their symptoms.
Talking about the new collection, Lisa said, "The partnership with Become could not have come at a better time. I have found hot flushes and night sweats to be a difficult aspect of the menopause and having trialled the product myself, I can confirm that it absolutely helps to make the menopause symptoms more bearable.
"I found the night dress to be a great relief during the night sweats and then the vests and t shirts were an effective way to keep hot flushes away during the day. I'm glad to be able to share this hidden gem with women and bring menopause to the forefront of the conversation.
MORE:Menopause Magnets: what actually are they and do they really help ease menopause symptoms?
"It seems wrong that in 2019, the menopause is still looked at as a topic to be kept secret. I'm proud to be working with Become to bring this subject to light and in turn, allow women to feel supported and that there are in fact brands out there – like Become that can really make a difference."
How Become clothing works
Founded in 2016, Become created a ground breaking Anti-Flush Technology that combines a seamless knit and flat thread to create a refined fabric that cools the body during sudden surges in heat.
The material works to wick away moisture by evaporating it quickly and effectively, keeping the wearer dry and comfortable – whilst Become's hi-tech fabric controls odour with its anti-microbial finish, creating a barrier between the bacteria and the fabric which immobilises the odour source and locks it in.
Finally, as the body starts to cool down the fabric works to lock in heat, avoiding post-flush chills.
The product range starts from £12 and can be purchased online at www.webecome.co.uk
Click here to see Lisa's favourite picks from the collection in the Lisa Loves edit.
Want to see the results for yourself? Try any product risk-free (excluding the briefs) using the 60-day money-back guarantee (UK orders only).
Becky Joiner-O'Riordan is a Senior Fashion Stylist & Writer. With 10 years experience in the fashion industry, she currently works across woman&home, womanandhome.com, Woman, Woman's Own, Woman's Weekly, Chat, goodto.com, and has previously worked on Harper's Bazaar, Notion and Now Magazine.
After graduating from both the University of the Creative Arts and The Fashion Retail Academy with first-class honours she dipped her toes into the world of television styling working on This Old Thing, hosted by Dawn O'Porter and Channel 4's live tv show series Gok Live: Stripping for Summer.