Why you need a virtual dermatologist – plus the best online make-up and perfume consultations to try
From virtual dermatologists and fragrance matching to make-up try-on tools – here are the latest cyber beauty consultations to try from home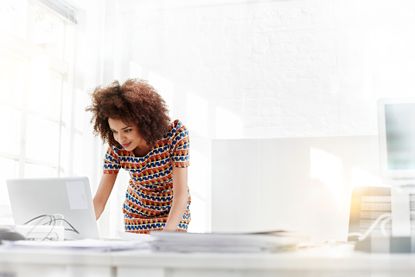 (Image credit: Getty)
Have you ever considered booking in with a virtual dermatologist? When you need to accommodate a hectic schedule or can't get out as much as you'd like at the minute, these web-based services can be an absolute boon. Nowadays, we can do just about anything from home – snap up the best eye cream (opens in new tab) without visiting a counter, meet a significant other, join an aerobic class – and we are more reliant on these virtual services than ever.
It's fair to say that the beauty industry took a hit when spas, dermatologists, make-up counters, hairdressers and nail salons were forced to close their doors. Many of these client-facing services have been compelled to innovate, and meet our needs with a slew of virtual treatments that mean women can access their favourite feel-good services without needing to leave their homes or have physical contact with an expert.
With these industries having shifted to an online space, an appointment with a virtual dermatologist or discovering the best foundation (opens in new tab) via an online make-up artist becomes as effortless as ordering a pack of AA batteries from Amazon. The way we consume beauty is changing, and the convenience and accessibility of these cyber services surely means they have future-proofed themselves for years to come.
What is a virtual dermatologist?
Dermatology is one field thriving in the virtual world. Some practitioners offer video consultations over Zoom to talk through skin concerns exactly as you would have done sitting in a dermatologist's office. Others ask you to open an account, upload photos of your skin and answer a series of questions before an in-house expert will suggest a treatment plan, with products delivered directly to your door.
One of the main selling points of an online appointment is you don't have to appear in public without make-up on, which can be extremely traumatising for those suffering from skin conditions such as menopausal acne (opens in new tab) and rosacea (opens in new tab). Another upshot of the industry's shift to an online presence has meant these once exclusive and expensive 1:1 services (a one-hour appointment may set you back £200 on London's Harley Street) have become more accessible and affordable.
These cyber skincare services have essentially democratized dermatology. "At Renude, not only is the consultation more affordable, but the routine can be tailored to different budgets, too, which is often difficult in-clinic where the brands represented tend to be on the premium side," says skin scientist and founder of the online skin consultation service, Pippa Harman.
Is a virtual dermatologist as good as a real-life dermatology appointment?
Online appointments are best placed to serve issues such as acne, eczema, herpes, ageing, rosacea, melasma and pigmentation (opens in new tab). "As long as the clinician is happy they have been able to examine the clinical signs, anything that can be treated with a cream or tablet could be handled virtually," explains Dr Daly, consultant dermatologist for Dermatica. Moles, understandably, should be treated with more urgency, and need to be assessed in clinic. Likewise, lesions, lumps and bumps need to be treated in person.
And while the growing popularity of tele-dermatology is a welcome service to the many people who suffer from skin conditions, it does have its limitations. "Most doctors agree that virtual appointments are not the ideal option for patients coming for an initial consultation who need a diagnosis," admits Dr Daly. "It is very difficult to appreciate clinical signs, such as a rash or spots, via a video call as most of us do not have the correct lighting."
Photo stills taken on a good camera or phone, however, can really help to give a clear impression of the skin. As Renude's Pippa Harman says, "The aesthetic conditions we are typically treating are acne (blemishes, blackheads), ageing (wrinkles, firmness, texture), redness or pigmentation, which are all easily identified via images, making it is very easy to build out an accurate profile of the skin virtually. With questionnaire data alone you are relying on people to already have a deep understanding of their skin, which is often not the case, and why they've come to see an expert in the first place."
How should I prepare for the appointment?
Make the most of your initial consultation by giving a full and descriptive history of your skin concern. Dr Daly suggests thinking about how long you've had the skin problem, which areas of the body it affects, whether it's present constantly or intermittently, and, crucially, what impact it has on your quality of life. "It would also be helpful for the doctor to know of any skin conditions you have had previously, and whether or not there is a family history of skin issues," she says.
Perhaps most important is to take good, clear photos of the skin issue from different angles with absolutely no make-up on. Take shots during the day, next to a window to ensure there's plenty of natural light falling on the skin, and alternate between close-ups and more distant overviews of the issue.
The best virtual dermatologist appointments to try now
Dermatica
Dermatica (opens in new tab) virtual dermatologist service was first to market in the UK in 2018, and since the start of lockdown has sent out 150,000 treatments. With subscriptions starting at just £19.99 per month, Dermatica offers custom-blended skin prescriptions, with ingredients that might otherwise be limited to in-person appointments. Customers complete an online consultation, answering detailed questions about their skin, then upload a few high quality photos. All the information is then reviewed by the in-house dermatologists and scientists. A treatment plan is then prescribed and products sent out directly to your door. Visit Dermatica.co.uk (opens in new tab)
Renude
Renude (opens in new tab) is a skin consultation platform, with expert aestheticians on hand to create the best routine for you. Prior to the consultation you'll be asked to complete a questionnaire and upload three photos of your skin – one front-facing and both side profiles. They provide strict instructions on how to do this to ensure maximum visibility. During the 20-minute video call, your aesthetician will go through your specific skin concerns in more detail, then build a personalised skin routine to suit your needs and budget. Services start from £10 per month.
'We launched in March 2020, a matter of days before the first lockdown,' says Pippa Harman, skin scientist and founder of online skin consultation service, Renude. 'We had over 3,000 sign-ups in our first month of going live, which was a lot more than we expected!' This growing cyber demand extends to products too – "Online beauty purchases made up only 15% of the market in 2019, but are now on track to be 42% by 2025," says Pippa. So sit back, swipe up and start clicking – here are the top online treatments to tap into from your laptop. Visit Renude.co (opens in new tab)
Skin + Me
Skin + Me (opens in new tab)is a subscription skincare brand that offers personalised treatment plans devised by a team of industry heavyweight dermatologists and pharmacists. "Great skin isn't complicated. It's about doing less," says Malvina Cunningham, consultant dermatologist behind Skin + Me. "Sadly, people are mixing incompatible active ingredients together, at high concentrations, which is overwhelming their skin.
The game-changer is using the right combination of prescription-strength ingredients at the right safe and effective concentrations.' You'll be asked for three no make-up, unfiltered selfies and take a five-minute questionnaire about your current routine, medical history and skin goals. For £19.99 a month, you'll be sent medical-grade active ingredients in an innovative daily doser. The intelligent packaging means you are given the exact measured amount you need, as recommended by your dermatologist. The concentrations start low at first, then build up in small increments every month as your skin acclimatises.
Get a new makeup look with a try-on tool
Estée Lauder
While augmented reality apps existed pre-pandemic, these try-on tools, which superimpose lipsticks, foundation shades and even new hair colours on to our faces, have become increasingly popular over the past 12 months. Estée Lauder has seen a massive uptake in usage of its Pure Color Envy Lipstick try-on tool (opens in new tab). In the wake of the pandemic, the brand saw a 166% increase in usage. As of this January, they've recorded a 700% year-on-year uplift.
L'Oréal Paris
L'Oréal Paris have also reported a sizeable surge in the number of people experimenting with their L'Oréal Paris virtual try-on tool (opens in new tab) recently. You can upload a photo or use a live image to give a realistic view of how their lip, eye and brow offerings will look on you.
And if you've ever wondered what you'd look like as a fiery redhead, blonde bombshell or glossy brunette, click on the 'Try your Colour' button. This feature was originally developed after research found that 23% of women under the age of 45 haven't ever coloured their hair at home. Choose between 150 shades to see how they look before you commit.
Trinny London
If you favour expert advice, you can book in for a virtual make-up appointment (opens in new tab) with a Trinny London pro make-up artist. During the 30-minute slot, you'll be matched with your perfect shades then shown how to create a flawless base, master a smokey eye and apply the perfect lip. Better still, the £25 appointment is redeemable against any products you choose to buy. Top tips: come to the appointment without make-up on and make sure you place your phone/tablet/laptop near a window so you're sitting in good light.
Want a new signature fragrance? Go to scent school
Floral Street
(opens in new tab)
Floral Street Scent School in a box
RRP: £24
After seeing a 300% increase in online sales during lockdown, London-based fragrance house Floral Street created Scentschool in a Box, a fun, 'try before you buy' experience to find your new fragrance favourite from your sofa. Inside the box lie eight mini versions of the brand's most-coveted scents, from Arizona Bloom to Wonderland Peony. You'll also find fragrance blotters and a code to book a one-hour Scentschool experience with in-house experts.
These 'Floralistas' will take you through each scent, detailing the inspiration behind it, offering fun fragrance facts and expert tips about wearing perfume. Each scent has a corresponding 'scratch and sniff' card with three of the individual notes that make up the juice to help you discover your favourite fragrances. You can even add a gift voucher to your order so you can purchase your favourite scent at the end. Wine in hand, blotter in the other, new fragrance on the way – this is a scent-sational lockdown night in!
Want a facial? Book a personal trainer for your face
Face Gym
Like baking banana bread and bingeing Bridgerton, you've probably taken part in a few of Joe Wicks' PE sessions on YouTube over the last year – well, now your face can get in on the action with a virtual PT session.
FaceGym offers 1:1 consultations (opens in new tab) with a Master Trainer based around seven workouts, from lip plumping techniques to stress-relief. During the £45, 45-minute consultation, you'll chat through your skin concerns and a trainer will demonstrate a tailored facial workout routine, designed to lift and tone, as well as improve circulation and lymphatic drainage.
Face Toned
Based on the core principles of isolating and controlling each muscle, Facial Pilates seeks to reinstate volume across sunken cheeks, smooth forehead lines and redefine bone structure from the neck up. Carme Farré, Pilates teacher and founder of facial fitness programme FaceToned, is a fantastic advert. "I have been doing it for over 13 years and now I am close to 50," she says.
FaceToned (opens in new tab)works like an online gym – once you download the app, you can log on for live and on-demand workouts. "You can see the results of a workout right away," says Carme. "Your skin looks healthy and glowing, plus clients feel better because endorphins are released as they would be for a body workout." Subscriptions start from £9.99 a month.
Stephanie Maylor is a Beauty Editor working across five national magazine titles, with almost 15 years' experience in the industry. She has written for many brands, including woman&home, Grazia, Now, More!, Fabulous, NW, Woman, Woman's Own, Woman's Weekly, Essentials, Best, Chat, and OK! online.
In 2010 she launched her own beauty blog, which was shortlisted for Best Beauty Blog in the 2011 and 2012 Johnson & Johnson Beauty Journalism Awards. She has interviewed many high profile industry experts and celebrities including Alesha Dixon, Twiggy and Christina Hendricks.