Twiggy Launches Beauty collection and Shares Her Secrets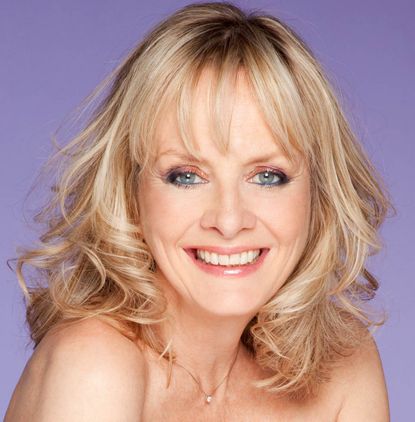 woman&home newsletter
Sign up to our free daily email for the latest royal and entertainment news, interesting opinion, expert advice on styling and beauty trends, and no-nonsense guides to the health and wellness questions you want answered.
Thank you for signing up to . You will receive a verification email shortly.
There was a problem. Please refresh the page and try again.
Britain's most iconic supermodel Twiggy, 67, turned actress, singer and fashion designer, is celebrating a fabulous 50 years in the beauty industry with her first fragrance, Twiggy Amber Blossom, £16 for 100ml EDT (opens in new tab) along with a complimentary Bath & Body Gift Set, £15, (opens in new tab)Fragranced Candle, £9.50, (opens in new tab) and more exclusively for Marks & Spencer. Our Beauty Director, Jo GB, caught up with her to discover the collection and her timeless beauty secrets.
"I've had my own fashion collection at M&S now for four years now so a fragrance collection felt like a natural progression.I had a massive meeting and gave perfumers a list of all the scents I've loved over the years (most discontinued), plus my favourite flowers and aromas such as lily, amber, musky and oriental notes. But nothing citrusy for me, I just don't like it. I also didn't want it to be overpowering. I cannot bear it when you sit next to someone in the theatre or restaurant and you smell them before you see them. I didn't want one of those! The manufacturers then came up with five or six different blends to choose from so I said "it's no good saying what I love right now, I need to wear them one by one", then if others mention it, which I think is really important, then that's great. So I took them home and two really jumped out at me; one in particular, whenever my husband Leigh smelt it he automatically said 'ooh you smell lovely'. That was Amber Blossom. I do love amber; I just really hope other people like it as much as I do. And it's a great price!
Twiggy Fragranced Diffuser, £15
BUY IT NOW (opens in new tab)
My attitude to ageing? I love laughter lines, it means people are happy. I can't bear people whose faces don't move. That's why I'm so anti-Botox. If you want surgery that's up to you, I haven't yet. Maybe I will one day, but Botox I think is dangerous, a toxic poison in your body. I do however think the attitude to ageing is getting better. 20 years ago I remember thinking 'how can you sell an anti-ageing cream with an 18 years old's face', but I was recently at 66 the ambassador for L'Oréal Professionnel haircare. After all older women have all the money!
Twiggy Bath & Body Gift Set, £15
BUY IT NOW (opens in new tab)
I've always done some sort of exercise, but never fanatical. When I was cast by Ken Russell in The Boyfriend, in my early 20s, I learned to tap dance, and that was amazing for me. It's a really good exercise. In my 30s when I was on Broadway and doing eight shows a week I was probably the fittest I've ever been. But you do get injuries as well: I had sciatic problems and ankle problems, but all dancers get that when you pound away into the floor. That got me into the mindset 'you've got to look after your body, you're only given the one'. I haven't done it for about three years now but I might go back to it as I do miss it. So I do say to people 'if you don't want to join a serious class, go and learn to tap dance because it's really good fun'. Any dance. Strictly Come Dancing has been great for that, bringing to the fore how brilliant dance is. But you won't ever see me on there; I don't do competitive.
Hand Cream Gift Set, £8.50
BUY IT NOW (opens in new tab)
Years of bad posture have given me a bad back. If you go to any dinner party most people have a bad back and have a cure, but a complete stranger recommended Pilates and to 'go see Rachel', an ex-dancer in Hammersmith. She's amazing and I go every week. It's not a quick fix, but it makes you aware and I take care of how I lift things. I also have a medical massage once a week with Janice Welch who I've seen for the past 30 years. I see her every Saturday and that's my little bit of luxury.
I'm definitely not high-maintenance. I know I'm not compared to some friends who have a makeup artist turn up in the morning to get the kids to school. Don't get me wrong, I love having my hair done for photo shoots and going out, but I'm pretty good at doing it myself! It helps that at my age I don't have any grey. I'm really mousey brown but I have highlights done by Poppy at Gielly Green.
Lily Blossom Candle, £9.50
BUY IT NOW (opens in new tab)
I like to stay busy. Busy' is good. I like 'busy'. Just as long as I have time for my children and now my grandchildren - they are gorgeous and have given me a whole new lease of life. My number one tip for positive ageing is, 'don't get caught in the trap of getting older'. There are so many opportunities out there: I've been lucky that I've done many things in my life that keep me busy and that keeps me feeling very alive. So even if it's not a paying job, get involved with something out there, and have a passion. Join an art class; I'm a very good knitter. I knit for my grandchildren.