Scamp and Dude founder Jo Tutchener Sharp's beauty must-haves - including the cleanser she can't live without
The Scamp and Dude's founder fills us in on what keeps her skin looking so great.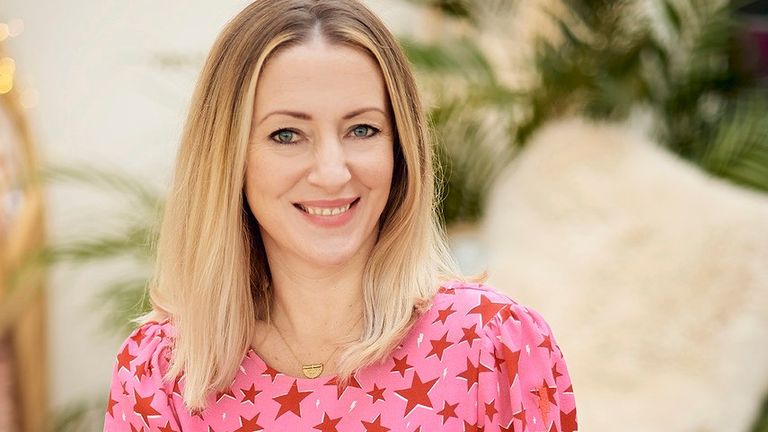 (Image credit: Scarlet Page)
Few female entrepreneurs are more inspiring than Scamp and Dude's Jo Tutchener Sharp. The beauty publicist-turned fashion brand owner had an established career, working as Head of Communications for Estee Lauder and Tom Ford Beauty before founding her own PR agency Beauty Seen, running campaigns for the likes of NARS, Topshop Make Up, Decleor, Eve Lom and Cowshed.  
But in 2015 the unthinkable happened. Jo suffered a brain haemorrhage and had to leave her very young children for a lengthy stay in hospital to undergo life threatening brain surgery. It was during this dark time that Jo came up with the idea for Scamp and Dude - a fun lifestyle brand now loved by kids and fashionistas alike. 
Here, Jo reveals the favorite products that keep her looking great, from the best eye cream alternative that instantly tackles puffy eyes to the bargain cleanser she uses every day. 
My daily essential
Beauty Pie Japanfusion Cleanser
RRP: £7.47 for members, £25 non members
'Beauty Pie Japanfusion Cleanser' is my number one favorite cleanser.  I love the smell and the texture, and my skin feels really soft afterward - I hate cleansers that leave your skin feeling tight.  Beauty Pie is such a great concept and was created by Marcia Kilgore, a businesswoman I really respect and admire.  The formulations are great, and I use a lot of their products.'
My secret to great skin
The Light Salon Boost LED Mask
RRP: £395
'It's not cheap, but The Light Salon Boost LED Mask is my latest discovery and my new secret weapon for looking great.  Not only does this LED mask help my skin look brighter and less tired, but it also helps with my stress levels, too, as the soothing light is a real mood booster.'
For brighter eyes
Elemis Pro-Collagen Hydra-Gel Eye Mask
RRP: £52
'My eye bags are my problem area, and I use these Elemis Pro-Collagen Hydra-Gel Eye Mask for an instant boost - they help the lines around my eyes too. I always use these before photoshoots as the results are instant.'
My glow-giver
Votary Intense Night Oil with Rosehip and Retinoid
RRP: £135
'I learned about the wonders of facial oils when I represented Decleor at my old PR agency and have been a fan of using them on my skin ever since.  I discovered Votary whilst shopping at Liberty in London.  I've used several of their facial oils and this new Votary Intense Night Oil with Rosehip and Retinoid is divine.  My skin just drinks up oils, and when I wake up in the morning, it really glows, too.' 
Desert island must-have
Estee Lauder Advanced Night Repair
RRP: £60
'Many years ago I met the lead scientist at Estee Lauder who told me about the magical skin boosting powers of Estee Lauder Advanced Night Repair. He was so inspiring, and I fell in love with using this youth boosting serum as a night skincare routine treat for my skin. I have stayed loyal to it ever since.'
Make-up super hero
Scamp & Dude Make Up Bag
RRP: £25
'Having been obsessed with beauty all my life, when it came to designing my own make-up bag, I knew exactly how I wanted it to look.  The Scamp & Dude Make Up Bags are the perfect size, wipe clean and infused with superpowers!'
Double duty make-up
Milk Makeup Lip & Cheek in Flip
RRP: £13
'I am a big fan of Milk Makeup. They're a really creative, inspiring brand, and I am never without the Milk Makeup Lip & Cheek in Flip to keep me looking groomed on the go.'