Helen Mirren's Hair Moments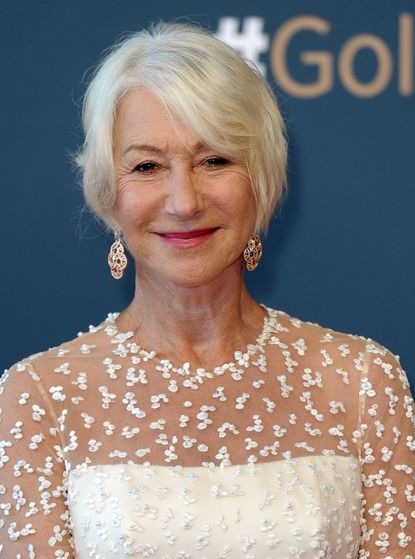 (Image credit: Rex Features (Shutterstock))
Take a look at our round-up of Helen Mirren's hairstyles. Her style might have changed over the years but she always looks fabulous!
Take a look at our round-up of Helen Mirren's hairstyles. Her style might have changed over the years but she always looks fabulous!
Helen Mirren's hairstyles are proof that with age comes more glamour. Her signature short bob always looks healthy and full of body.
Whether she has a loose wave or a sleek fringe, Dame Helen Mirren has given us plenty of inspiration. Once you've browsed through this gallery you might find some inspiration for your next trip to the hairdressers.
Now that Helen is in her 70s her chic look just keeps getting better. She still likes to take a risk on the red carpet and is not one to always play it safe. Remember that time she died her hair pink?
The actress certainly knows;how to play to her strengths and show off her fabulous cheek and jaw bones.
Do you remember back in the 70s when Helen rocked a long curly hair-do? In this round-up we have included some major throwbacks to the actress's earlier days. She has literally stood the test of time when it comes to style and we hope that we can follow in her footsteps.
Helen has previously spoken about how she looks after her fine hair. In an interview with the Daily Mail she said: "I've always been quite careful not to over treat it. I don't normally colour or dye it, I like it to grow naturally."
However when Helen took on the role with L'Oreal the actress had a make-over with the Excellence Age Perfect Hair dye.
Speaking about the dye Helen said: "It really does what it says on the box, allows my hair to grow out naturally and is also very easy to use. It's my new favourite product."
She added: "Yes, I know it sounds like I'm saying it because of the advertising, but it's true! The brilliant thing is that it has layers of colour, it's not one colour that you then need to add highlights on top of."
So other than the hair dye, what style advice would Helen offer for older women?
"Be bold! Be bold with your cut, really look what young people are doing and copy them ? don't copy what old people are doing."
In this most recent snap of Helen, at the closing ceremony for the 57th Festival of Televisionshe wore her icy-toned hair swept into a side parting. Her fringe was nicely shaped around her face and suited the statement earrings that she paired with a fairytale looking gown.
Take a look through the rest of the gallery and let us know what favourite Helen Mirren hairstyle is. You can write in the comments section or join the conversation on ourFacebook (opens in new tab)
Crystal Nymph Awards 2017
Surprisingly, Helen kept her hair the same for the evening do at the closing ceremony of the 57th Festival of Television.

Earlier that day the actress wore a bold sunflower print gown but without the statement earrings she wore later.
She went for very simple make-up for both events.
BFI Chairman's Dinner
This sparkly outfit was a real eye-catcher and proved a touch of glitz is ageless. Her signature bob was tucked behind her ears which showed off a pair of signature chandelier earrings.
The Great Wall Film Premiere
Helen opted for a power suit when she attended the premier for The Great Wall in February. Her lightly waved bob looked very elegant and was finished perfectly by her bold red lipstick.
The Comedian' Film Screening
She arrived to support her director husband but Helen Mirren was still the star of the catwalk. Bracing the cold in a long black gloves and a fur shawl, the actress also wore a chic black hat which framed her face beautifully and contrasted with her light locks.
Collateral Beauty Film Premiere (London) 2016
Given the actress's bold lace gown her understated, lightly tousled bob was the perfect finish to her outfit.
Collateral Beauty Film Premiere (New York)
The films' leading lady attended the New York premiere in a dazzling blue and silver dress. She wore her hair elegantly pulled to one side, the icy-colour really set the whole outfit off.
Collateral Beauty Film Press Conference
Helen rocked a shorter, sharper bob for the film's press conference. Her full fringe was a more sophisticated look compared to usual casual, sweeping fringe.
Amfar's Cinema Against Aids Gala
We absolutely love this flicked blow-dry look! Her light locks contrasted wonderfully with her bold red lipstick and sheer-topped gown.
The Unknown Girl' premiere
In a big departure from her usual look, Helen decided to sweep her hair out of her face and into a wet-look quiff.
We love that she is not afraid to make a change!
On Set Filming Collateral Beauty
Helen rocked some noticeably longer and greyer locks while filming for Collateral Beauty. The loose wave and messy bun really suits the actress but we prefer her icy-coloured short bob.
'Eye In The Sky' Film Premiere
The actress wore a bold, menswear inspired outfit to the Eye In The Sky premiere. Her sharp tailored suit was perfectly matched by her slicked back hair-do.
Out-and-about At LAX International Airport 2015
Helen looked super retro with her hair swept out of her face using a simple Alice band. Her oversized glasses also added to her airport chic look.
Tony Awards Meet the Nominees Press Reception
Shorter than he signature bob, Helen's short locks framed her face an emphasised her feminine facial features.
Glamour Woman of the Year Awards Reception 2014
The actress was the awarded the icon award at Glamour UK's Women of the Year awards. She wore her short hair tucked behind her ears with a big quaffed fringe.
Evening Standard Theatre Awards 2013
Helen opted for an un-even bob which was a lovely change to her classic look.
EE British Academy Film Awards
Who can forget when Helen Mirren went pink! We loved this look and think it gave her a very youthful glow.
Helen's reasoning for the pink plunge was also fabulous. Speaking to the BBC she explained: "I?d been watching America?s Top Model which I?m obsessed by . . . this girl had her pink hair and I noticed because it came out really quickly so there she is with really pink hair and then five days later it?s all gone so I thought that would be cool, I might have a go at that."
Hitchcock' film premiere in New York 2012
This swept back look is perfect for showing off those statement earrings.
'The Door' film premiere, Berlin, Germany
We love this elegant up-do.
Dolce and Gabbana show, A/W 12
Helen's curly bob made her look lovely and youthful. She was Dolce & Gabbana's guest of honour.
'John Carter' Film Premiere, Los Angeles, America
The academy-award winner rocked a Grecian braid with a pair of drop earrings to finish her look.
BAFTA Britannia Awards, Los Angeles 2011
A relaxed, wavy up-do is the perfect way to make your hair look fuller and gives a very elegant finish.
'The Debt' film premiere, London
Helen's subtle beehive is the perfect twist on a classic up-do.
'Red' film premiere, London 2010
A low up-do is one of the sexiest and most flattering styles you can pull off. With whispy tresses around the neckline and a side-swept fringe framing Helen's face, this is an instant youth-enhancing style!
'Brighton Rock' film premiere, Toronto International Film Festival
Tanned and wearing muted tones, Helen's mid-length cut makes her overall guise instantly feminine. The combination of sun-kissed skin, subdued and peachy make-up tones and glossy locks makes this one of our Helen Mirren highlights.
The Tempest Film Photocall, 67th Venice Film Festival
It may feel like it's verging on an 80's throwback cut but Helen's poker straight style is the perfect way to show off shiny, glossy locks to their maximum potential.
The Tempest Film Premiere
If you have an event or party to attend, why not take a leaf out of Helen's book and channel the 60's beehive style? This neat up-do highlights Helen's uber-glossy tresses and she keeps the look modern with kohled eyes and a blunt fringe.
The Orange British Academy Film Awards arrivals at the Royal Opera House, London 2007
Helen looks very glamorous with her lightly curled locks!
56th Annual Directors Guild Awards, California 2004
A statement fringe and a well-styled bob - the epitome of chic!
The South Bank Show Awards 2000
A simple up-do with a middle parted fringe, we prefer Helen's signature bob to this earlierlook.
Evening Standard Drama-Awards 1987
Loosely-waved hair and a simple fringe, Helen looks relaxed and elegant.
1970
What a throw back! Helen Mirren with long hair before she began dominating the world of film.
Jessica is a Senior Food Writer at Future and is an enthusiastic, self-taught cook who adores eating out and sharing great food and drink with friends and family. She has completed the Level 1 Associate course at the Academy of Cheese and is continually building on her knowledge of beers, wines and spirits. Jessica writes food and drink related news stories and features, curates product pages, tests and reviews equipment and also develops recipes which she styles on food shoots.