The best hairdressers in Edinburgh 2022 – from luxe salons to quirky hidden gems
Our insider's guide to the best hairdressers in Edinburgh for chic balayage, cutting curls, hair extensions and more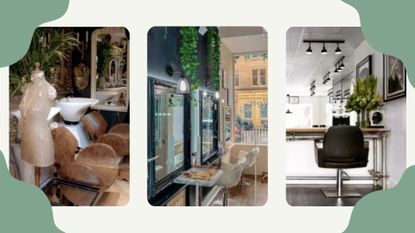 (Image credit: Future)
Scotland's capital is known for elegance - and the best hairdressers in Edinburgh are no exception. Whether you want a simple trim or glossy highlights, the signature Edinburgh swish is achieved with the help of the city's top hairstylists and the best-tressed women have their favourite salons on speed dial.
Some salons are spoken of in hushed tones for fear that appointments will be snapped up too quickly. Gail Stewart Styling in Cramond is referred to as 'Edinburgh's best-kept secret' for expert work on everything from pixie haircuts to bridal hair up styles. while Pixie Panda's name is discreetly passed around the city's blondes. Famed for her stylish cuts and subtle highlights in hair, founder Martyna has been nominated for best hairdresser in the Edinburgh Business Awards, less than three years after opening her Leith salon's doors.
In fact, the capital is hardly short on awards - with most salons on this list having multiple gongs under their belt, while all have been selected for their stellar reviews and offering first-class service in every area of the city. The New Town and West End boast luxury salons with prices to match, cool creatives head to Leith for quirky cuts and bold colours and Edinburgh's charming suburbs, Morningside and Bruntsfield, are known for their bouncy blowdries. On the outskirts of Edinburgh, family-friendly suburbs like Cramond and Corstorphine may not be as glam - but you're guaranteed to walk away with hair that makes you feel like a million dollars.
The 20 best hairdressers in Edinburgh
1. Brass, New Town
Image 1 of 2
In a newly refurbished salon, the team at Brass Hair & Beauty are cutting hair, massaging knots and manicuring nails in Edinburgh's New Town. Decorated in a cool sage colour with gold trimmings and marble floors, this salon is cool and inviting, with separate rooms for beauty and hair treatments. Take just a quick peek at their menu and you'll find everything from cuts and blowdries to L'Oreal balayage, Shellac manicures, Swedish massages and Brazilian waxes.
You'll find them located in the city centre, only a 13-minute walk from Edinburgh Waverley station. Let the talented team at Brass Hair & Beauty provide you with a personalised experience you'll want to repeat. Reviewers have praised Brass for "beautiful" results, calling staff "brilliant", "lovely" and "professional".
Prices: Haircut and blow-dry from £53 and highlights and blow-dry from £130
treatwell.co.uk/place/brass-hair-beauty (opens in new tab)
2. Charlie Miller, various locations
Image 1 of 2
The name Charlie Miller is synonymous with good hair. The stylist got his start at just 15 and launched His Hair, a hugely trendy 1960s salon, five years later. Over the decades, he has worked everywhere from Hollywood to Hollyrood - and while the man himself has since retired, his sophisticated salons remain among the most respected in the industry. Expect highlights as glossy and luxe-looking as the decor. With sites in Stockbridge, Stafford Street, South St Andrew Street, Frederick Street, and Holy Corner, your tresses are truly spoiled for choice. Clients have called the salons "amazing" with a "welcoming and professional" atmosphere.
Prices: Cuts start at £45 and a full head of highlights begins at £109
charliemiller.com (opens in new tab)
3. Cheynes, various locations including city centre
Image 1 of 2
The master colourist Jennifer Cheyne has all but conquered the Edinburgh scene — she opened her first salon with just one assistant back in 1976 and today has over 130 staff working in four salons across the capital. Jennifer was even awarded an OBE for her services to the hair industry in 2014 and her salons also have the royal touch, replete with modern furnishing and slick interiors. With salons in the West End, City Centre, Bruntsfield, and Lothian Road, Cheynes has become the go-to spot for women in the capital.
The George Street location is truly the star of the show, all Georgian architecture and elegant fixtures sprawling across two floors. Set in the heart of the city, the salon attracts a wide range of clientele, with women of all ages racing to book their spots. Jennifer's team have a knack for creating natural-looking colour and highlights that compliment a client's skin tone and eye colour and if you're after a haircut, ask for Neil. "Another superb Cheynes experience - worth every penny," said one reviewer.
Prices: Cut and style from £46.95, blow-dry from £33.95 and full head of highlights from £116.95
cheyneshairdressing.com (opens in new tab)
4. Dean Jones Hairdressing, city centre
Image 1 of 2
Established in 2014, Dean Jones Hairdressing is a boutique salon situated on Elm Row in the heart of Edinburgh's city centre. Dean brings a wealth of experience and professionalism to the industry, as well as possessing a natural artistic and creative flair.
His philosophy is to take care of his clients, not just their hair - and reviewers have commended the salon for having a "lovely, chilled atmosphere" with "welcoming and friendly" staff. One reviewer said: "I cannot recommend Dean Jones Hairdressing enough! Dean has nurtured my highlights and improved the quality of my hair so much in just a short few years.
"His knowledge and passion truly show in the results of my coloured hair. Fun, friendly and professional salon! Definitely the best in Edinburgh."
Prices: On request
deanjoneshair.co.uk (opens in new tab)
5. Fundamental Salon, Leith
Image 1 of 2
When it comes to fashion-forward, you can always rely on Leith to keep things interesting. Arguably the coolest district of the city, Fundamental Salon fits right in with the trendy locals. As well as giving colour and cuts, this "funky, no nonsense" salon also offers express waxing, lash and brow tints.
Sit back, relax and sip a glass of fizz and enjoy a cut from a stylist who knows exactly how to update your look, whether you are after something dramatic or subtle. Staff have been lauded for their "fantastic cuts and colour" and "great service". In fact, every person on the team gets 5 stars on Treatwell and has received accolades such as "brilliantly done", "awesome" and "amazing" while blowdries are rated as "exceptional".
Prices: Haircut and blow-dry from £46, highlights and blow-dry from £90
treatwell.co.uk/place/fundamental-salon (opens in new tab)
6. Gail Stewart Styling, Cramond
Image 1 of 2
Gail Stewart Styling, which sits on the picturesque Drum Brae in leafy Cramond, offers high-level customer service combined with experienced hair stylists who really listen to their clients. Launched by Gail in a little annexe beside her house in 2000, the salon's USP is hair extensions - using the finest wefts that look shiny and full, without ever damaging your own natural hair. If hair extensions aren't your thing then this intimate, calming salon also offers cuts, colour and blowdries. Babylights, Global Colour, and balayage are also on the menu.
This spot is a favourite for brides and bridesmaid hairstyles - and for good reason. The highest attention is paid to the individuality of each and every client, with consideration applied to the shape, texture and tone of your hair. Whether your day is big or small, you can ensure that you leave the salon feeling pampered and beautiful.
One reviewer wrote: "The great thing about Gail is that she really listens. As such, your hair colour and style are constantly evolving. It's very refreshing. Plus she's always full of ideas if you want a real change."
Prices: Toner, haircut and blow-dry: From £85 total
@gailstewartstyling or treatwell.co.uk (opens in new tab)
7. Hot Head, Newington
Image 1 of 2
Getting your hair done should never feel taxing - but all too often hair salons can drain the joy from the experience by being too uptight. Not at Hot Head. Originality is what is celebrated inside this quirky yet cosy hairdressers. The self-proclaimed salon for "the social insider", Hot Head delivers a wealth of world-class hair services with the deftest of touches.
Students can enjoy a discount every Monday, Tuesday and Wednesday and stylists cater to all hair types, tones and textures. Whether you're dropping in for a morning colour appointment or enjoy the lunchtime buzz when in need of a trim, you'll always be offered a cup of tea and a warm welcome. The salon is specifically designed so clients feel relaxed and in good hands. They always have cracking music and an inviting attitude to all, and it's those little touches that count. "Unique place, lovely staff and expert advice," reads one review.
Prices: Full head of highlights from £85 and cut and blow-dry from £45
hotheadhair.co.uk (opens in new tab)
8. Jason Hall Hairdressing, Merchiston
Image 1 of 2
Tucked away in the heart of Merchiston, Jason Hall Hairdressing salon needs to be on your radar when it comes to the best in the city. Founder and award-winning colourist Jason Hall is known for his "perseverance and experience" and he was named Scottish Hairdresser Of The Year in 2019/2020, no less. His colouring and styling techniques have been featured in glossy editorials across the country and he's the stylist behind Nicola Benedetti's luscious locks. If you are looking for delicate, natural-looking hair that feels luxurious, this is the man for the job.
The salon is decorated beautifully and reflects Jason's effortless but luxe nature. He believes that the haircut "is 50% of what goes on in the salon". He says: "The rest is about relaxing and having a chat. People who come into the salon just want to be looked after, and they want us to be nice to them." The staff are super friendly and the entire salon excels in expertise, service and style, but best of all it's at an affordable price. "Fantastic", "friendly" and "10/10" are just some of the comments.
Prices: Cut and finish from £39, full head of highlights from £73
jasonhallhairdressing.com (opens in new tab)
9. Medusa Hairstyling
Image 1 of 2
If you are passionate about doing things differently and have struggled to find a salon that meets your individual needs while also providing you with a modern cut or colour, you need to make an appointment at Medusa. With salons in Edinburgh city centre (at Teviot, Broughton Street, Hanover Street, and Bread Street), one in Stockbridge (Medusa Raeburn Place), and another salon in Musselburgh, Medusa's award-winning spaces focus on pushing boundaries in a warm and welcoming atmosphere.
The staff are knowledgeable and excited about making their clients feel valued, creating very much a home away from home. Their vibe is laidback luxury: You can plug in your Spotify playlist, bring in your dog and even watch your colour being made and mixed whilst sipping on a glass of wine. They even have a no-questions-asked redo policy if you are unhappy with your cut or colour.
"Friendly", "amazing" and "excellent" are frequently used to describe the spot. One reviewer said: "I always come here to maintain my blonde locks! Belinda is always amazing. Lovely local salon, very friendly and accommodating. Always a treat."
Prices: Ladies cuts from £43 and full head of highlights from £99.
medusahair.co.uk (opens in new tab)
10. McGills, Tollcross
Image 1 of 2
Not just "the home of sustainable beauty in Edinburgh", McGills in Tollcross boasts some of the best hairdressers in the business. Treatments are strictly sustainable, with natural products from Davines lining the shelves, and the space is so cosy you'll want to stay all day (good job they serve up delicious coffee, too).
With experience across some of London's buzziest salons under their belt, founders Garry and Heather have created a salon that is jam-packed with experience, skill and speciality techniques. The chic decor, with tiled floors, dark leather seats and exposed brick has never dated, while the team of creative stylists and expert colourists are highly experienced in all aspects of hairdressing for men and women, including cutting, colour and speciality treatments. Whether you are looking for a simple cut, wash and blow-dry, or hair colouring services such as Flamboyage and balayage, McGills' stylists help to make your vision a reality.
One reviewer wrote: "This place is amazing! Aimee is the best hairdresser! "So lovely and good at her job. Jen was very good also! Thank you so much. Very happy with my hair. Highly recommend A+++." Another added: "Excellent experience with Jen and all the staff at McGills today. Jen did a balayage on my very thick hair and she was superbly skilled.
"Everyone made me feel like a queen. Lovely products, kind and professional staff. I'll definitely be going back."
Prices: Women's cuts from £38, blow-dries from £24 and full balayage with root from £90
mcgillshairdressing.co.uk (opens in new tab)
11. Muse Hair, Leith
Image 1 of 2
Muse has been a popular part of Edinburgh's salon scene since the swinging Sixties. Creative director and hairdresser Scott learned his craft by working with his grandparents and parents, and today the third generation hairstylist runs Muse alongside his team of balayage experts and bleach specialists.
The salon on Ferry Road combines everything that has made Muse so enduringly successful for over 60 years, with an inviting atmosphere and a focus on colouring - whether that's balayage, a root touchup, unicorn hair or corrective work, Muse loves it all. With a buzzy but pleasingly casual vibe, head here for contemporary cuts and innovative colours.
One review sums it up perfectly, saying: "I can't recommend Muse enough. Thanks to Carrie and everyone at the shop, I can say that Muse is a safe place for me. I'm Autistic and I can't say that for many places. All of the stylists are like one big family and get along extremely well. There's always a relaxed, calm and still fun, atmosphere. Travelling up from The Borders is most definitely worth it."
Prices: Cut and blow-dry from £45 and full head of highlights from £100
musehair.com (opens in new tab)
12. Myles Hairdressers, west and east Edinburgh
Image 1 of 2
If you have a fancy event coming up, head to Myles Hairdressers. The two salons - located on Dalry Road and Cadzow Place - both offer a myriad of hair and beauty treatments from spray tans and lashes to up-dos and blow-dries.
Modern and bright with an unpretentious vibe, the salons are a true one-stop shop for all things beauty. Myles' can cater to all hair types, tones and textures, and the salon is known for its specialism in colour and, in particular, beautiful highlights. From the 'curly hair cut', and bouncy blow-dry to a detailed colour session, the salon boasts a wide service menu for its clients to choose from. Whether you're after a colour, cut, treatment or styling, Myles works to make your hair feel authentic to you.
Customers can enjoy free wifi, complimentary refreshments, head massages and 15 per cent off discounts for students, as well as an online booking system. Reviewers consistently describe the salon as "excellent", "great" and "enjoyable".
Prices: Blow-dry from £27, cut and style from £40 and full head of foils from £75
myleshairdressing.co.uk (opens in new tab)
13. Noirogue, New Town and West End
Image 1 of 2
Celebrated for offering unisex treatments at affordable prices, Noirrogue has two locations, initially on Torphican Place and then Dundas Street. The first remains the flagship: inside the modern and sleek West Ed outpost they run a slick ship. Excellent for cuts, colour and styling, the personalised service is present from balayage to blow-dries. Whatever service you opt for, you are sure to feel incredibly welcomed in the laidback LQBTQ-friendly spot. They also have wheelchair accessibility and pets are allowed, too.
The highly trained staff offer high-quality treatments, focusing on hair extensions, hair colouring and hairdressing. They create a friendly atmosphere making you feel welcome and comfortable whilst having your treatment, ensuring that you leave feeling fabulous. Clients have applauded Poppy in particular for being a "skilled and consistent hairdresser".
Prices: Half head highlights with haircut and blow-dry is £140
noirouge.co.uk (opens in new tab)
14. Paige Connor Hairdressing, Old Town
Image 1 of 2
You'll find Paige and her team on Broughton Street, offering an extensive range of hairdressing services, all at a reasonable price. The salon is spacious with a relaxed and friendly atmosphere.
Your visit will always start with a consultation, so their team can assess your needs, taking into consideration your hair type and individual style. They give you advice on how best to look after your hair at home and provide you with a unique experience. All the treatments are performed by making use of a great selection of products from respected brands such as TIGI, Redken and Olaplex.
One customer review reads: "Nicki at Paige Conner Hairdressing is so lovely, friendly, down to earth and even when I go in with seven different inspiration pictures I still always get what I want. Fabulous."
Prices: Blow-dry from £22 and full head foils with a haircut and blow-dry is £98
paigeconnerhairdressing.co.uk (opens in new tab)
15. Pixie Panda, Leith
Image 1 of 2
Cool name, cool hair - it's no wonder people are falling over themselves to get an appointment at this Easter Road spot.
Founder and stylist Martyna only opened the salon in 2019, but she has already made a name for herself as one of the best colourists in the city - and her busy books prove it. Last year she was nominated for the best hair salon in the Edinburgh Business Awards and clients love her understated highlights. Whether you are looking to go chestnut brown or icy blonde, Martyna has mastered creating colour so subtle that it'll trick folk into believing it's your natural shade. Clients have praised Martyna for being "great listener" and a "professional" who gives customers "exactly what they are looking for".
Prices: On request
Call 07588019440 or instagram.com/pixiepanda_edinburgh (opens in new tab)
16. Rock n Rose, Holyrood
Image 1 of 2
Co-founded by Kate Murray and Hannah Crerar in 2017, Rock n Rose is a contemporary unisex salon that specialises in an extensive selection of services, from basic cut and blow-dry packages all the way up to colour services including bleach, highlights, toner and balayage.
Located on Jeffery Street, Rock n Rose has become the go-to spot for young creatives in the capital. The modern decor reflects the salon's relaxed and low-key atmosphere. Get ready to sit back with a coffee and enjoy a cut from a stylist who knows exactly how to update your look, whether you are after something cool and contemporary or timeless. Reviewers applaud the "first class" hairdressing and "vibrant" and "chilled out" vibe.
Prices: Clipper cut, haircut and blow-dry from £15, wash and blow-dry from £29 and full head highlights and toner with a haircut and blow-dry from £126
rocknrosehair.co.uk (opens in new tab)
17. Row66, Stockbridge
Image 1 of 2
Founded in 2014, this stylish hideout is where all the glamorous girls of Edinburgh go for their extensions. Situated on Henderson Row, this stylish salon offers an escape from the city centre, creating a little piece of quiet less than a mile from the hordes of tourists and commuters pounding the pavements around the castle.
Unwind inside the bright and airy salon and put yourself in the capable hands of founder and celebrity hair extensionist, Rowan Milne. Not only is she a qualified trichologist, with 15 years of experience and a major industry awards to her name, but Rowan has also tended to the tresses of a wide variety of clients from around the world. Famed for her invisible non-damaging bonding method that leaves hair looking full and luxurious, customers travel far and wide to be in her hot seat.
Reviewers say the salon has a "welcoming" and "amazing" atmosphere, while clients have lauded Rowan for being "incredibly talented" at creating extensions that are "perfect, so natural and easy to maintain".
Prices: On request
row66.co.uk (opens in new tab)
18. Sisco Hair Nails, Morningside
Image 1 of 2
Founded by sisters Caitlin and Hannah, Sisco tore up the salon rule book with their impressive beauty haven on Morningside Road. Their kitschy, vintage-inspired spot - complete with colourful walls and antique furniture - is a must-visit if you are in this buzzy neighborhood.
In addition to cuts, colour and styling (they're known for mixing and matching beauty products to create a look that is totally tailored to you,) you can book in for all your beauty services. There's CND and OPI for your nail designs, plus Charlotte Tilbury, NARS, Glossier, Redken and Olaplex, on their shelves, with nails, hair and waxing treatments all under one roof. Open on Saturdays and late on Thursdays, it's perfect for pre-event appointments, or even for a day-long pampering routine, should your schedule permit. "Always welcoming and professional," said one review.
Prices: Ladies' haircut and blow-dry for £45 and full head highlights with toner and blow-dry for £151
treatwell.co.uk/place/sisco-hair-nails (opens in new tab)
19. Sobo Newhaven
Image 1 of 2
After spending 17 years delivering beauty treatments with a focus on serenity and wellbeing, owner Claire was inspired to carry her 'body, mind and soul' ethos over into hair care. She created Sobo, which means grandmother in Japanese, in 2014 as a place where customers could relax, unwind and enjoy nurturing treatments with long-lasting results.
The award-winning salon is famed for its beautifully structured haircuts and vegan-friendly hair products. The sage green boutique salon has a lounge-like vibe, complete with caring staff that will really listen to what it is you are looking for. Oh, and they have the perfect selfie lighting - handy, as you'll want to snap your cut and colour on camera immediately. "A wonderful place to go," said one review, while others called the treatments "excellent" and "brilliant".
Prices: Full head highlights from £80 and cut and blow-dry from £47
sobohairboutique.co.uk (opens in new tab)
20. Stag Barber, city centre and west end
Image 1 of 2
Nestled behind the Usher Hall this wacky but lovable hair salon and barbershop offers something for everyone. There's another venue in Haymarket too - perfect in case you need a last-minute makeover before you grab a train. Their kitschy, bright decor will put a smile on your face as soon as you walk in, and the staff are positive, outgoing and chatty.
They also charge based on the length of your hair - not your gender - and offer discounted haircuts for key workers. After opening eight years ago, Stag has attracted numerous awards and a wide-clientele thanks to its talented team and delicious coffee. Owner Murray says: "Stag's way is a little bit different and that's how we like it!" Clients have praised the spot for being "wonderful and welcoming" with "great ethos, values" and "highly experienced" staff.
Prices: Cuts begin at £10 and colour starts at £64
stagbarberco.com (opens in new tab)
---
Kirsty McKenzie is a freelance journalist with over seven years of experience across magazines, television, radio, and digital. A beauty addict and Edinburgh native with second to none knowledge of the city, Kirsty has written for some of the UK's best-known media brands, including The Guardian, Metro UK, the BBC, and MTV UK. Currently based in Spain, Kirsty is always on the hunt for non-stingy SPF and long-lasting concealer to hide the number of siestas she's skipped.