Announcing our 2023 woman&home hair awards winners!
Our beauty team and a panel of industry experts have tried and tested hundreds of products to narrow down the best of the best at every price point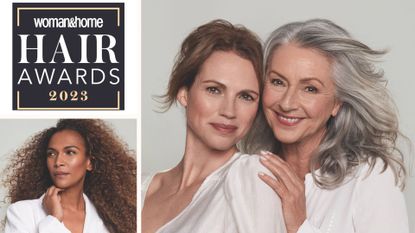 (Image credit: Future)
To get great hair, you need the right products and the best tools to achieve it. But with so many products out there, it can be hard to know which are actually worth your hard-earned cash - and time. That's where the 2023 woman&home hair awards comes in.
The beauty team, alongside 13 esteemed industry experts including stylists and trichologists, have tested hundreds of products to narrow down the very best. After weeks of testing and much deliberation, we've picked our stand-out winners.
The secret to unlocking a good hair day is using the right products for you, whether that's the best shampoo and conditioner, or investing in the best hair dryer. With these hardworking products at every price point, there's something for everyone, whether it's for poker-straight or curly hairstyles, grey or brunette. Each and every product in our list has our woman&home seal of approval and is guaranteed to make your hair healthier and styling easier. It's all good hair days from here.
2023 WOMAN&HOME HAIR AWARDS: THE CATEGORIES
Haircare
Styling
Hair health
Tools
Treatments
Special recognition
Our judging panel
The hard work and expert insights of our judges made the woman&home hair awards 2023 possible. This year's Judging panel included:
Session Stylist & Afro Hair Educator Jennie Roberts. Session stylist Jo Clayton. Session stylist Katie Pettigrew. Consultant Trichologist Eva Proudman. Celebrity stylist and owner of Paul Edmonds Hair & Beauty Salon Paul Edmonds. Owner of Fowler35 salon Darren Fowler. Celebrity stylist Jay Birmingham. Color Expert Katie Hale. Owner of STIL Salon Christel Barron-Hough. Owner of Hare & Bone Salons Sam Burnett. Co-owner of Brooks & Brooks Salon, Sally Brooks. Consultant Dermatologist and Hair Specialist Dr. Sharon Wong. Award-winning stylist and owner of Errol Douglas Salon, Errol Douglas MBE.
Plus the woman&home editorial team: Beauty Director Sarah Cooper-White, Senior Beauty Editor Rhiannon Derbyshire, w&h.com Beauty Channel Editor Fiona McKim, Beauty Editor Stephanie Maylor, Beauty Editor Jess Beech, and Beauty Writer Annie Milroy.
Haircare
A good set of basics is your starting point for great-looking hair.
Anti-Brass Treatment
Hydrating conditioner
Color care shampoo
Color care conditioner
Hydrating shampoo
Daily regime for any hair
Treatment for aging hair
Customizable range
Best color
Cleansing for curls
Highly commended - cleansing for curls
Conditioner for curls
Styling
Whatever you want to do to your hair, these must-haves will help you achieve it.
Wave enhancer
Curl definer
Volumizer
Ultra hold for curls
Smoothing and straightening
Texturiser
High street dry shampoo
Luxury dry shampoo
High street heat protect
Luxury heat protect
Multitasker
Highly commended - multitasker
Hair health
Tackle scalp issues and hair loss with these solutions.
Hair thickening
Intensive treatment
Anti-dandruff
Scalp detox
Supplement for hair loss
Scalp scrub
Hair loss prevention
Tools
If it's time to upgrade, invest in the best.
Innovation for hair health
Make waves
Detangler
Create curls
Hair dryer for smoothing
Innovation for styling
Hairdryer for curls and waves
Styling brush
Straightener
Multistyler
Treatments
SOS solutions for all of all your hair woes.
Repairing
Highly commended for repair
Glossing Treatment
Hair oil
Luxury hair oil
Frizz Fighter
Instant hydrator
Bond builder
Highly commended bond builder
Strengthener
Leave-in
Highly commended leave-in
Special recognition
Brands doing great things we think you should know about
Natural & sulphate-free
Vegan brand
Sustainable brand
Kids & teens' haircare
---
Main image photography: Iulia David.
Hair: Jo Clayton, Make-up: James Butterfield.
Art Direction: Sarah Cooper-White and Rhiannon Derbyshire.
Styling: Charlie Bell.
Models: Kate Groombridge, Carol Royd, and Vicky Boateng at MOT Models
Rhiannon Derbyshire is the Senior Beauty Editor for Woman & Home and other publications.
She started interning for glossy magazines while working alongside her Fashion Journalism degree. There, she was lured to the beauty desk, seduced by matte lipsticks, posh shampoos, and every skincare product imaginable. 10+ years into her career, she can confidently tell you why the best mascaras are always high street, and why SPF is a non-negotiable all year round. Ask her about her curly hair routine, skincare minimalism, and how to find the exact right red lipstick