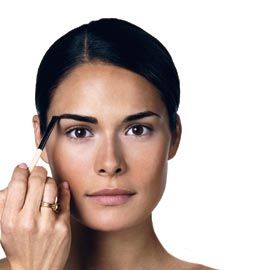 Eyebrow expert Shavata reveals her top tips for shaping your brows
If eyes are the window to the soul, then think of your eyebrows as the frame. Few things can transform your face as quickly as a pair of perfectly shaped brows. Done well, eyebrows can flatter your features, open up your eyes and really lift your face.
But conversely, over-plucked or unruly brows can be distracting and unflattering. That's why it's so important to learn how to shape eyebrows properly.
Lately, the runway and red carpet has been filled with fuller browed ladies (think Cara Delevigne and Kiera Knightly), but if your natural hairs are more fine than full, there's no need to fret. The wonderful thing about eyebrows is that you don't have to follow trends to look fabulous – you simply need to find the right shape and style for you.
The trick for how to shape eyebrows perfectly is about taking your natural arch, face shape and hair type into consideration. No two eyebrows are the same, and your perfect pair will be unique to you.
Having said that, there are a few eyebrow rules that every woman should follow. Here we've spoken to eyebrow guru, Shavata Singh, to uncover the secrets for how to shape eyebrows to perfection.
Shavata's first tip is to always get your eyebrows professionally done, even if this is only once a year. This will give you an idea of what they should look like, and with regular maintenance they will remain perfectly shaped.
Overplucked and too embarassed to seek help? Don't fret – eyebrow hairs do grow back, however it takes an average of about two months to see full regrowth. While waiting for your hairs to grow back, resist the temptation to pluck and wax and instead fill in any gaps with a good eyebrow powder or gel instead. Above all, be patient – the hairs will grow back!
Keep reading to find more expert eyebrow shaping tips for how to get the most face-flattering results...
Read more at shavata.co.uk
Brows aren't identical
No two eyebrows are ever identical; so don't even attempt to get them the same as you will end up plucking to nothing. They say eyebrows are sisters not twins. Find more beauty tips here
Brows aren't identical
No two eyebrows are ever identical; so don't even attempt to get them the same as you will end up plucking to nothing. They say eyebrows are sisters not twins. Find more beauty tips here
Tend to brows daily
Once you have the brows you love, tend to them on a daily basis; it's a lot easier to tweeze one or two stray hairs every day than too many at the end of the week. Find more beauty tips here
Always sit in front of a large mirror
When tweezing, always sit in front of a large mirror with a magnified mirror in your hand. This gives you an overall realistic view and the hand mirror helps with the detail, move from mirror to mirror. Find more beauty tips here
The rules to follow
When shaping your own eyebrows there are a few rules to follow; eyebrows should start before the eye (nose side) and not after. Try to keep the shape even - there is nothing worse than a tadpole sitting on top of your eyes. Find more beauty tips here
Tweeze both brows together
Always tweeze both eyebrows together taking a few hairs of each at a time; it is a lot easier as trying to mimic one brow shape after the other is very difficult. Find more beauty tips here
Good tools are essential
Good quality tools are essential to achieve a professional finish. Find more beauty tips here
Always pluck after showering
When shaping your own eyebrows always pluck after a hot shower, in natural daylight and never a week before and during your period when your pain threshold is not at its strongest. Find more beauty tips here
Use an after care product
Always use an after care product to help reduce redness and to calm the tweezed area down. The Shavata Soothing Gel is the perfect product for a post tweezing pampering. Find more beauty tips here Read more at shavata.co.uk For the latest w&h news and exclusive offers follow us on Twitter or 'like' us on Facebook