Estée Lauder are offering free virtual 1-2-1 sessions so you can have all your beauty gifting questions answered
Plus a Live Chat service if you have a quick query regarding Estée Lauder skincare or makeup products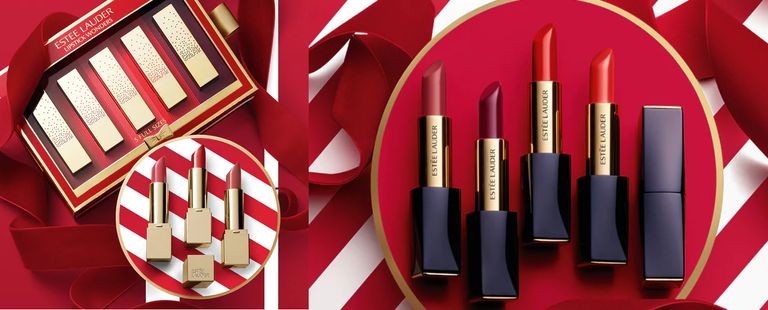 (Image credit: Estee Lauder)
Virtual shopping is the safest option in 2020, but there is a big part of us that misses wandering through beauty halls in our favourite department stores, chatting gift ideas and trying out the latest makeup and skincare launches. 
But while Covid-19 may have robbed many of us of our annual Christmas shopping trip, that's not to say that 2020 hasn't served up some brilliant alternatives. 
Estée Lauder have revealed that there's been a huge rise in the popularity of their online services, particularly the live chat and 1-2-1 virtual consultations. And that's not the only brilliant virtual service that's on offer over the festive season. 
Estée Lauder are one of the most iconic brands when it comes to cult products. Their Advanced Night Repair range is legendary, while Estée Lauder's Double Wear foundation frequently tops the bestselling foundation list. 
Another service we love is the chance to have the brand's iconic Advanced Night Repair serum personalised with the lucky gift receiver's initials. The best news is that can be done absolutely free!
What virtual services are Estée Lauder offering?
It's not just consultations that are on offer virtually. Below are the free services you can take advantage of over the festive season with Estée Lauder. 
1-2-1 virtual consultations 
An Estée Artist is on hand online for expert gifting advice, skincare consultations and mini makeup lessons
Live chat
If you need a question answered super-quickly at the click of a button, a team of Estée beauty experts are on hand to answer all of your beauty questions. 
This service has surged in popularity with a +204% increase in customer usage last month vs October, according to the brand.
WhatsApp chat
Fancy taking part in a skincare challenge? Liv, the Estée Lauder Beauty Bot, is here to help with a 7-night skincare challenge for those who need help with a night time routine - and all you need to do is send a text! 
To take part, you just need to add +447480788335 to your contacts as 'Liv at Estée Lauder' and type 'Hi' to begin.
Engraving 
Now available on Advanced Night Repair so you can treat an Estée Lauder fan to a real treat this Christmas.
 You can see a list of full services and how to book here: https://www.esteelauder.co.uk/virtual-beauty-services
We're hoping you still manage to find some magic during the festive season...