Discover Meghan Markle's Hair Secrets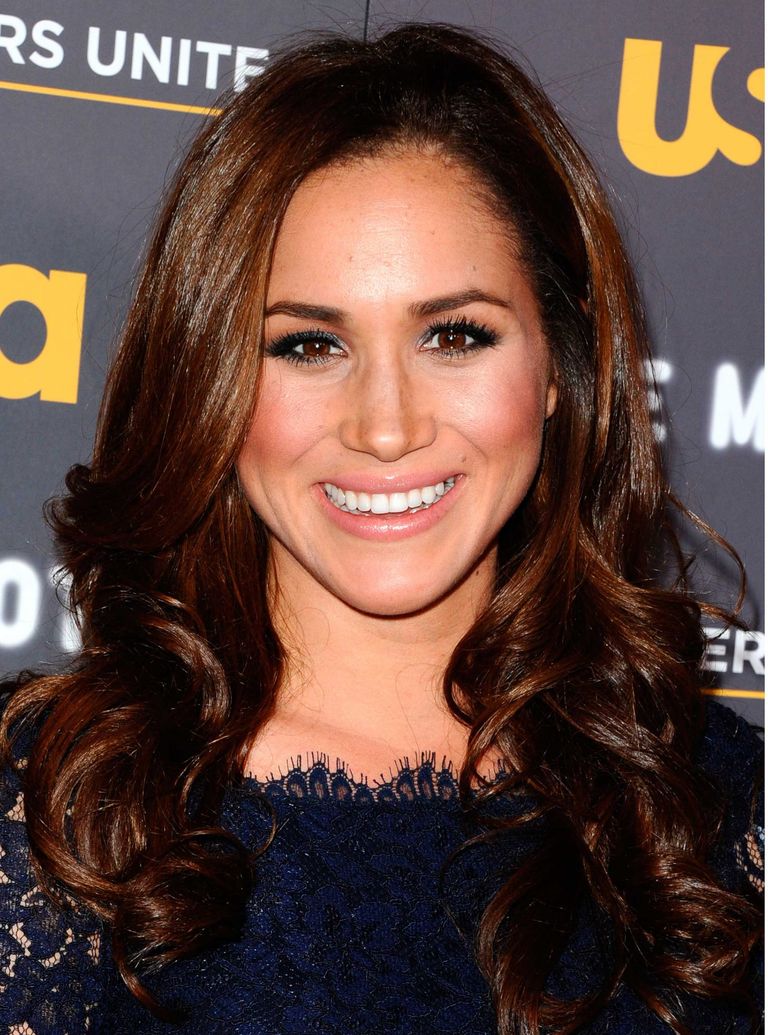 (Image credit: Rex)
Every time we see a new photo of Meghan Markle out and about with Prince Harry, on location for Suits in Toronto or...well anywhere basically, her hair looks even shinier than the last time she was snapped. We're mesmerised by the glossy finish, but is it down to products? A hair relaxing process? Hair colour? A particular hair stylist? Determined to discover her secret, we went hunting through the archives to find out more...
First off Meghan Markle's hair is naturally curly. She's spoken of her mum being her beauty influencer telling The Kit,"She had braids, she had an Afro - now she has little dreadlocks. She's never had any work done, and all her lines to me are signs of laughter and experience, which has really informed the way I look at ageing now."
However, the earliest pictures of the actress show that she's been straightening her locks since she was at high school.
So, how does she maintain that freshly blown-out look? Well, to start with, she's got some favoured products.
Pick Professional Products
Meghan most frequently name checks Kérastase - in particular its Oleo-Relax and Resistance Fibre Architecte lines, which she uses religiously. She's also a fan of Wella hair oil, which she once told Beauty Banter she was obsessed with! 'It smells like vacation and makes your hair slippery and touchable. I love this stuff!
Retain Moisture
Moroccanoilalso helps to keep the ends of her hair looking shiny - an essential thing to master as frequent blow-drying can remove moisture. And she does blow-dry her hair a lot, apparently, telling Flare, "I have to [use hair] mask[s] because my hair gets blown out every single day."
Which also means, it gets washed a lot. Meghan has previously told Flare that she washes with a couple of different products. "Pureology is one of the products I love, and I also use the Brazilian Blowout shampoo and conditioner."
Smoothing Skills
But even then, frizz and flyaways are still an issue - one she deals with by spraying hairspray on a small boar bristle toothbrush (or a regular toothbrush) to lightly brush them down or smooth the hairline. This is a trick that Meghan frequently uses to keep off-duty up-dos sleek.
The Hair Flip
The opposite of the smoothing treatment is the volume-adding hairflip that she once described to Birchbox, "When my hair is feeling a little weighted, Suanne, my hair artist on set, has me bend forward and she sprays a little Oribe Dry Texturizing Spray or nothing at all, and then has me 'flip back hard' to give my hair a little extra bounce."
Flawless Finish
When she isn't on set, or is off to a big event, Meghan's go-to hair stylist is Michael Silva. On Meghan's now deleted blog, The Tig, Silva revealed his favourite products for detangling and giving hair shine, including Leonor Greyl Huile Secret De Beaute, an oil costing £47 for 95ml.
Leave It Natural
There's no denying that Meghan's beautiful mane takes a lot of effort, which may be why she told the attendees at a girl's self-esteem conference in 2015 this little snippet, "My mom would say to me, "Flower, one day you are so gonna be over this hair thing," because she has watched me do everything like relaxers and Yuko hair systems. And she's right: In the past year I stopped doing all that stuff, and when I'm on vacation, my hair is as curly and wild as can be. I have so much hair it's nuts."
[instagram]
So there it is, a rough guide to the glossiest locks going - thanks for the pointers, Meghan.