The best hyaluronic acid products that'll take your skin from parched to plump
Our beauty team edits the best hyaluronic acid skincare, from hydrating serums and creams to travel-friendly capsules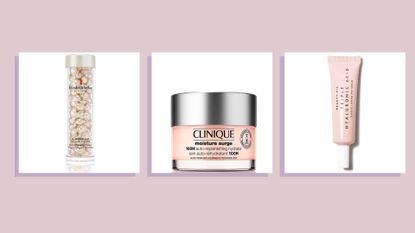 (Image credit: Future)
Finding the best hyaluronic acid products can seem impossible with so many choices available. So we've tried and tested the lot to bring you the very best beauty buys containing this wonder ingredient.
If you're after hydrated, healthy, and juicy skin, then no other skincare ingredient compares to hyaluronic acid. This molecule famously holds over 1000 times its own weight in water making it the gold standard moisturizing ingredient in any skincare routine, but particularly skincare for dry skin or dehydrated skin.
Hyaluronic acid (also known as HA) has been around for years, and is far from a skincare fad, but has soared in popularity recently and can be found in everything from body lotions and scalp serums to the best eye creams and the best self-tan. It's gentle, gets along with every skin type, and has benefits that are both instant and long-lasting. That makes finding the best hyaluronic acid buys well worth your time, here's how to get it right.
How to choose the best hyaluronic acid skincare
Why you can trust Woman & Home Our expert reviewers spend hours testing and comparing products and services so you can choose the best for you. Find out more about how we test.
Consider molecular weight: "We recommend looking at the molecular weight of the HA you are using to ensure it fits your skin needs," explains Dimitra Davidson, skincare expert and COO of Indeed Laboratories. "Low molecular weight HA penetrates deeper into the skin, while high molecular weight HA will help to hydrate the top layer of the skin." A mixture of the two will tick both boxes offering deep and surface-level plumping (hence why HA is often touted as a non-invasive alternative to Botox) and brands often say whether the HA they include is high or low molecular weight on their packaging or websites.
Check the concentration: Look for products with hyaluronic acid at the top of their ingredients list. The lower down the list, the lower the concentration. Sodium hyaluronate, a salt form of HA is also a good ingredient to look for on lists as it's effective and has a low molecular weight, so can penetrate deeply.
Mix it up One of the benefits of hyaluronic acid is that it can be used in conjunction with other skincare ingredients, so there's no need to choose between, say, niacinamide vs hyaluronic acid. HA works beautifully with ascorbic acid AKA Vitamin C, brightening niacinamide or as an antidote to acids such as glycolic or salicylic. Look for formulations that blend a few hero ingredients together and get the most out of your skincare.
The best hyaluronic acid products, as chosen by our beauty team
1. Vichy Minéral 89 Hyaluronic Hydrating Serum
Best hyaluronic acid product overall
Specifications
RRP: $29.99/£25
Texture: Gel/serum
Reasons to buy
+
Non-sticky
+
Hydrating
+
Great for layering under creams
This lightweight serum is fantastic for improving the hydration levels of the skin. Its gel-serum texture sinks in quickly and provides thirsty skin with an instant hit of moisture.
It only has 11 ingredients which make this hypo-allergenic formula suitable for all skin types. It makes a great addition to a skincare routine for sensitive skin as it won't irritate. Use alone or layer your moisturizer on top if your skin is extra dry. However, if you are looking for a serum that works on other aspects of the skin than hydration then you may need to layer this up with something else.
2. SkinCeuticals H.A. (Hyaluronic Acid) Intensifier Serum
Best high end hyaluronic acid serum
Specifications
RRP: $106/£90
Texture: Serum
Reasons to buy
+
Very hydrating
+
Non-greasy
+
Sophisticated formula
If your eyes are watering at the price of this serum, we don't blame you. SkinCeuticals products are incredibly expensive but the brand's science-backed formulas speak for themselves. Their cult-status C E Ferulic is one of the best vitamin C serums money can buy.
And, if you can afford it, this hyaluronic acid serum is very much worth the splurge. The clinical trials are seriously impressive, proven to amplify the skin's own hyaluronic acid levels by 30% in just four weeks. On testing we loved the light, non-sticky texture that left our skin plumper and smoother, then softer with continued use.
3. The Inkey List Hyaluronic Acid Cleanser
Best hyaluronic acid cleanser
Specifications
RRP: $9.99/£9.99
Texture: Gel
Reasons to buy
+
Affordable
+
Hydrating
+
Deep cleans skin without over-stripping it
For a no-frills face washing experience that leaves skin feeling hydrated rather than squeaky clean, look no further than The Inkey List. It's enriched with plenty of hyaluronic acid to keep your complexion looking and feeling juicy while it cleanses away impurities and dirt.
Just like many of the best cleansers, this formula is simple and shouldn't irritate your skin. We liked the refreshing texture that left our skin feeling clean but not stripped. However, if you're looking for more of a problem solver for issues like fine lines, pigmentation or spots, a targeted cleanser with active ingredients might be more suitable.
4. Clinique Moisture Surge 100H Auto-Replenishing Hydrator
Best hyaluronic acid product for fine lines
Specifications
RRP: $25/£25
Texture: Gel/cream
Reasons to buy
+
Plumps up wrinkles
+
Oil-free formula
+
Light texture
+
Contains vitamin C & E
Reasons to avoid
-
Better for oily/combination skin than it is dry
The success of the Moisture Surge range from Clinique meant the brand was bound to release a souped-up version of their cult status gel-cream. Boasting up to 100 hours of hydration (although we really don't know how you would put that to the test) this formula replenishes skin hydration levels and works to plump up fine lines and wrinkles. It also contains vitamins C and E, powerful antioxidants to brighten skin and even out skin tone.
We love the ultra-light and refreshing texture of this, and the fact it sinks in quickly without leaving residue or pilling under makeup. However, this means it is probably better suited to oily or combination skin types than it is dry. Anyone with very parched or rough-textured skin may prefer a richer texture.
5. Beauty Pie Triple Hyaluronic Acid Elastic Lifting Eye Serum
Best hyaluronic acid eye cream
Specifications
RRP: $50(members pay $15.85) / £50 (members pay £14.30)
Texture: Serum
Reasons to buy
+
Firming
+
Doesn't settle into creases
+
Hydrating
If you're worried about crepey skin near the eyes, then pop on some of this eye serum. Specially formulated to firm the skin and reduce the appearance of crow's feet, it's a skincare staple for anyone concerned with the signs of aging.
The texture is ultra-light, which is just what you would want around the thin-skinned eye area, and we love how cool and refreshing it felt on our puffy morning eyes. It's also packed with hyaluronic acid to hydrate and de-puffing caffeine. Apply it morning and evening as the first step in your skincare routine.
View the latest Beauty Pie discount codes from woman&home's voucher team.
6. Paula's Choice Hyaluronic Acid Booster
Best hyaluronic acid product to add to your existing routine
Specifications
RRP: $37/£36
Texture: Serum
Reasons to buy
+
Lightweight
+
Suitable to mix with other products
+
Great for rosacea-prone skin
Love your skincare routine already and just want to add a little more hydration? Mix a few drops of this booster with your favorite moisturizer and it will instantly perk up your skin. Although it's in a small tube, you only need a couple of drops to supercharge whatever you drop it into, and that diminutive size makes it brilliant for travel.
Aside from being super handy, the beauty of this product is its highly concentrated formula, which means you only need a small amount to see the benefits. It's got a viscose-like gel texture that's refreshing and easy to control, so you can even apply it neat in specific areas of dryness if you like. As well as HA it contains moisturizing ceramides and Vitamin B5 for a tri-pronged approach to tackling dryness.
7. Elizabeth Arden Hyaluronic Acid Ceramide Capsules Hydra-Plumping Serum
Best hyaluronic acid product for dry skin
Specifications
RRP: $92/£77
Texture: Gel/cream
Reasons to buy
+
Blend of hyaluronic acid and ceramides
+
Capsules are biodegradable
+
Low molecular weight - good for deep hydration
Reasons to avoid
-
Capsule format won't please everyone
These potent capsules contain Elizabeth Arden's trademarked Zero H2O Technology. This essentially means the HA molecules are a lot smaller than many of the best hyaluronic acid products and do a far better job of getting into deeper layers of the skin to hydrate, rather than sitting on the surface.
Capsules haven't always been the most eco-friendly choice, but these are biodegradable and are as handy as individual pods always are. On testing, we loved that they contain a perfectly sized amount of the serum to cover the face and neck so there's no temptation to pump too much out and waste product unnecessarily. The texture of this is slightly thicker than your average serum, which makes it more spreadable and less likely to dribble. The fact these also contain ceramides, which replenish the skin barrier, is the cherry on top.
8. Dermalogica Hyaluronic Ceramide Mist
Best hyaluronic acid facial mist
Specifications
RRP: $45/£45
Texture: Mist
Reasons to buy
+
Quick and easy to apply
+
Instant hydration
+
Refreshes the skin
Reasons to avoid
-
Mist texture won't provide deep hydration
If your skin gets dry throughout the day, you may wish to top up your hydration with this hyaluronic acid facial mist. It contains a very light HA plus skin-strengthening ceramides for an easy way to restore and replenish the moisture levels in your skin for a dewy, radiant look.
We are big fans of the weightless texture and easy, ultra-fine spritz. We tried spraying it on clean skin as well as over the top of makeup and it didn't disturb our base, making this an excellent handbag or desk essential for thirsty, parched skin in need of a pick-me-up. Naturally as it's a mist this isn't really suitable to replace your main hydrating serum or cream, but anyone who deals with drying weather or office air-con will probably love it.
9. Medik8 Hydr8 B5 Serum
Best hyaluronic acid product for oily skin
Specifications
RRP: $52/£42
Texture: Serum
Reasons to buy
+
Non-sticky
+
Low molecular weight - good for deep hydration
+
Lightweight formula
+
Great for layering
Reasons to avoid
-
May not be rich enough for dry skin
Every skin type should be using a hyaluronic acid product, whether you're oily, congested, or dry. But, if you're worried about looking greasy or shiny or your product leaving a tacky residue (as many HA serums do) try this light serum. It's perfect skincare for oily skin as it sinks in incredibly swiftly and won't leave behind any sheen, but it does feel wonderfully hydrating.
It also plumps lines from within and helps any parched or tight areas feel more comfortable. This will be a boon to anyone who experiences both oily and dry skin at once, which is more common than skincare formulators seem to think. Yes, it's a little pricey but as a multitasking hydrating serum it fits the bill and thanks to a gentle ingredients list will also help soothe skin with concerns like acne and rosacea.
---
How to use hyaluronic acid
Occurring naturally in the skin to keep it soft and supple, supplies of hyaluronic acid deplete as we age, with pollution and environmental aggressors speeding up the process. Without this skin-plumping scaffolding, skin becomes looser with fine lines and wrinkles more pronounced. That's not forgetting increasing the chances of dryness, dullness, and sensitivity too.
HA is a humectant, meaning it draws moisture from the atmosphere and can be used either alone or layered up if you're particularly dry. "It is difficult to over-use hyaluronic acid but it is not always a good stand-alone moisturizing ingredient for all skin types," suggests Consultant Dermatologist, Dr Anjali Mahto. "While hyaluronic acid is good for oily or blemish-prone skin, it may not be enough hydration for those with normal or dry skin types."
"If you find that your skin is still dry despite using hyaluronic acid, it is sensible to either switch to a heavier or richer moisturizer containing ingredients such as ceramides and glycerin," Mahto continues. "Alternatively, you can layer a hyaluronic acid serum underneath your regular moisturizer for added hydration."