Victoria Beckham reveals the secret bargain that helps prolong her glowing summer tan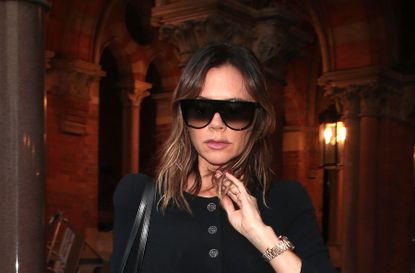 Victoria Beckham has revealed exactly how she maintains a glowing summer tan for as long as possible.
The former Spice Girl, who always seems to be sporting a beautifully bronzed complexion, took to Instagram today to disclose the secret behind keeping her skin looking radiant.
Chatting away in a quick video, the 45-year-old mum-of-four explained how moisturising is a must when it comes to keeping up her colour and admitted that a totally affordable skin cream is her favourite product for doing so.
Holding up a bottle of Weleda Skin Food to the camera, the nineties pop icon began rubbing the lotion, that can be bought online for as little as £5.95, all over her hands and arms.
READ MORE:The £7 beauty product that's an integral part of Victoria Beckham's skincare routine
Dishing the details on the miracle moisture potion, she said: 'So I haven't talked about this product for quite a long time, but I really like it. Especially this time of the year when I'm trying to prolong the tan that I've got over the summer and your skin can go super, super dry.
Continuing, she Victoria added: 'This is really great. It keeps skin super hydrated and moisturised. It's really, really thick. I love how it feels all over the body,' before yelping: 'I wanna stay tanned!'
If like VB you also want to hold on to your sun kissed skin for as long as possible, you can get your hands on Weleda Skin Food from a range of websites.
Right now you can grab a 35ml bottle of the stuff for £5.95 thanks to a 25% discount on Feel Unique (opens in new tab).
The reduction also applies to larger, 75ml bottles that usually sell for £12.95, now available for £9.70.
Although she seems like an expert when it comes to natural tan maintenance, Mrs Beckham has previously confessed to faking it and has even revealed her DIY-tanning product of choice.
The Organic Pharmacy Self Tan is on the pricier end of the tanning market with a price tag of £38 for 100ml but contains nourishing key ingredients like shea butter, coconut oil and aloe.
It was also given a shout out on Victoria's Instagram page earlier this year, with the designer hailing it as her go-to body fake tan of the moment.