Trinny Woodall has revealed her go-to moisturiser and it's only £7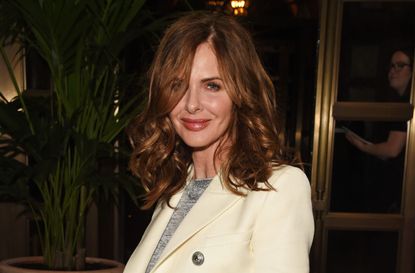 Style icon Trinny Woodall has revealed the moisturiser she swears by and it may be a surprise to hear that it's actually a supermarket bargain buy.
The fashion guru has spilled all about her beauty secrets and admitted that a less than £7 cream from budget supermarket Aldi is one of her absolute favourites.
She revealed: 'Aldi's Lacura Caviar Illumination Day Cream SPF 15 is only £6.99, but beautifully creamy.'
Making a statement that is music to our ears, she went on to tell Prima magazine: 'You don't always need to spend a lot on moisturiser!
READ MORE:M&S's beauty offering includes these luxury bestsellers from cult beauty brands
The bargain beauty buy has dozens of glimmering five star reviews on the Aldi website, with satisfied customers swooning over its super affordable price tag, light formula and luxurious satiny feel.
One wrote: 'I've always used expensive day and night creams, was recommended this be a friend and love it, won't go back to other creams now'; while another chipped in: 'Perfect for my 40 something misbehaving skin. So light yet moisturising and such good value for money. Lacura is gradually taking over my bathroom. Bought it for my mum who is 75+ and my sister just turned 40 and they both love it.'
READ MORE:Twiggy reveals the easy beauty essentials she uses in her low-maintenance routine
A third happy shopper added: 'I am a Skin Therapist for 30 years and this is one is of my favorites creams. Light, silky, not perfumed, rich but not oily. I always buy loads and give as a gift to my mother (78 years old), my mother in law ( 80 ) and my girlfriends. So far the feedback is always great. After 2 weeks, they feel the skin smoother and plumped. The Night Cream is also excellent. Richer but not heavy. I am a big fan of Lacura Line.'
Divulging more about how she keeps up her youthful glow, 55-year-old Trinny revealed she's also partial to using a sheet face mask during her morning commute.
She said: 'I often take motorbike taxis to work and will wear a dry sheet mask on the way to help shield my skin from pollution.
'When I arrive, I look like I've had 12 hours sleep!'