The drugstore beauty buy Meghan Markle relies on to keep stretch marks at bay currently has 24% off—it's time to stock up!
This wonder beauty buy has Meghan's seal of approval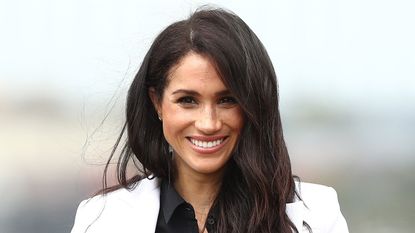 (Image credit: Photo by Mark Metcalfe/Getty Images for the Invictus Games Foundation)
Stretch marks can develop on the stomach and thighs during pregnancy, but allegedly Meghan Markle took no chances and used a bargain oil throughout her pregnancy.
According to an insider who spoke to The Sun, Meghan Markle used Bio-Oil to avoid stretch marks while pregnant with Archie.
"Meghan's pregnancy standby is Bio-Oil which is non-greasy and does the job effortlessly without messing up her clothes or five-star sheets," the source.
Stretch marks are essentially caused by skin stretching so rapidly during times of weight gain, pregnancy, or growth that the collagen and elastin tissues become damaged. This, in turn, creates the appearance of fine-lined scars.
---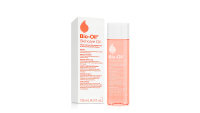 (opens in new tab)
Skincare Oil, Was £22.99, Now £17.50 (opens in new tab)| Bio-Oil at Amazon
Bio-Oil Skincare Oil helps improve the appearance of new and old scars, stretch marks forming during pregnancy, teenage growth spurts, periods of rapid weight gain and helps with uneven skin tone.
Since its launch in 2002 , Bio-Oil has won 223 skincare awards and is the No.1 selling product to help minimize the appearance of scars and stretch marks in 18 countries worldwide.
It's derived from calendula, lavender, rosemary and chamomile oil and also contains vitamins A and E to even out skin tone plus a 'breakthrough' ingredient called PurCellin Oil, which is a replica of the oil that ducks produce to keep their feathers waterproof.
The brand recommends that Bio-Oil Skincare Oil be massaged in a circular motion into the stretch marks, twice daily, for a minimum of 3 months. During pregnancy, it should be applied from the start of the second trimester to areas that are prone to stretch marks such as the abdomen, breasts, lower back, hips, buttocks and thighs.
While Bio-Oil is at pains to stress it can't remove stretch marks, experts point out that moisturizers that create a protective seal over the skin could help to minimize their formation.
Bio-Oil isn't the only drugstore brand Meghan Markle uses, previously she's also talked about her love of using a $5 balm instead of highlighter—another great tip we can definitely get on board with!
Fiona Embleton is a beauty writer who is now Acting Beauty Editor at Stylist. She is obsessed with Isabel Marant and cats.