The Tarte Shape Tape line just unveiled two new beauty products for under-eyes, and we're adding both to our carts ASAP
The Tarte Shape Tape Ultra Creamy concealer and Eye Cream provide much-needed hydration for under-eyes.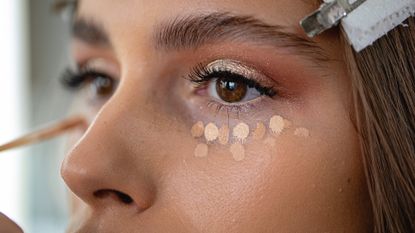 (Image credit: Tarte Cosmetics)
Meet the newest members of the Shape Tape family: The Shape Tape Ultra Creamy concealer available at tartecosmetics.com — and the Shape Tape eye cream, a QVC exclusive. The eye cream includes the original Shape Tape concealer and a beauty sponge with your purchase.
The beauty market undergoes fickle shifts that redefine what's in and what's ancient, with many legacy and infant brands floundering to stay relevant. Among this capricious and often unforgiving landscape, Tarte Cosmetics' Shape Tape line remains prolific and timeless — particularly the Shape Tape concealer. A symbiotic companion to the best foundation (opens in new tab), this cult-status product has garnered a global fanbase for its full-coverage formula, smooth finish, and hefty doe-foot applicator. Nonetheless, it has not gone unscathed from critique, as many shoppers lament that it's too drying and not hydrating enough for their precious under-eyes.
In response to customer feedback, Tarte recently launched the Shape Tape Ultra Creamy concealer, a reinvented spin of the original Shape Tape concealer. Media publications buzzed about the launch during the latter half of 2020 — and now, you can officially purchase the sister iteration on tartecosmetics.com.
The Tarte Shape Tape Ultra Creamy Concealer
The Tarte Shape Tape Ultra Creamy includes 35 shades, an additional five colors tacked on to the original assortment; and the brand also plans to expand the shade range for the original Shape Tape.
This release is still full coverage and imparts an even matte finish. However, compared to its predecessor, it features more hydrating and nourishing ingredients, such as hyaluronic acid, prickly pear, vegan squalene, and mango butter, among others. As a solution to drying, this concealer offers a long-lasting velvety formula, which won't cake, settle, or pronounce fine lines. In turn, your thin under-eye skin will appear visibly smoother, with wrinkles and pesky pores covered to your liking. All in all, it's a holy grail essential for dry skin types.
We'd say it's a comparable dupe to the beloved NARS Radiant Creamy concealer and the budget-friendly Colourpop Pretty Fresh Hyaluronic Creamy concealer. All three are lightweight and considerably whipped in texture, yet don't skimp on coverage and lasting power. Plus, their shade ranges cater to a wide variety of tones and undertones, so there's something for everyone. The NARS option is not the most budget friendly option, while Colourpop is more affordable. Pricewise, the Ultra Creamy lands between the two. Before you swipe, make sure to read up on our how to apply concealer (opens in new tab) guide.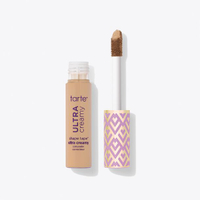 (opens in new tab)
Tarte Shape Tape Ultra Creamy concealer | tarte cosmetics
A lightweight concealer that smooths under-eyes, covers dark circles and blemishes, and blends naturally into skin. All Tarte products are formulated without parabens, mineral oil, phthalates, triclosan, sodium lauryl sulfate, and gluten.
The Tarte Shape Tape Eye Cream
Furthermore, the Tarte Shape Tape eye cream just joined the portfolio as a complementing member to the Shape Tape concealer. Like all of the best eye creams (opens in new tab), this beauty hero specifically targets stubborn fine lines under and around the eye area; and is infused with a blend of squalene, vitamin B5, sodium hyaluronate, vitamin E, and peptides. Through continued use, this eye cream will render your puffy eyes (opens in new tab) extinct.
Arguably, its best feature is its applicator: a cooling roller designed to minimize puffiness, dark eye bags, and signs of fatigue. Similar to facial cooling globes (opens in new tab), eye-rollers are exceptional at boosting circulation, massaging muscles, and stimulating lymphatic drainage. Its design is akin to that of the Nurse Jamie Eyeonix Eye Massaging Beauty Tool (opens in new tab), one of Jessica Alba's favorites for reducing under-eye puffiness. Conclusively, Tarte managed to streamline the best aspects of an eye cream and roller into one, eliminating the need for additional expenditures. The eye cream is currently available at QVC.com — and we promise it's a worthwhile investment.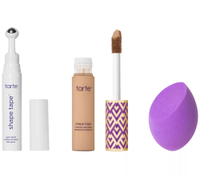 (opens in new tab)
Tarte Shape Tape eye cream, Shape Tape concealer, and beauty sponge |QVC.com
A potent eye cream designed to prime, smooth, and reduce the appearance of fine lines. It works in harmony with Shape Tape concealers to brighten the eye area and minimize fine lines, puffiness, and wrinkles.

Dominique worked as a shopping writer at Woman & Home and while with the brand she covered products, sales and deals, and market news across categories. Before joining the team, she penned stories as an editorial fellow at Insider Reviews, the affiliate commerce team at Insider Inc./Business Insider. The bespectacled NJ transplant specializes in commerce journalism, women's lifestyle content, and hoarding makeup—much to her mother's dismay.