Salon warns that COVID survivors could suffer dangerous reactions to hair dye
It claims people could have a stronger sensitivity to dye after coronavirus.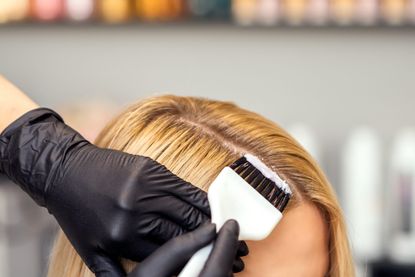 (Image credit: Getty Images/iStockphoto)
While hairdressers are due to open on 12th April, one salon has warned that COVID survivors could react dangerously to hair dye.
As a result, many hairdressers - like Shine Holistic in London - now require coronavirus survivors to complete patch tests 48 hours before their treatment.
It's thought that people who have tested positive for coronavirus have a stronger sensitivity to hair dye than they did previously.
More from woman&home.com:
Best mascara (opens in new tab)– lengthen, define and volumize your lashes with our favorite formulas
Best eye cream (opens in new tab): our favourite formulas for every skin type
Best hair straighteners (opens in new tab): smooth, style and care for your hair with these top tools
Shine Holistic explains on its website (opens in new tab), "From discussions with salons across the country, we have discovered cases where clients who had tested positive for Covid-19 have had a strong sensitivity to colour that previously they were absolutely fine with.
"For this reason, if you have tested positive for Covid-19, or suspect that you had it without being diagnosed, we advise you to have a patch test 48 hours before your hair colour or eyelash/eyebrow tint to ensure that you have not built up an unknown sensitivity. Hair and beauty patch tests can be done at the reception desk, so you do not have to book in for them."
However, despite salons claiming they have noticed a trend in this, The National Hair and Beauty Federation says it's too early to tell if there is a genuine issue.
It commented, "As Covid-19 is so new, there isn't enough scientific information available to know whether it can have an effect on allergic reactions. If a client develops an allergic reaction while their hair is being coloured, the stylist should immediately stop applying the colour and thoroughly rinse the client's hair. They should get immediate medical help if the client develops a rash, dizziness, faintness, shortness of breath or swelling."
Of course, with hairdressers being closed the majority of last year, people have been forced to adapt and carry out their own styling and dying at home.
This has also meant, on the plus side, that many have found the best hairdryers (opens in new tab) to master an at-home blow-dry. Stay safe, everyone.
Lizzie Thomson is a regular contributor to woman&home, and also contributes to Metro.co.uk, Ideal Home, Culture Trip, and Evening Standard, covering all things lifestyle.