This Primark lipstick looks just like of one Mac's best-selling shades – and it's a fraction of the price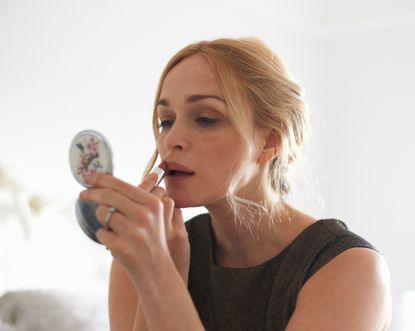 Popular bargain store Primark is selling an affordable lipstick for only £2.50 and it is being compared to one of Mac's best-selling lipstick shades.
Mac is renowned for its wide range of popular lipstick colours and many people have a favourite go-to shade they always keep in their make-up bag but with the Mac name however, comes the fairly expensive price tag with the cosmetic brand's lipsticks tending to cost around £17. But Mac fans are in for a treat as Primark launches a lipstick that is being likened to one of Mac's top sellers.
Primark's 'you do you, babe' (opens in new tab) shares similarities with Mac's velvet teddy matte lipstick but it is being sold for a fraction of the price.
'You do you, babe' only costs £2.50, what a bargain! Whereas velvet teddy, popular for its creamy colour and versatility, costs £17.50.
So while you're not breaking the bank with Mac's lipsticks, you're certainly saving money if you opt for Primark's cosmetic range.
Mac's velvet teddy lipstick (opens in new tab) is a top seller for the popular make-up company but if you want to try and find a similar lipstick for less, you could try heading to Primark.
One customer was very happy with their buy and posted a message on social media saying, 'Primark velvet teddy mac dupe in store now love it.'
'You do you, babe' is a part of Primark's Miss Gloria X cosmetic range, which includes three other lipstick shades.
This is not the first time Primark has sold a Mac dupe, with the bargain retailer selling a similar velvet teddy dupe just last year.
Fans of Mac's shade were delighted to hear this news with one person saying, 'Velvet Teddy is life. Get me to Primark asap.'
Primark's lipstick range has received positive reviews in the past with one person posting last year, 'I bought a primark matte lipstick and it's sooo beautiful and smooth and velvety?? It was only £1.50 and a nicer formula than Mac for a tenth of the price!'
So it appears Primark is experienced when it comes to making Mac dupes, which is great news for our purses!
Will you be giving 'you do you, babe' a try?
Rachel Howatson is a digital writer who works across a range of publications. Whatever your passion, whether it's hillwalking, cooking, gardening, running, socialising or even sleeping, she'll likely have written about it.